The Motorola Droid Turbo is the best mobile hotspot I've ever owned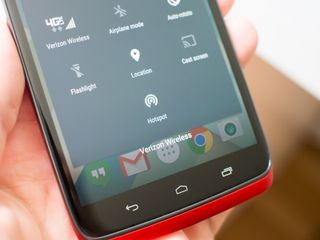 This week everyone is partying over the final release of Android 5.1 for the Droid Turbo. That doesn't sound like a very big deal on the face of it, but remember that until a few days ago the Turbo was still running Android 4.4 — it needed this update, bad.
But a couple days after my wonderment of the new software on my Turbo wore off, I realized it didn't really matter much — the phone still serves its primary function as the best mobile hotspot you can buy.
You see, when you live and work on the Internet, having devices that can keep you connected are pretty important. Here at Android Central we're pretty much always online, and while you can do basic writing without a connection, pretty much everything else requires fast and consistent Internet. And we're not always at home or our offices, we're on the go — and that means mobile data for our tablets and most importantly, laptops.
Being blessed with a literal pile of devices to choose from here, it's not hard to pull out a phone and use it as a hotspot when you're out of the house. But I don't just use things that work, I want the best possible device I can have, and when it comes to having a phone with perfect mobile hotspot abilities it's still the Droid Turbo.
Of course the 3900 mAh battery in the Droid Turbo is a pretty large (literally) part of why I rely on it as a hotspot. That battery is the same size or larger than your average dedicated mobile hotspot battery, and considerably larger than your average phone of the same size (the Moto X (2014) is just 2300 mAh). That means I can fire up the Droid Turbo as a hotspot for several hours without using up its full reserves, even with lots of network traffic or multiple devices connected at once.
And when I'm done with a day of heavy work on the go, I can still pick it up and use it as a phone, with software that I actually like and a size I can manage — and because of the massive battery I don't have to charge it up to keep using it. That means if I want to head out with just one phone (less gear on my back is always good), instead of one as a phone and another as a hotspot, I have the Droid Turbo available as a choice to be both.
Further, the Droid Turbo comes out of the box unlocked and capable of running on both T-Mobile and AT&T, of course in addition to Verizon. While it's not hard to find an unlocked phone, hotspot or USB LTE dongle, you'll likely be limited to just T-Mobile and AT&T on those devices. When you start out with a capable device on Verizon, it gives you the freedom of sticking with Big Red or choosing between two others, or a variety of prepaid options. The phone's radios also seem top notch no matter what carrier you're on, matching or besting other phones running side-by-side on the same network. (And how about that cool SIM card slot? No tool required to swap SIMs.)
The ability to swap SIMs between carriers isn't a big deal for most who have one carrier and stick with it — but again, when it comes down to having just one device with me, it offers even more flexibility in my mobile data choices depending on where I'm traveling.
For those very simple reasons, I have kept — and will keep — the Droid Turbo around as a sort of utility device that can do the heavy lifting for me when I'm on the go. It has a gigantic battery that can run a hotspot for hours without complaining, it'll take a SIM from the top three carriers in the U.S. (and internationally), and at the end of the day is still a good phone that I wouldn't mind using if I had to carry just one device with me.
Andrew was an Executive Editor, U.S. at Android Central between 2012 and 2020.
Too bad the camera is not excellent. Otherwise, I would consider it.

Really? I've seen some amazing shots taken from it Posted via the Android Central App

My N6 takes very decent pictures, It really helps to learn how to take good pictures with a camera phone as well. If you want amazing pictures though then people might as well get a dslr camera.

The camera's on par with the other Motorola phones out there. So yeah, it can take good photos but I wouldn't put it on the same level of power as the GS6 and LG G4.

I really did love almost everyything about my Turbo. I even prefer their take on Lollipop. I'm on a G4 now (though I still have the Turbo) because of the camera. The Turbo takes really good shots in[perfect or near perfect conditions, but it struggled for me in ways I actually got better shots (in terms of blur) from my Droid Maxx before it. That was a huge disappointment. The point at which the Turbo starts to return unacceptable shots in less than outdoor daylight, with even slight motion, simply became unacceptable to me. Just another sad story about there being no perfect phone. We'll seemingly always have to compromise on something. The Turbo was almost my perfect phone, though.

I love my camera. It takes great videos. Posted via the Android Central App

I've taken some amazing shots with my turbo. I find the camera to be great.

Excellent , no, but it is pretty damn good. Easily their best camera to date. Posted from my Droid Turbo

Can you use that on Verizon with unlimited data? I used to a few years back before Verizon killed the method I was using along with a new version of Android.

Verizon killed all apps that had work around"s for unlimited data users. But if you pay the $10 or 20 tether fee a month you can use it I read with your unlimited data. Tiered data plans it is free to use though.

Perhaps it depends on what OS you're running - I use PdaNet+ http://market.android.com/details?id=com.pdanet on my three year old Galaxy S3 (still on 4.3; rooted) and have no issues with that as a hotspot using my unlimited data. YMMV.

Same here. My old S3 works fine with FoxFi. My Droid Turbo does not.

FoxFi works on Verizon unlimited. Used it on my G2 with KK and Lollipop, and now using it with my G4. For awhile that statement was true but it didn't last. 2nd the hotspot add on for unlimited is at least $30, I think they may have even went up to $40.

So to clarify, without subscription, you can no longer tether on your g4 , right? via AC App on
VZW Moto X 2014/ DE 2013/ N7

You CAN tether. He said he's using FoxFi on his G4. I also use FoxFi. I'm on an S6 edge though. FoxFi works great Posted via the Android Central App

$30 a month with Verizon unlimited

Yes and no. My dad had a droid razor and had unlimited data. Then my dad got a maxx but didn't want to change his plan so he cut the micro sim to make it smaller and the maxx takes nano sim and it worked. He just got a turbo and he has unlimited data

If only Moto would sell it outside of the US (and Brazil, of all places)......

My guess is the Moto/Verizon droid contract prevents it. Posted via the Android Central App

Moto Maxx?? Posted via the Android Central App

The Moto Maxx is the same phone, international version sans Verizon poop Posted via the Android Central App

Stupid question, but do you have to pay extra to use your phone as a hotspot with VZW? I still remember tethering cost an additional fee and thought it was the same thing.

yes, forget the price though. I think it's like $10 or something Posted via the Android Central App

$30 a month with Verizon unlimited

I don't pay to use tethering on my account. I've got 4 phone lines and two tablet lines and all can act as a hotspot or tether for free. Also, Verizon doesn't charge for roaming if your on their everything plan. Posted via the Android Central App

Verizon's "More Everything" plans include mobile hotspot for all of the data you pay for on your plan. They push pretty much everyone to the More Everything plans nowadays... I'm not sure about hotspot being included on their promotional "single line" plans, as those are more basic and not as flexible on the data side.

That's not Verizon, that's the federal government. Carriers are no longer allowed to charge you extra for using your phone as a hotspot or tether unless you're on an unlimited data plan. If you're paying for 4GB/month, then you get to use 4GB/month in any way you want.

They should talk to most of the prepaid carriers, which regularly limit or disable tethering on their plans ;-)

I have the Droid Maxx on Verizon Prepay and can tether just fine.

Wow! I have been with Verizon for many years and in the past would have had to pay for the "luxury" of tethering and using my own data. In fact I was always informed of this "premium service" whenever I would extend my contract. Funny how it wasn't brought up this time around and until I read this article didn't even try tethering. Well just tried it and it works! And as an obvious tip for anyone else out there be sure to create a password to help protect your data.

If you are on an unlimited plan, then yes you have to pay. But all the other plans mobile Hotspot is free.

if you are still on VZW unlimited data plan, just use FoxFi.... no need to pay to use hotspot. worked perfectly for the last 4 years on ALL of my Verizon Android smartphones.

Seems to me all "Unlimited" tethering with FoxFi (or the like) evaporated with the release of Kit Kat. It stopped working for me immediately and I've since just uninstalled the app. Doesn't look like there's a work around.

Not for Motorola phones. Moto maxx

It worked on my Razr Maxx HD until the 4.4.2 update, than foxfi stopped working. When I got the turbo subsidized, I could choose to move to 6 gigs for $30 a month or 8 gigs for $39 w/ tethering. Posted from my Droid Turbo

It's $30 bucks a month. I have a moto max with unlimited. Foxfi stopped working years ago

Andrew, correct me if I'm wrong, but don't you get HSPA only on att and T-Mobile with this phone? Posted via the Android Central App

I want to know this only. If this got T-Mobile LTE I'm all over it Posted via Android Central App

Connects to LTE Just fine on T-Mobile and AT&T, at least in the places I've been.

What bands on T-Mobile? Posted via the Android Central App

Just B4. Posted via the Android Central App

Turbo doesn't get AT&T or T-Mobile LTE was what I thought? In that case, not the best...? Posted via Android Central App

It just doesn't get band 12. It works fine with bands 2 and 4.

I'm guessing the Moto Droid Turbo LTE connectivity will be even better for T-Mobile when the 700 MHz spectrum is fully rolled out?

Nope. No band 12(700mhz) support.

Today I learned that the Droid Turbo is unlocked out of the box... I wish I knew that 10 months ago. Posted via the Android Central App

Many of Verizon's LTE phones are, actually.

That's really interesting. I never would have guessed. I'll definitely keep that in mind for the future. Posted via the Android Central App

All the 4G LTE phones come factory unlocked. Verizon's that is. Posted via the Samsung Galaxy Note 4 running Lollipop 5.0.1 on the T-Mobile Network.

Just because a phone from Verizon is unlocked doesn't mean it will have all the right radios to work on all carriers. Keep that in mind.

Yeah, as far as I know all of them are. The only thing you still have to deal with is all the Verizon crapware. I actually have a T-mobile data only prepaid sim that I use with my Google Voice number in my Verizon model Moto X just fine. I bought the Verizon Moto X on a sale back in 2014 while on Verizon, but now I wish I would have just gotten the Nexus 6.

Picking a Nexus 6 up tomorrow.... Hoping I make the right choice Delivered by my Nexus V

Too bad it's Verizon branded and has the ugly Verizon branding on the phone. Prefer unbranded without any signs of carrier stamp on my phones. Posted via the Android Central App

Toss a skin on it and hush Posted via the Android Central App

64GB ballistic nylon has no Verizon logo

THIS. Posted via the Android Central App

This is true. I have a 64 GB version with no Verizon logos Posted via the Android Central App

He doesn't really care, just wants to bitch because it's Verizon.

Hmmmm.......sounds like an invalid reason to bitch but whatever....... Posted via the Android Central App

Welcome to the Internet. I see you're new here. Posted via the Android Central App

Who gives a shit? Posted via the Android Central App

Grow up Posted from my Droid Turbo

Moto needs to make an unlocked version of this device compatible with most GSM networks. Outside of the S6 active (which is also a carrier only device) this is the best all-arounder. IMO the S6 active still takes the cake there. Wish it was sold as an unlocked GSM phone as well. I'd throw cash money at either one as previously described. Posted via the Android Central App

In fact they do make a GSM version sold overseas called the Moto maxx or Moto turbo. My guess is they are contractually prohibited from selling it in the US by Verizon. Posted via the Android Central App

Hey that's great. The turbo is actually good for something..... Posted via the Android Central App

I think the Droid Turbo lost any geek cred when it took 8 months to get Lollipop lol. I mean, seriously? It's near stock! How? I don't even. See how many people buy your next Droid after that Verizon.

So yes the wait sucked for those who love new bling, but do you want to rush an update that MANY complained about on other phones, or wait for a stable build? Wonky phone or working phone? Lollipop shortly after its initial release is the former, what happened for real is the latter. People are too focused on the OMG NO LOLLIPOP IN X DAYS THIS PHONE SUXORZ, rather than this novel idea of a phone that works. Patience is a virtue, and it paid off for the Turbo. Mind you I am not even a fan of Lollipop, but to question the credibility of Motorola over this is ridiculous. And don't get me started on those who felt entitled to have it sooner and make up alleged timelines that Motorola never set but failed to meet. Posted via the Android Central App

Although I agree that they should make sure it works it has been 5 months since 5.1 was released. I can see 2-3 months but 5 is starting to get a bit ridiculous.

Yup. I see where he's coming from, and skipping the 5.0 builds was probably a good idea due to the bugs, but Android 5.1 has been great and it has been out since February. Considering Android OEMs have early access to code and Motorola has proven that they are capable of releasing updates near the same time as Nexus devices when they try, the Droid Turbo should have been updated to 5.1 by the end of March, or April at the latest.

Well said. My phone must work when I needed and it must work without me having to worry that it is going to lock up or otherwise fail. The Droid Turbo does that. It has never locked up and I have never even had to clean cache on the device. If getting this stability on the device means it is 12-6 months behind on versions of Android I am OK with that.

I would. So worried about a goofy, largely aesthetic, update Posted from my Droid Turbo

I love this feature on my OPO. It's built in and no carrier can block it. Love to use it when I'm away from home Posted via...The One

For me it's the Note 4; not only has a large battery but is also user-replaceable. Swap out the battery(s) as needed for extended tethering time or direct use of the phone without the need to ever connect the phone itself to a charging source. :)

I can go 4+ days between charges on my Turbo.

My Note 4 can do the same as documented at the forum thread link below. But that wasn't my point, it was about never having to connect the phone itself to a charging source due to the user-replaceable battery. Something the Turbo cannot do. :) http://forums.androidcentral.com/samsung-galaxy-note-4/477521-note-4-sta...

I had no idea this was unlocked and compatible with all 3 networks, I was hoping for a version to come out that could be used on T-Mobile. Had I known earlier in the year I would have bought one to replace my M8 but at this point I'll probably just wait for the next Nexus. It's still a great phone though and it's only $500 on Motorola's site.

Are you telling me that I can put a Cricket sim in it and get LTE and HSPA and talk and text on the AT&T network or just data? Lol Moto G 2nd gen 5.0.2 (Cricket)
Motorola Titanium 2.1.1 (SouthernLINC)[Work Phone]
LG G Pad 7.0 LTE 4.4.2

Cricket supports bringing your own phone and runs on AT&T, the Droid Turbo supports AT&T's radio bands. Shouldn't be a problem so long as you get the right APNs in there to connect to the network.

Good point- so you need to change your APN settings everytime you change a SIM?

Turbo rocks. I also use it to tether my laptop for work with plenty of battery life to spare afterwards. My wife's Note 4 was stellar until lollipop debilitated it significantly. It's now a choppy mess. Posted via the Android Central App

Didn't realise it's primary use was as a wifi hotspot, we have portable wifi devices over here in the UK for that. Perhaps if Motorola had marketed it as a phone it would have sold better. /s Posted via the Android Central App

The Droid Turbo is a beast of a device period! Posted via Morse Code

How many hours hotspot on it ??? Posted via the Android Central App

My wife loves her Turbo and I think Motorola has the best radios in any phone. I say this as someone who joked with friends when they didn't get service with AT&T when I did but now that I have a LG G3 I'm having more issues getting a connection then with my Motorola phones.

Having kept mobile hotspot active 24/7 on all of my phones dating back to the original Galaxy Nexus, my Moto Razr HD Maxx was pretty good, but my current Note 4 blows every other phone I've owned away in battery life and performance. It doesn't overheat if hitting the internet hard like the motorola phone did, and if I accidentally forget to plug it in when I go to bed while my son is playing call of duty on his xbox all night- the battery won't be dead in the morning. BTW, unlimited data kicks ass for mobile hotspots!

Same experience here! I've used the hotspot on my Note 4 via Foxfi (with my Verizon grandfathered unlimited data) while also streaming audio via Bluetooth (to an external speaker) for hours all with minimal battery loss (or heat build up on the phone); even an occasional phone call (simultaneous voice and data without the need for VoLTE since the Note 4 has the extra radio to do SVLTE - simultaneous voice and LTE!). The kicker though is I can swap out the battery as needed to get back to a full charge in minutes, then head out of the house on my merry way. Priceless!!!! :D

What is the best way to turn a phone into a hotspot?

In settings under Wireless and Networks select More and choose Tethering and mobile hotspots. Posted via the Android Central App

Thanks. I had somehow overlooked that option before.

Get the Notification Toggle app and put the hotspot icon in your toggles. Posted via Android Central App

@Andrew This is interesting that the Droid Turbo can be used on AT&T. I'm on AT&T, but sometimes go to a spot where AT&T service is very poor. I would love to use a Verizon sim to get service when I that area. Can one get simply a pay as you go plan from Verizon without monthly fees?

HEY IM LAZY!! someone tell me why this makes any better a hotspot than any other phone. annnnd go!

Why would you use WiFi hotspot instead of USB tethering with a laptop? It's easier on the phone and charges at the same time!

I have the Note 4, and have had so many different android devices .... After the usual factory reset, OMFG ... this device is fast. I kid you not in some cases it was loading pages as fast as my Google Pixel OG .... on slow wifi .... It holds signal without an issue in very barren RF ... The Note 4 is about 70% as fast in power saving mode, and 85-90% running full out and drops VoLTE while the droid keeps going. I could only imagine the reviews of the Droid Turbo, if they released lollipop on it at launch ....

Just updated 5.1 lost my hotspot been using on crickit for about two months with no problems now it just says your phone cannot connect to at&t servers please try again later pull sim put in droid ultra works fine. Any ideas or apps tried most like foxfi no luck

Dont forget that plugining it into a quick charger for 15 minutes can extend battery even longer. And it supports wireless charging too. I streamed tune in and rdio yesterday on 4g to the speaker of the phone for a solid 8 hours. And was still playing boom beach late night. I am fine with the camera just wish there was a way to not need to store huge sized photos on the phone... The only real knock is the hardware buttons... Posted via the Android Central App

Using it on AT&T in my area requires no APN changes. I just borrowed one from the guy a few desks over and tried my SIM in it. Picked up AT&T just fine and is on LTE. I can use it as if it was a full AT&T phone. I had no idea it did this!

That's awesome that Verizon's LTE phones come unlocked. I buy unlocked to be able to swap out sims. It's good to know that their devices are something I can use if I wanted to, and of course if they support the right bands. I've been wanting a Turbo. Posted via Android Central App

My Droid turbo has a great hotspot, but my S6 Edge runs 5.1.1 and has an equally good hotspot. Posted via the Android Central App

Oh and my s6 camera smokes the Turbo, this from my own personal tests. Sorry turbo, but low light and you just dont get along... Posted via the Android Central App

Can someone help me with the low sounds I get while typing.went to sounds and notifications and have then set to loud but the sounds are still low. Posted via the Android Central App
Android Central Newsletter
Thank you for signing up to Android Central. You will receive a verification email shortly.
There was a problem. Please refresh the page and try again.