Motorola Droid Turbo 2 specs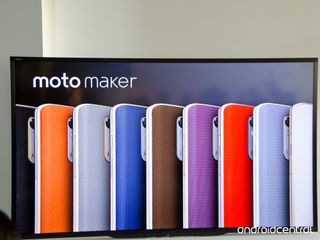 The Motorola Droid Turbo 2 is now officially official, and that means the Droid Turbo 2 specs are, too. The short version is that you're basically looking at the innards of this year's Moto X Play, with a beefed-up battery and some serious screen protection. It comes in a number of predetermined colors and materials, but you'll be able to customize it through Moto Maker as well.
Here are the full Motorola Droid Turbo 2 specs:
| Category | Features |
| --- | --- |
| Operating system | Android 5.1.1 Lollipop |
| Processor | Qualcomm Snapdragon 810 (MSM8994) with Adreno 430 GPU, Natural Language Processor, Contextual Computing Processor |
| Display | 5.4-inch POLED Quad HD (1440x2560) 540 ppi |
| Battery | 3760 mAh, with Qi and Powermat wireless charging |
| Rear camera | 21MP, f/2.0 aperture, phase-detect autofocus, dual-LED flash, 4K video @ 30fps |
| Front camera | 5MP, f/2.0 aperture, wide-angle lens, 1.4um pixel |
| Storage | 32GB/64GB with microSD |
| RAM | 3GB |
| Dimensions | 149.8 x 78 x 7.6-9.2 mm |
| Weight | 169 grams |
| Networks | CDMA (850/1900); GSM/GPRS/EDGE (850/900/1800/1900); UMTS/HSPA+(850/900/1900/2100); LTE (B2/3/4/5/7/13) |
| SIM | Nano-SIM |
| Wifi | 802.11ac with MIMO |
| Bluetooth | 4.1 LE |
| Other | NFC, Infrared sensors |
| Colors | Black & white soft grip, gray ballistic nylon, black pebbled leather, Moto Maker |
its surprising that HTC A9 has Android M but not this device(with pure android)

Keep in mind that this is also a carrier branded Moto device. It'll probably get updates at a slower pace, and won't start out with the latest and greatest. Verizon has to do its testing, don't'cha'know.

No it's a fact. I have this carrier branded gs6 active and it hasn't received updates to 5.1.1 whereas galaxy s5 note 4 etc, some other older phones have gotten it. Posted via the GS6 Active, aka GS6 M.E. (Manly Edition)

Isn't Droid heavily modded? Posted via the Android Central App

No, not really. It's pretty clean Posted via the Android Central App powered by Droid Turbo

It's overflowing with carrier branded bloat, but the OS is pretty untouched. Posted via the Android Central App

Motorola Droid phones have been stock or close to stock for a few years now. It's the Samsungs and the LGs that are filled with garbage.

Lol yup... Damn them major carriers Posted via the Android Central App

Surprising?
Hardly. Because Verizon

5.1.1. Is incredibly stable. Eventually the Turbo 2 will get updated. No big deal at all. Dam It Feels Good To Be A Google Gangster

Between Motorola's recent history and Verizon's long-term history... I wouldn't expect it anytime soon.

Lol Posted via the Android Central App

Wow the phone is much wider than I was expecting! Guess that's the price to pay for all the extra protection? Wider than the Moto X Pure and the Nexus 6P and they are larger screens too.

How wide is the moto x pure? In mm for comparison Posted via the Android Central App

Phone Arena already has a placeholder with the dims up. No pictures (as of when I posted the link), but it'll give you some idea. http://www.phonearena.com/phones/Motorola-Moto-X_id7885/size/Motorola-Mo...

I really hope that's a typo

Grams and mm? This is a US only phone - why the metric measurements? Qi and power mat charging is a bit of a surprise, but not enough to get me back after the poor support of the Droid Maxx and Droid Turbo.

Accuracy and comparisons Posted via the Android Central App

Because metric is much better when comparing phone specs. Because, you know, most phones are not exclusively for Exceptional America.

You mean there is somewhere else?

But it's an exclusive phone in the US so........ I wonder if illiterate people get the full effect of alphabet soup

But this phone *IS* exclusively for "exceptional America", and I know the size and weight of my current device in US units. If non-Americans are curious, let them convert it, because they have to come here *AND* open an account on Verizon to buy one.

All phones are measured in grams and mm. Meaning if you wanted to compare it to any other phone you'd have to convert them yourself.

Thickness of phones is always done in mm, screen is always inches... Both systems are used all the time. Why does it matter? Unless you're so vehement against the metric system. Posted via the Android Central App

I'm definitely not against the metric system, but I know the size of my phone now in inches, because that's what's easier for me to remember and reference. If this was a phone that was going to be sold internationally, it'd be fine - but it's not. I don't care all that much, but I do know it's more relevant to the potential market for this phone, that's for sure.

Inches is a horrible measurement for phones due to the relatively small measurements, especially the thickness.

It's probably because the phone was manufactured to metric specifications. For the sake of accuracy, they list them in metric. I guess I'm lucky: I'm Canadian, I am fluent in both systems.

If only the Stonecutters wouldn't keep the metric system down.. Posted via the Android Central App

Hahaha. It's been a few years since I've seen that episode of the Simpsons. Thanks for the flashback.

Surely you guys pressed Rick about when the Turbo will be updated to 6.0? Yes?

They did. He went into Marshawn Lynch mode and kept saying "Your device's software is up to date, dawg" each time he was asked.

Avoid. Avoid. Unless Motorola decides to do a 180-turn compared with the original Droid Turbo, it is not worth the brainless power.

Why do you say that my wife loves her Turbo. For those who do not need the latest and greatest software updates these are terrific phones.

Wait...What's wrong with the turbo? Posted via the Android Central App powered by Droid Turbo

I'm shocked that the Turbo has wireless charging. Well I guess they should include it for that exorbitant price their asking for. Posted via my New Moto X Pure 32GB Verizon

All the Droids since 2013 have had wireless charging.

...GSM antennas? Posted via the Android Central App

This is a Verizon exclusive phone. While it may have some overlapping bands, I'd doubt that you could buy the phone and then take it to ATT.

But why have them if it's exclusive to Verizon? Posted via the Android Central App

It's a world phone. Posted via the Android Central App powered by Droid Turbo

Most Verizon phones have GSM bands for international roaming

All Verizon phones have gsm bands in them. Technically you can take a Verizon phone and slap an att or tmo SIM card in and work, with the exception of LTE. They all use different bands. I have put an att SIM in a Verizon phone so I know that works for sure

It's not exclusive. It's call moto x force for international version. Posted via the Android Central App

From Phone Arena:
GSM:
850, 900, 1800, 1900 MHz
UMTS:
850, 900, 1900, 2100 MHz
FDD LTE:
700 (band 13), 850 (band 5), 1700/2100 (band 4), 1800 (band 3), 1900 (band 2), 2600 (band 7)

Why is a new phone shipping with Lollipop? Being a former Droid Turbo owner, I don't have a good feeling when Moto/Verizon tells me that the next OS is "coming soon".

Still Lollipop?
Because Moto/Verizon.

One reason is that Marshmallow just came out and this phone has been in development for a while. Another is that it is a carrier phone on Verizon and thus has more changes to Android than the Moto X Pure.

I feel like last year the turbo was beast mode. This year its just like every other device ... I'm fueled by marshmallows...

No Marshmallow. No fingerprint sensor. No sale.

I'm confused. Are you guys sure you're not mixing up the specs of the Turbo with the specs of the Maxx? I thought the Maxx was going to have the SD810 and the Turbo would have the SD615. Note 4 vs Note 5 Speed Comparison: http://youtu.be/MYkTxA7dcEY

No. The Maxx is a rebranded (and VZW compatible) Moto X Play. The Turbo 2 is the more expensive, more powerful phone (and the one with ShatterShield).

I only have one big problem with this phone so far.
It's US only!! :(

I wonder if Motorola will have an unlocked GSM version of this phone with a different name...

All Verizon phones are unlocked and support GSM. But there is a moto x force for international version. Posted via the Android Central App

Does this have a similar OS to the Moto X?

So, just like the OG Turbo, it's shipping with the last version of Android before the latest one??

Pretty nice if you're okay with being on Android 5.1.1 forever lol. One of the 3 main reasons I wouldn't go with Verizon. Posted via the Android Central App

Glad to see Qi. I wouldn't buy the phone without it. I don't care how fast a corded charger can charge the phone. That means nothing to me. I put it on my TYLT at night, and it has a full charge in the morning that gets me through the day and then some. Back in the day when a phone needed to be topped off, fast charging would be great. Now, I have no need for it.

Everything looks good but does it really not have a fingerprint sensor? I thought there was enough space for it....
Anyway, I'll wait for the reviews.

I don't see it on Motorola's site in the full specs. I was hoping for that too, but somehow, I wasn't expecting it.

Okay me and others are confused. We were told by Samsung and by Samsung's snarky followers that sd cards were going the way of the dodo. Dam It Feels Good To Be A Google Gangster

Keep saying it, it still is not true +++ Insert witty signature, watch as others not get it, profit +++

No one said the micro SD card was going the way of the dodo bird, reason Samsung did not include it is because the new memory controller for the new memory Samsung used in their new phones did not support micro SD cards during this time. It has been said that the new S7 and other Samsung phones moving forward will be back to supporting micro SD cards, as they have fixed the memory controller issue. Posted via the Android Central App

Once again the Droid Turbo shows the world what a modern smartphone should be. 3500mah battery should be the standard by now. Expandable storage should also be the norm on every device. Dam It Feels Good To Be A Google Gangster

I agree with you on the battery and mostly on the SD card +++ Insert witty signature, watch as others not get it, profit +++

"duel LED flash" I guess for the next camera shootout Posted from my XT1575

I seriously can't wait for the very first person to shatter the screen. On the specs side, the phone still seems promising comparing it to other well known phones like the Nexus 5x and Galaxy S6 http://versus.com/en/motorola-droid-turbo-2-vs-lg-nexus-5x-vs-samsung-ga... . Its speed is somewhere in between, but something I like is the huge battery, and of course, the shatter-proof screen.

Of course you will see some idiotic video on the www of someone using a sledge hammer or the sort to shatter the screen, or run it over with a dump truck, seriously. Posted via the Android Central App

Eh..5.4 inch screen is too small in my opinion. Posted via the Android Central App

Agreed +++ Insert witty signature, watch as others not get it, profit +++

I agree as well. It is the main thing I found disappointing. It's bigger than my original Turbo that I'm using today. So, it can probably live with it. . . Probably.

I would stay away from this phone if you are looking for the phone to be running the latest software, heck my Verizon Note 4 is still on the crappy 5.0.1, that's why my Nexus 6 is my daily driver. Posted via the Android Central App

Ok I have a question..
I'm seriously thinking of getting this Thursday. I have an upgrade available on my more everything plan with my family. Will they make us go to the new plan system or can I stay on the current plan? What would the price be with a subsidized upgrade? Seems like Verizon keeps changing their darn pricing structure and its so confusing! Posted via the Android Central App

We switched to the new simple plans and are buying phones outright. Phone bill went WAY down and we have more data. Everyone else in the family is an iSheep and Apple's deal to get a new phone every year for a set price or trade in isn't too bad. I'd rather not use upgrades and just know what I'm paying for. That's not for everyone Posted via the Android Central App

I don't think they are doing subsidized phones anymore. When your current contract is up there is no more contracts (for your talk/txt/data). They are however offering a payment plan for for phones if you cannot afford to buy it outright which is separate from your phone plan. It's 24 months no interest.

Go buy the 6p, you will not regret it, nothing beats pure Android, also Huawei has a payment plan, same one the US is using with China. Posted via the Android Central App

Nice! Posted via the Android Central App

I was all set to order this... Then... No fingerprint scanner. Come on Moto. Even if you didn't do anything until M. Now I don't know what to do. Wait for the next one I guess. Posted via the Android Central App

Am I the only one who could care less about having a fingerprint scanner? I have it on my Ipad and never use it. A meaningless feature in my book but to each his own... Posted via the Android Central App

It's going to be extremely convenient having a fingerprint sensor as mobile payments become more mainstream. A major flagship in 2015 should have a fingerprint sensor, full stop.

I wanted a fingerprint reader as well, but I still don't have to have it. I'm not convinced yet that I need to pay for things with my phone.

This is exactly why I'd like it. I am using Android Pay A LOT. It is OK to put in my PIN first, but my wife's iPhone is a bit quicker to approve with a fingerprint.
And before you say it - No to iPhone. No to Samsung. Just like a "mostly" pure experience. Too bad the Nexus devices aren't up to these other specs. Everything seems to be a tradeoff.

Fingerprint scanners mean nothing to me at this point. Maybe in a year or two, but right now? Not so much.

Meaningless? It's a better and quicker security measure than a pin/password.

http://www.dpreview.com/articles/2242466483/dxomark-mobile-report-motoro... Posted via the Android Central App

How are these the 'innards of this year's moto x play'? The specs are closer to the x pure/style than the play. I think they confused it with the droid maxx 2 in a hurry to publish it. Posted via the Android Central App

I have the Note 4 on Verizon and I can tell you I'm still rocking 5.0.1 Lollipop. Verizon takes forever to update a phone. Posted via the Android Central App

Where's the hands on? Really want to know how the camera is compared to other phones. My current Turbo is still pretty good. Camera is my only big complaint. Speed of shutter, photos of moving objects, low light, etc. Cheers!

To me, the logo isn't that bad. It's the same as Samsung, HTC, and LG with their names on the front. Hell, I'm on a 2013 Moto X and the razr flip phone I held onto for years prior to this had 3 logos that each said Verizon and had that check mark. It would've been nice if it held some capacitive function or a finger print sensor though. Posted via Android Central App on my Moto X

I want to know about the trade in program. They say they'll accept cracked screens and "up to $300" for values, but I want a list. For instance, my mom has a pristine Droid M, and my mother in law has a cracked Turbo (she already used the one free replacement) . How much are those worth? What if I buy a cracked S5 or iPhone 5 on ebay just to trade in?

They are worth $10.00 Posted via the Android Central App

You had me until Snapdragon 810.

No fingerprint scanner.....what. Posted via the Android Central App

No OIS, no buy. Posted via the Android Central App

Hmm? The battery is a little smaller, but still bigger than most phones. The front looks a bit too busy to me IMHO. The new Hamilton Beach SD toaster. Powered by the Snapdragon 810.

VKWORLD VK700X also has a strong, shatterproof screen, please visit https://www.youtube.com/watch?v=rdn2PE9lULs
It only costs $59.99!!
Android Central Newsletter
Get the best of Android Central in in your inbox, every day!
Thank you for signing up to Android Central. You will receive a verification email shortly.
There was a problem. Please refresh the page and try again.