Motorola Droid Mini, Ultra and Maxx pictured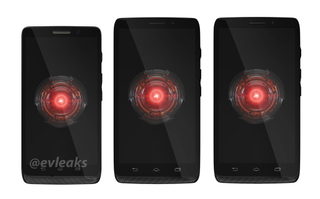 We're starting to hear more and more about Motorola and Verizon's new Droid devices — in recent days we've revealed promotional materials and a possible release date for the Droid Ultra and Droid Maxx. Now prolific Twitter leaker @evleaks has published an image of all three new Droid devices — Droid Mini, Droid Ultra and Droid Maxx.
Unsurprisingly the Ultra and the Maxx are almost identical from the front, as history would suggest the Maxx merely being an Ultra with a larger battery. Meanwhile, the smaller Droid Mini sports a similar design with a reduced screen size — 4.3 inches, according to our source. With Aug. 8 being tipped as a possible launch date, hopefully we won't have to wait much longer before these new Droids are officially unveiled.
Source: @evleaks (opens in new tab)
Android Central Newsletter
Get instant access to breaking news, the hottest reviews, great deals and helpful tips
Alex was with Android Central for over a decade, producing written and video content for the site, and served as global Executive Editor from 2016 to 2022.
I hope the Droid Mini doesn't have mini specs. I don't always want to carry a 5+ inch phone, but don't want to sacrifice power for a smaller form factor.

Yeah same here. After going from the original HTC EVO 4g to the EVO LTE, I feel 4.3 screen size is the sweet spot for a phone. As long as the specs are the same as the bigger models, I think a lot of consumers would be happy with the smaller screen size.

I think the Droid Mini will suprisingly end up being the best selling device from this lineup. To us Android fans we will head towards the Ultra or Maxx. But we are the minority. Most people will want the smaller phone with great specs. 4.3 inches is still a great phone size. Be prepared to be suprised.

I see more DROID RAZR Ms out and about versus the DROID RAZR HDs (+MAXX).

I completely agree. I see RAZR Ms out in public three times as much as I see RAZR HD's or Maxx's. The M has a great form factor that people want.

This is why I think the moto x will be successful..it will be the smaller device option for all carriers instead of just one. Posted via Android Central App

The Moto X will be very succesful. It will be my next phone as I fully expect it to be affordable off contract so that I can keep my VZ unlimited data.

I really hope it is affordable off contract. Btw, I own a droid razr m and i love it. Posted via Android Central App

Affordable off contract would be great!

I don't. The only RAZR M I've seen is my wife's. I see plenty RAZR HDs. Posted via Android Central App

Agreed. Also being the only android phone with similar external dimensions as the iphone 5 doesn't hurt. The M is surprisingly robust, the Mini should do well.

That must be why the Samsung Galaxy S4 isn't selling well with its 5" screen. =P

Sorry, didn't realize we were comparing sammy sales to the razr m... Oh wait, we weren't. ;)

the Droid Razr M is the best smartphone I've ever owned, amazing phone. the droid mini will probably be my next purchase, although I am thinking about the maxx because my wife just got the DNA and a big screen is kinda nice.

I honestly hope the DROID Ultra Mini has the same processor, RAM, and camera as the Ultra and Ultra Maxx.

Can anyone confirm/deny that this line of phones was still in the works before Google started to give their input? I read many times that Moto has to work through a pipeline of phones that were designed either before Google take over or right at the beginning, so they don't have any Google influence.

Given the time frame, I would have to assume that these were already in the works when Google got involved.

This is about the last of them though. These and the X. Posted via

So you're under the impression the X didn't start with Google?

I still favor my Droid RAZR compared to the huge phones...plus the Kevlar and Gorilla glass are still holding up strong. People are going to start migrating back to smaller phones...we are inching close to being the same size as a kindle..
Frankly I don't want to talk on a kindle and carry it in my pocket..
I would have to wear jnco Jeans.

None of these have physical keyboards? My wife wanted to update her Droid 5 but the future of physical keyboard phones is looking very bleak.

I'm going to assume you mean DROID 4.

Oops. I have Droid 5 stuck in my head as she asks about the next version at least once a week.

My wife is also looking for a keyboard phone waiting to upgrade from her Droid 2

Whether or not these phones were in the pipeline, I don't think moto is going to abandon it's RAZR line or its Droid affiliation. It's been pretty successful for both moto and vzw. The X phone will cover all providers but that doesn't rule out exclusives. Google has said again and again that their moto line doesn't imply nexus. Google has had tons of influence on the RAZR series already. Each update has actually gotten rid of more bloatware each time. And motoblur is essentially a few exclusive apps and widgets, otherwise it's essentially AOSP.

Do you think these Ultra phones are actually the DROID RAZR Ultra Mini, DROID RAZR Ultra, and DROID RAZR Ultra MAXX? I think the RAZR name is going away. And DROID isn't strictly a Motorola thing.

Is there indication to it not being the Droid RAZR Ultra lineup? Whether they carry the RAZR moniker or not, they basically continue from the M, HD, and MAXX HD. Moto has a lot of recognition in the RAZR name. I don't think they'd drop it. True droid isn't moto exclusive but they were the original partner. Just saying there is no indication that the RAZR line and moto-vzw exclusives will go away. Obviously more carrier wide models like the X, but it doesn't have to be exclusive of carrier specific models.

In the leaked storyboard, the voice over line reads "Fortified with Gorilla Glass, Encased in Kevlar, the new DROID Ultra. When it matters, if it matters. Droid does."

I guess we'll see soon enough. I personally like he RAZR brand. But more than the name, I'm talking about the small, regular, and MAXX flavor of phones on vzw.

The existing Razr Maxx HD has not only a bigger battery than the Razr HD, but more internal storage (32GB vs. 16 GB)

Love my Razr Maxx and I am looking forward to comparing the new Maxx to the HTC and Samsung flagships.

What's the point of a Ultra and a Maxx? Why can't they just simplify it with the Ultra with a large battery? Plus, if Verizon is getting all these Droids, then I'll doubt they'll be getting the X. Sigh, setting themselves up for failure.

I have the Droid Razr M now and I am very satisfied with it. The screen size is big enough but not too big and the battery life is very good. If the specs are the same they are not bad 1.5ghz dual core with 1gb memory and runs at a decent speed. I mean it's no quad core but it's not sluggish or slow either.

I'm not buying the M is 4.3" still. If you compare those phones in the pic, the screen sizes are 5" for the M and 5.375" for the Ultra. If the Ultra is in fact a 5" phone, that would make the mini 4.65" by comparison. If the M is only 4.3", that would make the Ultra only 4.62" by comparison. So torn now because I really wanted to switch to T-mobile, but not sure if I want to wait until the fall or whenever the big Motorola high-end phone comes out. Might just get an M as long as it's at least 4.5" and has high-end specs. Any more of that pentile crap and I'm out.
Android Central Newsletter
Get instant access to breaking news, the hottest reviews, great deals and helpful tips
Thank you for signing up to Android Central. You will receive a verification email shortly.
There was a problem. Please refresh the page and try again.