Motorola Droid 3 hitting doorsteps for those who ordered early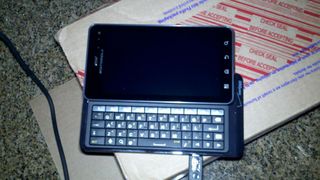 There it is, folks. The Motorola Droid 3. It's still not available in stores, of course, but Android Central Forums member wnflyer (sup!) already has his, declaring the following:
And wnflyer's not alone. Member mfreeman73 has his, saying:
Anybody else get their Droid 3 yet? Hit up the thread below and see what everyone's saying.
Source: Droid 3 Forums
I would buy this phone if the ram was higher...or does the dual core processor do just fine with 512mb of ram?

It's got a locked bootloader unfortunately, from what is being reported. http://www.zdnet.com/blog/gadgetreviews/motorolas-droid-3-shipping-with-...

Can you still root with a locked bootloader? Just no custom roms or kernels, right?

I'm positive this thing will be rooted.

The X had a locked bootloader and people could still root it and put custom ROMs on it; No kernels though.

I ordered the Droid 3 but I am still looking at the Bionic or something else for my primary line. I have the X and will do a compare review.

Nice I'd like to see that compare video.

Can't wait to hear how everyone feels about this phone. Still using D1, the best phone I have ever owned, but I am trying to decide if I should jump on this or wait for Bionic. I am still in a 3g area, but 4g is getting close.

WHo cares if bootloader is lock either A MOTO will unlock with a update or be the devs will find a way to unlock. if it has Efuse then we worry.

Moto will only unlock it if the carrier allows it first, and last time I checked Verizon was the only carrier to NOT offer an unlocked phone like the Nexus phones. So the D3 better not have an eFuse or there will be lots of broken-hearted Android users.

Four inches is the "sweet spot. that's not what she said had to say it looks cool but more of the same from Verizon

Not sure how anyone can order a phone without using it first. I mean you can send it back... but its not exactly free to do so

Actually any phone ordered from Verizon can be taken right a corp store and exchanged/returned under the worry free guarantee. At least that's what I was told today on the phone... YMMV

Isn't there some type of restocking fee?

The Bionic looks and sounds too damn sexy. I'm an HTC guy, my wife is a MOTO girl who still uses the original D1. She wants the D3 but I'm begging her to wait to upgrade to the Bionic so I can play with it. If in fact the Bionic is coming out next month, I think it will be well worth the wait.

i called in yesturday and when the rep was trying to offer a diff cheaper phone b/c I didnt want to pay 199$, she said if i didntt like the other phone i could return it, 14day trial. It wasnt unti lI asked that she said there's a 35$ restock fee. but then again, sshe also said If I boughtt two for both my lines, then she would waive one of the restock fees if I didnt like them. so it does seem like a YMMV situation.

Yeah there is a restocking fee. Unless they changed their policy from last fall.

I wish AT&T would carry a high end slider keyboard android phone but sadly they do not. If I was going to Verizon I would love the droid 3.

Ordered the phone yesterday with a one year contract online for $224.00 (This is only available for business accounts). I just received the phone today. My thoughts: 1) Battery drains very quickly.
2) Battery overheats and because the battery cover is so thin, you feel it overheating in your hand.
3) Cover for the Battery is very hard to remove and can easily be broken.
4) To many VZ apps added. Other than that the phone is nice. I went into 2 stores to see if they had products for the phone, cover, cases, etc. The rep kept arguing with me saying it was the Droid 2. That they still did not receive the Droid 3 and the stores had no idea when they would be getting them. They didn't even have a display unit on hand.

Thoughts and opinions on the Droid 3: http://wp.me/p1BlyQ-4b

My wife just got her Droid 3 and its pretty sweet.
Android Central Newsletter
Get the best of Android Central in in your inbox, every day!
Thank you for signing up to Android Central. You will receive a verification email shortly.
There was a problem. Please refresh the page and try again.