Motorola Assist update brings important calendar and voice reply fix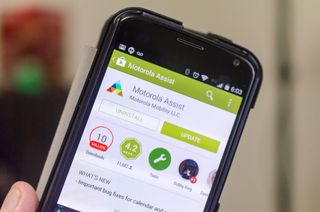 Motorola has just rolled out an update to its Motorola Assist speech software for the Moto X as well as Verizon's latest Droid devices. Though the update doesn't add any new functionality, Motorola says that it delivers "important bug fixes for calendar and voice reply."
The free update is available for download now through the Google Play store and should begin hitting your devices soon, if it hasn't already.
It is available for the Moto X along with Verizon's Droid Ultra, Droid Mini, and Droid Maxx phones.
How are you liking the new update, which is now on version 2.3.15? Let us know if the bug fixes are helpful in the comments.
Great update. The meeting feature would never activate for me, but this update fixed that issue. Posted from my Moto X via Android Central App

Now when do you think Moto will get around to fixing the problem with pressy and touchless controls?

Not Moto's problem Dude. Posted via a Republic Wireless Moto X using the Android Central App

Missing my X. Can't wait for the new Moto to be released. Posted via the Android Central App

Was just talking about assist with my fiancee. For the meeting silence, how does it differentiate between an actual work meeting that you want your phone silenced for and a normal calendar event that you'd still want the ringer on? Like we had a party on the calendar and her phone silenced itself. There must be some way to separate these. Edit: Found it. I guess you'd have to have separate calendars for work and play, then you can select only the work calendar to work with assist. Moto genius strikes again.

Your method in the edit is more complicated than it even has to be. Luckily moto treats only calendar events marked with a Busy status as relevant. This allows you to have everything on the same calendar with the same Google account. I have mine set up that way, and it works great to silence my phone only on those events that I want it to. Posted via Android Central App on the Moto X

Nice, thanks for the heads up.

The update is also for Verizon's Moto G. Posted via Android Central App

Sweet. Posted via Android Central App

It fixed the calendar issues I was having with Assist, but Driving and Home still have issues with the hands-free. Could be something wrong with my phone, but ever since the 4.4.4 update the phone will tell me that someone text me, but won't let me reply. It just keeps saying sorry and we'll talk later. Really wish I had that function back =/ .

I had the same problem. I did a wipe of the phone and assist worked normally afterwards. If the feature is worth it to you (it was for me along with starting fresh once in a while), I would give it a try.

I was having that problem too then I discovered the issue...having Google Now voice "double" enabled. Try disabling the "enable Google search from any screen" in Google Now. It jacked up my video and any other real-time sensors like pedometer (motion sensors) and sound recorders. Once I disabled that, everything went back to working fine (including Google Now from any screen (on my DROID Maxx).

Assist for Calendar. When you enter a calendar appointment, just click on busy to enable do not disturb, if you leave it as available call are put through

Why wasn't moto g listed? Gsm version updated fine and has the same changes. I can understand not mentioning moto g when it comes to drive assistant but this update wasn't about that. Posted via Android Central App

I'm suddenly having a problem with Assist on my Droid MAXX. When I'm driving and a text comes, my phone says "You have a text, do you want me to read it?" (or something like that). Before I can answer, it keeps saying, over and over, "I'm sorry, I didn't understand you", and then it cuts off. I can't un-install Assist as it came on the phone. I've tried un-installing the updates, clearing data & cache, re-training my voice. Nothing is working. I really don't want to d a factory re-set but am running out of ideas. I've spoken with Verizon AND Motorola but nothing has solved it. Any suggestions? I see a few people in this thread have had the same issue. What's it mean to "wipe" the phone?
Android Central Newsletter
Get the best of Android Central in in your inbox, every day!
Thank you for signing up to Android Central. You will receive a verification email shortly.
There was a problem. Please refresh the page and try again.