Moto Z3 specs: A mixed bag of old and new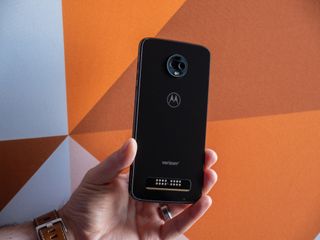 The Moto Z3 is officially official, and as expected, is a more powerful version of the Moto Z3 Play that was released earlier in the year.
However, some of the key specs aren't exactly what we were expecting.
While the Moto Z3 is a more than capable piece of tech, its spec sheet is an interesting mix of tech that's both old and new. Have a look for yourself below.
Swipe to scroll horizontally
Spec
Moto Z3 Specs
Operating system
Android 8.1
Moto Display, Voice, Actions
Processor
Qualcomm Snapdragon 835 processor
GPU
Adreno 540 GPU
Screen
6.01-inch Full HD (2160x1080) AMOLED
Materials
Gorilla Glass 3
6000 series aluminum
RAM
4GB
Storage
64GB
Expandability
microSD up to 2TB
Rear camera
12MP, Dual Autofocus Pixel
phase-detect, laser autofocus
1.25um pixels
f/2.0 lens
dual-LED flash
Rear camera 2
12MP black & white
Phase detection autofocus
portrait mode
Video capture
720p (120fps), 1080p, 4K (30fps)
Front camera
8MP
1.12-micron pixels
f/2.0 wide-angle lens
Connectivity
USB-C
(USB-C to 3.5mm adapter included)
Speaker
Single front-facing
Moto Mods support
Yes
Water resistance
Water-repellent coating
Security
Side fingerprint sensor, face unlock
NFC
Yes
Battery
3000mAh
TurboPower charger (8 hrs battery in 15 min)
Colors
Deep Indigo
Dimensions
76.5 x 156.5 x 6.75 mm
Weight
156g
Moto Z3 hands-on preview: A Verizon exclusive that adds a 5G flourish
Joe Maring was a Senior Editor for Android Central between 2017 and 2021. You can reach him on Twitter at @JoeMaring1.
Big fat nope and to think this will be the first gen I skip moto flagship in like 6 years

Makes sense to me at the $480 ($20/mo) pricepoint.

Mixed bag is an understatement. This is also exactly the same set of specs as last year's Z2 Force. It gets a bump to 8MP on the front camera up from 5MP, and it has a slightly larger, slighter lower resolution screen. The pricepoint makes sense, but it looks like Moto has given up on offering a flagship in the Z line. I like my Moto Mods, but it looks like this is the end of the line. They aren't useful enough to put up with 2017 tech until 2020.

The more I read this is insane. 2 year old chipset. Larger display but smaller battery. I need more battery life and don't want to be reliant on mods. So lame. Well, last chance is Note 9. If it doesn't excite I will be on Apple for the rest of the next cycle.

The first phone with an 835 came out barely a year ago.

It definitely wasn't. I've personally had a phone with a Snapdragon 835 for the last 14 months. EDIT: Ah, you edited "less than" to "barely", sneaky... Still, you're defending Moto for using the same SoC from Q4 2016 that they used last year into their Q3 2018 "flagship". Do you own shares?

It was announced in November 17 2016 and phones started popping up between feb and April. So, it is 18 months in market. Still 2 year old hardware and current hardware is slower than Apple.

There is no phone faster than apple. That's how it is. That being said. Not having both side by side, you will find the z3 fine.

One plus is faster than iPhone 2 years in a row. HTC M8 was first to beat it. The only area where iPhone is faster is loading games. Other than that, has no superiority over Android in any daily tasks.

I have yet to see it. My iPhone is faster side by side when comparing them to my android devices. Just watched a couple of the videos, the 1+6 is quite the screamer. However, their business shadiness will keep me from ever owning one of their devices.

Actually both the oneplus (5&6) and the note 8 are faster than the ipx according to the speed test. You can youtube it, there are tons of videos, even the apple fan YouTube site has the OP 6 beating the ipx quite easily. In most every day tasks my pixel 2xl is faster than the iPhone(Facebook, camera etc.) But to each there own.

My pixel 2 is slower than my 6s in a side by side comparison.

From what I understand, this was the most scratch-resistant. Corning made the the glass less likely to crack in a drop in the later generations at the expense of scratch-resistance. I understand the trade-off, but I worry more about scratches, so prefer 3.

Pass out, this is cheaper than the z2play? Whatever Lenovorola is smoking I definitely don't want any. This will be another huge failure with last years 835 processer. Yikes!

If they give me $300 for my z force 2 I might just switch back to big red. I still have the first z force, so I guess I can use that when im worried about screen cracks: side note, the z force 2 screen was not at all as good as original z force. I replaced my z force screen on my own, and it looked brand spanking new, not sure you can even do that on the z force 2?!

Isn't that roughly the going rate for a mid-2017 flagship like this though? Not that great really...

$500+ from other companies. But then you're also seeing $800+ from other companies. SD 835 is no slouch. Better than mid tier soc that's going for $400

So... They crammed a Z2 force's board into a Z3 play's casing and called it a day? Why does this exist?

Yeah, I don't get Moto at all these days. It's a shame too. Flashes of brilliance and great ideas for a phone's utility, all coated with a whole lot of self inflicted "what the heck"....

For that money I could buy an Honor V10 or a Samsung S8. For a little more I could buy a OnePlus 6. This phone should be dead on arrival.

I was more interested in seeing a Moto Power one reveal.

Same here. Not bad for a mid range though.

So the Z3 Play is $500 but this more powerful version is $480? Does not compute.

It does when you factor in Verizon Exclusive. You do not get an exclusive without incentives.

This phone will sell unlocked for $599 or $579.

Give it up Motorola. And a bunch of other useless brands.

The biggest useless brand is samesong.

So for a midrange price everyone expects the Sd 845? Moto could have inserted the Sd 660. Quit crying.
Android Central Newsletter
Thank you for signing up to Android Central. You will receive a verification email shortly.
There was a problem. Please refresh the page and try again.