The Moto G6 should've been an Android One device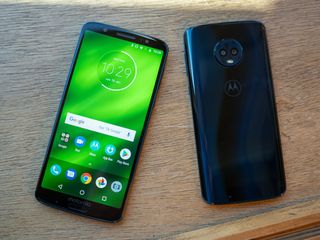 The Moto G6 and G6 Play will be available in the U.S. in late May, and from our brief hands-on time, they're already shaping up to be the new phones to beat in the budget space. Motorola has always delivered excellent price-to-performance with its Moto G series, but now that same price will also land you a premium rounded glass and metal design, akin to the Moto X4.
While neither phone seemed to have any trouble keeping up with the software interface in my limited testing, one thing that gives me pause is whether or not that software will receive regular updates throughout the next few years. Motorola hasn't been particularly known for its timely update cycle, so I'm not exactly holding my breath for the Moto G6 to get updated to Android Pie later this year. But Motorola's spotty update record is precisely why I can't help but think that the Moto G6 absolutely should have run on Android One.
To be clear, this is solely about longterm support, and not a matter of stock Android superiority. In fact, Motorola's in-house software is still fantastic, leaving most of Android 8.0 Oreo alone while bringing some useful additional functionality like Moto Voice and Moto Gestures. Frankly, I'd love for Google to adopt Motorola's double-twist gesture to quickly launch the camera, or the double-chop to activate the flashlight. But none of that has to go away with Android One.
Take a look at the Nokia 7 Plus, for example. Despite running Android One with almost completely stock software, that didn't stop Nokia from including its long-beloved pro camera app from back in the days of Windows Phone. So what's to stop Motorola from doing the same? In theory, the Moto G6 could run Android One and still benefit from Motorola's quick launch gestures, voice commands, and the excellent Moto Display. With software so close to stock Android, the only real difference would be having the promise of at least two years of support and software upgrades to the latest versions of Android as they come.
Ultimately, many of the potential buyers of the Moto G6 won't care about getting software updates; this phone is targeted more towards value shoppers than tech enthusiasts, after all, and it already offers plenty of value to the buyer with its excellent performance and build quality. But a year or more down the line, it's likely that the Moto G6 will start to fall behind on software features as new versions of Android pass it by.
Will the lack of Android One cause the Moto G6 to flop in sales? Of course not — the Moto G has long been Motorola's best-selling lineup, and with or without Android One, the G6 will sell like hotcakes because it's a fantastic value that will be widely available in both unlocked and carrier variants. Still, I would love for Motorola to dabble in Android One as more and more budget options move to the software standard.
Would you have preferred the Moto G6 to run on Android One? And does its exclusion make you reconsider buying one? Let us know in the comments below!
See at Motorola (opens in new tab)
Get the Android Central Newsletter
Instant access to breaking news, the hottest reviews, great deals and helpful tips.
Hayato was a product reviewer and video editor for Android Central.
Great idea!! I bought my Moto G5 plus because of the value and the almost stock Android. (No more Samsung or LG because of all the junk), I love my phone, but I will not be buying the G6 for the same reason stated here. We are stuck on Nougat when Android P is out. Even the security updates are always 4 or 5 months behind... My next phone is a Pixel.

Releasing the G6+ in the US with NFC is also a great idea

Great idea in theory, although having a Moto x4 Android one edition and still being on 8.0, I can attest that updates still aren't necessarily guaranteed

wow that's concerning. I thought AO was supposed to give you updates at the same time as pixels or close to it.

Yes, I check my X4 a couple times a day for the 8.1 update and am starting to get annoyed by the delay. Android One is supposed to avoid this problem. My Nexus 5x that I traded in to Project Fi for the Moto X4 had 8.1 back in December!

Good to know it has at least been upgraded to 8.0. The Project Fi site says it is still on 7.1.1. I may reconsider buying one now.

I was really hoping it would be an AO device.

i feel like all phone with less than 2GBs and midrange specs should get Android One tbh

*low end specs
also, have you heard of Android go?

No G6 Plus and no NFC for the US, practically no updates anywhere. Go away lenovorola.

Was going to get the G6 Plus for me mum but found out it isn't coming stateside ugh might get her a nokia.

Exactly they trashed the brand

So we're not getting the Plus or NFC? Smh very stupid of them. Guess I'm not buying.

Went Nokia for this very reason. Moto isn't getting my money anymore.

how this budget Moto G6 compares with Honor 7X? even they had stock Android still OEM will make any excuse to giving late updates. excuse on false, lies security patch. bottom line is:- don't really matter if it has heavy skin on top of android or not.

Moto's offerings here are basically worse in every possible way. I guess we have to wait to see some camera samples to know for sure, but it seems like it. One may prefer Moto's stock-ish Android to EMUI, but the Honor 7x is likely better and cheaper.

The processor that they used in the Moto G6 is the snapdragon 450, pretty much an underclocked variant of the snapdragon 625 from last year. The camera on my Huawei Mate SE (the slightly updated version of the Honor 7X) is better, the design is better, build quality is better. The Moto does have the vanilla Android going for it as well as running Oreo. Display is about equal with them both using IPS LCD screen. Battery life on my huawei Mate SE is on par with last year's moto G 5Plus, which is excellent but don't know about the new moto g6.

Ive been a big fan of the G series but going to give Nokia a go just for this reason.

This is one reason why I'd consider the Nokia 6 (2018, unlocked) as an alternative, but I'm not sure it will work with Cricket/AT&T.

It should. It's Verizon and Sprint networks that it's incompatible with.

It will work with any GSM network.

I want the Nokia 6 (2018) too! Only thing that held me back is they don't have a 4 GB RAM /64 GB storage option.

It's a really REALLY nice device for the price.

I have the nokia 6 2017 with 3gb RAM, I don't run out of memory but the processor holds the phone back. RAM shouldn't be an issue unless you have a couple of games in the background most of the time.

Did android one help the moto x4?? Apparently no moto x5 will be leased. The moto x4 was an android one device right??

It is but it's on Android 8.1 now although it's only the project fi edition not the one sold on Amazon

It's not on 8.1 in the US. Only India. I have the X4 Android One. If it's taken this long, and still no 8.1, I'm very skeptical about seeing Android P anytime this year.

Kinda sad especially since the point of Android one is being on par with Pixel phones in terms of software updates.

What killed the Moto X4 is it was tied to Project Fi at 1st, plus the specs were a sad joke. A 5.5" QHD 64GB SD835 X4 would've sold out overnight, but Motorola decided to handicap the phone to protect the Z(2) Force line.

The only stated reason I heard as to why no G6+ in the US is because it's basically a Moto X4 with an 18:9 screen. So, Motorola is basically saying buy a Moto X4 unless you just want the regular G with a 400 series processor (no thanks).

Small reminder that Treble support means you'll be able to slap an AOSP build onto it anyway. That still omits firmware updates, but you take what you can get at that price point.

Why not use the SD 660 on the G6 Moto??? Why the 630? I mean obviously it's to cut costs but it's a bit disappointing

Wrong one, it's the 450, not the 630. You must be talking about the G6 Plus not just a G6.

I'm personally disappointed that there hasn't been many phones utilizing that snapdragon 660. Seems like a missed opportunity.

It is disappointing the 660 is a seriously powerful chipset for the mid-range. It's essentially the equivalent of the 821 as far as benchmarks are concerned

Nice idea.
You would think that any OEM, if they are not making a super modified user interface, would be happy to leave the OS updates to Google. Less hassles and work for them. And if it's a midrange phone where you are not trying to show off cutting edge whizz bang hardware, why not?

I'm under the impression the manufacturer still has to handle the updates. And Moto is lazy. So, yeah.

This proves that you can have bare bones Android and still not get updates in a timely manner. Part of the appeal for stock android is theoretically your able to update faster.

The LG Stylo 3 plus needs the snapdragon 630...

Yes. It should have been Android One. But the sales may be down because it is underpowered when compared to the Z2 Play, G5 and G5S Plus. This makes no sense. Moto should have thrown all their phones on Android One. They are horrible with software updates. But I refuse to buy a phone without a headphone jack...so no Pixel 2 for me.

I wouldn't buy anything from Motorola, ever since Lenovo bought them, they've rapidly gone down hill, while there's no doubt the Moto G6 should have been an Android One device, even that wouldn't have saved the G6 with it's lackluster and underpowered specs, right now, Nokia has overtaken Motorola in the budget segment now.

Does Google make the OS build for Android One devices?

Exactly right! I read a review recently about the Nokia 6.1 2018 and that it was a great device but that the Moto G6 has it beat. I don't agree with this statement at all! In the long run, meaning you're not planning to buy a new phone every year, I'd want to still have updates and not run some ancient version of Android. I guess in the end it comes down to preference. I have the OnePlus 5T as my daily driver and yes, the 18:9 aspect ratio is nice, but that's where it stops for me. It's a "nice to have" and not a "need to have" for me. With the Nokia 6.1 2018 you get better performance (processor, gpu, ...), stock android (no bloatware!) and Android One... I mean come on... Moto G6 may have better design or even a better camera, but no way that's going the win the battle.