Moto G4 and G4 Plus unveiled: 5.5-inch FHD display, Snapdragon 617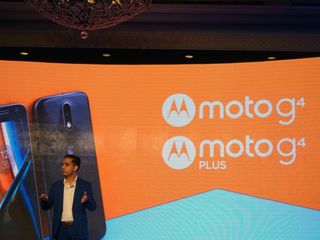 The Moto G4 and G4 Plus are now official. This year's offerings are Motorola's most robust to date in the budget segment, with the phones featuring a 5.5-inch Full HD display, Snapdragon 617 SoC, 13MP camera (16MP on the G4 Plus) with 5MP shooter at the front along with a 3000mAh battery.
The key difference between the Moto G4 and the G4 Plus is a square fingerprint sensor at the front, which Motorola claims will let you unlock the phone in 750ms. The Moto G4 comes with 2GB of RAM and 16GB storage, while the G4 Plus is available in two variants: a model with 2GB of RAM and 16GB storage, and a version offering 3GB of RAM and 32GB storage. There's a microSD slot to extend storage further. The phones will be available in black and white color variants.
The camera has received a much-needed update, now offering PDAF and laser autofocus. There's also a series of new shooting modes, including Auto HDR, manual mode, panorama, and drag to focus.
The phones come with Android 6.0.1 Marshmallow out of the box, and the user interface — like previous Motorola phones — is stock Android layered with proprietary software features like Moto Display.
Motorola talked about the contribution of the Indian market to its global sales, with the country coming in at second place behind Brazil. The brand saw a 200% increase in sales with the Moto G 2015 over the second-generation variant.
The vendor is looking to continue the momentum by aggressively pricing the Moto G4 and G4 Plus. The G4 Plus will be available for ₹13,499 for the base model with 2GB of RAM, and ₹14,499 for the version with 32GB storage and 3GB of RAM. Both phones will be available exclusively on Amazon starting later tonight.
See at Amazon (opens in new tab)
Harish Jonnalagadda is a Senior Editor overseeing Asia at Android Central. He leads the site's coverage of Chinese phone brands, contributing to reviews, features, and buying guides. He also writes about storage servers, audio products, and the semiconductor industry. Contact him on Twitter at @chunkynerd.
Prices are high as compared to what chinese manufacturers give Posted via the Android Central App

But then you're dealing with a Chinese manufacturer

Isn't Motorola a Chinese manufacturer now?

Yes haha Posted via the Android Central App (V10 or 5x)

5.5" - have to look elsewhere...

Did their stage presetstion feature a shark in a pool of water and a ramp? Posted via the Android Central App

There's a 4gig ram version as well for the G4plus??? Posted via the Android Central App

Still happy with my moto x force :) with its 3760mah battery but would like to on android 6.0.1 instead of 6.0. Posted via the Android Central App

Too big. Oh well. Guess I'm not surprised.

WHAT ABOUT UPDATES MOTO Posted from my Nexus 6/Nexus 7 2013/Surface Pro 3

You're dealing with Lenovo, updates are few and far between if ever. Posted via the Android Central App

Yup. Lenovo has very quickly destroyed the formula that made Google owned Moto so good for that year and a half sweet spot: 1. only make 3 phones. One for each price point 2. Make those phones a good value for each price point (not necessarily bleeding edge specs, but useful and thoughtful features that everyday people will want and use). 3. Support the crap out of the few phones you make. Lenovo, you are not Samsung. Stop throwing spaghetti at the wall. Keep to the things that made Moto worth acquiring in the first place, because with your current strategy, you are quickly running the brand into the ground...

Moto X Play here, on Android 6.0.1 and receiving the monthly patches. I understand that they are lacking in the US, but in the rest of the world they are pretty much the ONLY manufacturer that offers mid range phones with constant updates.

Xiaomi releases tons of updates and they support their old phones.

Wheres my 6.0.1 man!? Huh!? From my Moto X Style

Verizon compatible? Posted via the Android Central App

So, we don't get a smaller option?

No. 5.5 is standard across both variants.

Yeah, two phablets. That makes great business sense. Works great for Apple...

They think we all have big hands or something?

While it would be great to have small and big phones with same specs, in India, where this is most likely to sell (after Brazil), people are obsessed with large screen phones since most don't want/can afford to buy a tablet for media consumption. Plus there are many people where phones are the only computer they have - no tablet/laptop/PC.

You have a good point there. However, I still think a 5-inch Moto G4 (not the G4 Play) would be nice for the choice factor since it gives not only more choice of size but also adds to the list of phones someone who either has small hands or wants a small phone can choose from. Regardless, looks like a pretty solid phone, especially for the price. R.I.P GPe program

No argument there. The G4 should have been a 5-inch phone. Posted via the Android Central App

Looks like the Moto G Play won't be in India.

They did release G4 Play (in US) with 5 inch screen but it has watered down specs.

Wait what is the screen resolution. This article says Full HD 1080p but an article over at Android Authority says it's 720p Posted with my awesome Gold S6 Edge+

It has 1080p screen. Posted via the Android Central App

Full HD on both variants.

The one with the 720p screen is Moto G4 Play, which was not announced for India.

I guess this means the G4 Plus is replacing the moto X? If so, then bad move. I blame lenovo. Posted via the Android Central App

Why would it mean that? Posted via the Android Central App

Didn't they release the G and X at the same rime every year before? Or at least past 2 years? I could be mistaken, but I think they did. Since they didnt release at the same time this year thats why I was thinking maybe no X. Theres been no leaks about it either. Posted via the Android Central App

The 2016 Moto X already leaked several times, with a full metal body. The new X Play (Droid Turbo) also seems to be leaked and things point to a June/July reveal. The 3rd gen of the Moto G was release in July 2015, with both X models in September. So it's pretty much usual for them to announce the G earlier.

Moto X Play maybe Posted via Xperia Z5

Yeah I think there was a leak about a play Moto phone. Which will probably only be verizon exvlusive like last time. But nothing about an X I have heard. Posted via the Android Central App

There have been several leaks of the Moto X Posted via the Android Central App

Moto X is being replaced by the Moto Z. Looks like the Moto G Plus will sit between the Moto G and Moto Z Play.

So many models.
G4 Play -> G4 -> G4 Plus -> Moto Z Play -> Moto Z Style

Any news on UK release date? Posted via the Android Central App

Guess they'll have more on that next month.

How does snapdragon 617 compare to 80x series? Posted via Android Central App on 1+1

Poorly. Posted via the Android Central App

Much worse. It's a dumb part that shouldn't even exist. 8 a53 cores @ up to 1.5 ghz At this point in time a a53 solution only is potato class. And a a53 only system that maxes out @ 1.5ghz is a crappy potato to boot. Posted via the Android Central App

SD650 would have been the ideal choice but I guess the Moto Z Play will have that.

Would you guys choose the new Moto G Plus over the Nexus 6? Be serious. I can get a Nexus 6 for $250, brand new, but now I'm undecided.

If you care about updates and not about the fingerprint scanner or the size of the Nexus 6, I would go with Nexus. Posted via the Android Central App

Want a beast go with the Nexus. Get a Moto G your get a barking shih-tzu. Nuff said. Posted via the Android Central App

Can anyone remember a phone running a SD 615/17 and a 1080p screen that ran well? This will probably perform worse than last year's model. Posted via the Android Central App

The idol 3 did Ok Posted from my Nexus 6/Nexus 7 2013/Surface Pro 3

The X Play uses a 615 processor and a 1080p screen. While it wasn't all that smooth with Lollipop, Moto fixed it with the 6.0 update and the phone now runs pretty smoothly. I'm actually pretty satisfied with it.

The controversial HTC One A9 did run somewhat fine with the same setup, especially with 3GB of RAM.

+1. Great in daily tasks, not so much in gaming.

Yeah, it was fine and dandy in daily use. It's not great for gaming, but that's expected. R.I.P GPe program

It runs ok with 3gb of ram. Not really even medium ground for 2016 processors. They would have been better off going with the 805 or 808. For the money, they just aren't worth it. Most phones with this hardware are around $200, so anything more and you are just paying for the brand. I do like what they offer, just not at those prices. You can buy a Moto X 2014 for about $200 or less new right now and it will spank these phones in every category except maybe the camera. Hell, you can buy a Note 4 or even a LG G4 for just over $350. I don't see sense in buying the latest new phones anyways. I try to always buy last years flagships and usually under $300-400. But that just me. I have never felt like I was getting anything less then the best. I will let the rest of you pay the premium.

Is this SoC faster than my Snapdragon 810 with 3GB DDR4 (LG Flex 2) Posted via the Android Central App

Not even close. Posted via the Android Central App

No. Not even close. Posted via the Android Central App

Are you trying to be funny?

No he's bragging about having a flex 2, he knows the answer already. Posted from my Nexus 6/Nexus 7 2013/Surface Pro 3

Funny thing, that stopped being something to brag about a long time ago, about 30 seconds after the phone was released. Posted via the Android Central App

Yep Posted from my Nexus 6/Nexus 7 2013/Surface Pro 3

4x Cortex A57s + 4x Cortex A53s vs. 8x Cortex A53s. Do the math. And no, more isn't always better. There's a hint. (Unless the 810 throttles)

Well no more 8gb carrier cheapies.

The Indian prices convert into $200 and $215 respectively, for the non-Plus and Plus models.

Thankfully Posted via the Android Central App

It's over Johnnny! 2 lackluster and large phones with inconsistent cameras. Unveiled in India, have they conceded the US market to Apple and Samsung? Looks like alcatel idol 3 is going to be the only phone under 5 inches that's worth buying.

The Moto G was always a hit outside of the US.

Everywhere, I have bought two of Moto G's over the past couple years. Mostly for family. And I just bought a new Moto E for $34 as work phones and I use the LTE tethering out in the field for my laptop. Hell, you can barely buy a throw away flip phone for much less. They are dumping these.

How do you know that the cameras are inconsistent when there aren't even any reviews of the phone out yet? Posted via my Droid Turbo 2 that I wish were unlocked

Based on past phones, I'm not holding my breath.

http://www.dxomark.com/Mobiles/Motorola-Moto-G-Plus-Mobile-review-a-very... These are promising results. I know DxO isn't the supreme judge of camera quality, but it's a good sign. It matches up with the iPhone and the 6P.

These tests are idiotic, we'll see when people actually begin to use them.

£169 for the G and £199 for the G+ are still pretty good prices. This version might not be quite as compelling as previous years, but if it performs well and the reviews are positive it could still be a solid buy. Posted via the Android Central App

Well, I think the features are quite compelling this year, especially at that prices. We have got FullHD screen, option for 3GB RAM and 32GB storage, the camera on the G4 Plus sounds better than the previous G phones, fingerprint sensor and turbo charging.
Only downsides are no waterproofing (we have still got the Nano coating) and curved backs.
Android Central Newsletter
Thank you for signing up to Android Central. You will receive a verification email shortly.
There was a problem. Please refresh the page and try again.