Moto G available for $99 off-contract from US Cellular starting today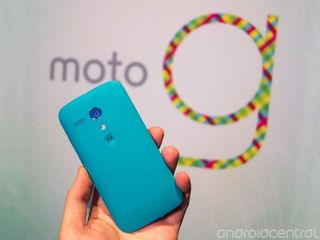 Online-only for today, in-store availability starts Feb. 10th
After writing yesterday of the expected Moto G launch on U.S. Cellular, we now have the full details on this budget device for the carrier. It turns out the date of February 10th for a launch was correct, but only for in-store availability — you can pick up a Moto G on U.S. Cellular today for just $99 (with free shipping) when paired with one of its No Contract plans.
The retail price is supposedly $189, but we're told (and the website reflects) that a $90 rebate is instantly applied when you buy the device. That's one heck of a deal, and matches Verizon's prepaid Moto G offering exactly. U.S. Cellular's No Contract plans start at just $50 per month for unlimited talk, text and data (500MB full speed) — a great deal when you also consider the price of this phone.
If you're interested in picking up a Moto G and U.S. Cellular is your carrier of choice, hit the source link below and get your order in now. And if you just have to pick one up in a store, you only have to wait a few days to do so.
Source: U.S. Cellular (opens in new tab)
Andrew was an Executive Editor, U.S. at Android Central between 2012 and 2020.
Anyone want a gn2 on us cellular? Still got it since they picked their shit up and left Chicago. Posted via Android Central App

yeesh. Calling 500mb of high speed data "unlimited" is ATT level bullsh!t.

It's one of those 500mb of high-speed and then unlimited crawling after that deals.

Is it possible to buy it and put it on the tmobile prepaid plan? Or on Metro PCS? Posted via Android Central App

No. If I remember right there are two versions. This is cdma -------------------------------------------
Kit Kat tastes like Jellybeans. Can't tell them apart...

Is it the 16 gig or 8gig? Posted via hades

Not really much of a saving when the contract cost is so high for so little data. Dunno why operators have started throwing unlimited calls/txts at people, guess they know most people will never make use of this. How much would this type of contract set you back without a phone in the states? in the UK it would be less than half that.

Isn't US Celliar CDMA? So 3G is gonna be slow as crap. And there plan isn't really good. Posted via Android Central App

I guess that depends on how fast your poop moves.

As someone who has used this phone on boost Mobile CDMA network I assure you guys the phone is fast. Remember it's quad core. It's certainly faster than my Galaxy S3 Posted via Android Central App

We all know that the phone is fast. The network said phone is being used on? Not so much. Posted from my "Gift from God" Note 3, my "God-Given" iPad Mini 2, or my "Risen" Samsung Chromebook.

Great for Grandma or Grandpa Posted from my Lg G2 over Sprint in Orlando

Since US Cellular and Verizon both sell it for $99. I wonder why they just don't drop the price for the unlocked version to that as well. Posted via Android Central App

They are subsidizing the cost to get to more buyers, buyers that will give them $50 a month to make up for it, and I'm sure the CDMA version costs less to make, both in required hardware and patent royalties

I think it is a sin to make a phone with 5.5GB of usable storage and no SD card slot. Having to stream all of your music and store your files in the cloud is the whole idea to make you use more data. Consumers really don't have a chance when the carriers and phone manufactures team up against us. Posted via Android Central App

Consumers have plenty of choices. However, some people are penny wise and pound foolish. I won't blame companies who are willing to shut up and take their money.
Android Central Newsletter
Get the best of Android Central in in your inbox, every day!
Thank you for signing up to Android Central. You will receive a verification email shortly.
There was a problem. Please refresh the page and try again.