The Moto G5 Plus is the most important phone of 2017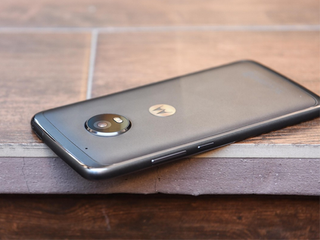 We spend a lot of time thinking about which phone deserves that coveted Best title here at Android Central. It's a moving target throughout the year, and something we disagree about more often than not when discussing things internally. We look at camera quality, battery life, performance over time, software updates, and a ton more. It's a valuable conversation to have, and a great conversation to have with all of you, but this year I found myself asking the same question over and over again as we evaluated these phones.
More often than not, the answer to that question was no. Obviously, the Law of Diminishing Returns exists for a reason, but there's no doubt in my mind what Motorola did with this $180 phone (opens in new tab) is important. In many ways, this little budget phone is the most important phone to have been released this year.
Check out the full Moto G5 Plus review!
More than a budget phone
Motorola's low-end phones have been exceptional for a few years now. They have a history of performing above expectations, packing batteries which frequently pass the more expensive competition, and usually have cameras that are better than anticipated. The Moto G5 Plus is the latest in that line, and brings to the table a build quality much greater than you'd expect for the price as well as the remarkably good software Motorola has been building upon since the Google days.
And that's what makes this phone such a big deal. The G5 Plus doesn't look or feel like a budget phone. It's for a great fingerprint sensor, ridiculously good battery life, decent speakers, and a middle-of-the-road camera at a price you'd usually see a carrier offer as one of those old "buy this expensive phone and get this cheap thing for your kid" deals.
This phone also does a great job highlighting just how small the difference is between the best of the lower end and these "flagship" phones is right now. You can buy three of these phones for the same price as the Pixel 2, and if you handed these two phones to someone who didn't know anything about phones there's a good chance it wouldn't be immediately clear to that person which phone was superior.
Great news for the future
I enjoy knowing that the Moto G5 Plus is something I can recommend to just about anyone, and see the genuine surprise at how good the phone is for that price after using it for a few days. I like knowing the low end can be this good because it forces me to be more critical of what makes the "best" phones so good. Over the last couple of years, that decision has been made over fairly subtle differences in hardware or software quality.
Realistically, that decision has been less and less about hardware, and more about services. These high-end phones have to demonstrate how my life is improved with its services, which is another thing we largely have Motorola to thank for. The Moto X, flawed as it was, focused deeply on making life simpler for the user. Things like quickly accessing the camera, enabling specific features when you were driving, and delivering information to a display that woke up when you looked at the phone. Degrees of this are everywhere now, including the Moto G5 Plus, and contextual computing through Machine Learning is a huge part of how Google plans to improve Android over the next year.
As Google's AI continues to make the Pixel better than the hardware technically is capable of, phones like the Moto G5 Plus will continue to improve the "basic" experience at price points that seem impossibly low for what you are getting. It's great news for anyone using their phone as their only phone, and especially as their only computer.
The most important phone of the year
As much as I appreciate the capable, sophisticated devices so many people are willing to spend almost $1,000 on, I continue to be amazed at just how much phone you can get for a fraction of the cost right now. Motorola is one of few manufacturers building phones specifically for this group of users, instead of re-branding older hardware so there's something to sell.
And with the release of the Android Go platform, it's clear Google wants to drive prices even lower and make sure even more people are connected. As long as this new initiative doesn't suffer the same fate as Android One, this type of phones is going to be a lot more interesting in the coming year. You can bet Motorola will be a big part of that conversation, with a sequel to the Moto G5 Plus leading the charge.
Android Central Newsletter
Get instant access to breaking news, the hottest reviews, great deals and helpful tips
I love my Moto G5 Plus phone...the only thing I miss, from my Nexus 5, is NFC and regular updates too :(

The g5plus is Lenovo's best phone, my only question is what happened to your flagship. I've seen prices as low as 300.00. I guess It's not selling to well!

My Nexus 5 was freezing and it stopped making sounds (notification, video, audio). So I factory reset it but it kept freezing there also...then cleared partition and kept giving errors...so I moved to the G5+

i had a similar switch. my Nexus 5 got in a unfixable bootloop and had to be returned. Got the G5 Plus as it was similar to what I was refunded. It's pretty good, but the wifi can be really flakey on some connections. Mostly on open networks. It's so bad i thought about returning it. Looks like it's been an issue for a lot of people.

Nexus 5 was a talented phone was it not I'd love that phone I'd sleep with it if I had to

If they just put out security updates for this, I wouldn't have bought a $1,000 iphone. I ordered 2 moto g5 plus phones for my parents. The android security patch level was January 2017. Really?

Mine is updated up to August 2017 (the US version)

And that was the first update since January, and it didn't come until, what, the end of September or beginning of November?

My mom's G5S Plus has October's

Same. I have an October software update. Not too bad.

Not to be nit picky, but that is a different phone.

Brazilian models got the November security patch already.

My Moto G5 Plus is receiving the 1st Nov security patch now. Region India.

Patches, so they say, have to jump through a lot of hoops the way of manufacturer and service provider both of whom may not see it as a priority - especially the cheaper the device... I've lobbied that the manufacturer and service provider shouldn't matter. Our devices have more memory than they've ever had before and the Android OS has more or less standardized so from OS to OS it's not some big grandiose change - more refinement amongst a couple of new features (I'm thinking about my Moto G5 Plus with 32gigs onboard and a 32gig SD card vs. my first device which only had 256mb onboard and a 2gig SD card...). But patches should be posted by Google on the Play Store. Maybe you get a notification from Google or you search at the first of the month I don't know. But it checks your phone for compatibility the way the app store checks now - just today I found out I'm not compatible with a game I was looking to download. But so long as your phone can handle, you can simply download and install it like a launcher or any other app. Done.

I got my Lenovo P2 at the beginning of this year. It is still on October 2016 security patch. Not a single update since I got the phone. Sorry Lenovo/Motorola, unless you update your phones, this is the last sale you will make to me.

That's the one thing that has held me back. I'm on a T-Mobile LG G6 right now and have the November Security patch. Been getting them every other month regularly. Which is ahead of a lot of unlocked phones like the G5+. T-Mobile has the Z Force 2 available for $375 right now and I love the mod idea, but worried about updates and I really like the rear fingerprint sensor and 18:9 screen. I don't think I can go back to 16:9

I have the South American version (XT1681) updated to November 2017 security patch.

This phone allowed me to sale my Note and use this for my Android backup phone. I'm an phone user but always carry a backup. This is my perfect backup phone and costed nothing close to the Note I was carrying for a month. I don't even feel the need to put a case on it.

Thanks for your marvelous posting! <a href="http://driveresoft.com/driverpack-solution-2017-iso/"> DriverPack Solution 2017 ISO Highly Compressed </a>

The most relevant and common sense article of the year. Keep them coming!

Completely agree. I guarantee that Midrange and budget phones will be more exciting as time goes on.

Yep, I think HTC is trying to sneak in with the U11 Life. Its close in price and sounds pretty solid. With phones like that its hard not to look at them when flagships are 2-4X as much!

after two Motorola phones never again no matter how important this phone is.
lack of any support or any updates is a big deal breaker for me. Looks like Motorola forgets about you the second they sell you the phone.

I wish there was a requirement that OS support be clearly marked on all marketing materials and packaging, like warranty info on cars. From what I can tell, Motorola has the following standards: Premium devices (Z series) get 2 OS version upgrades G & X series get one OS update. The E and M ultra budget series aren't guaranteed any OS updates but do seem to get 2 years of security patches.

I haven't had luck with the two Moto phones I chose for my dad the last 4 years. I got him a Moto X 2013 and it developed the speaker issue after 1.5 years. I then got him the Moto X Pure and it currently has enlarged itself. The screen and back are concave and I think the battery is enlarging itself. I'd like to try the new Moto phones for cost reasons but leaning towards Pixel or Pixel 2 or GS8 even if it costs more.

While what you say may be true - I look at from a different angle, With 150 - 200 dollar range, I can safely replace the phone every year and not much worry on dropping or breaking the glass (or for that matter regular updates).

Fair argument as well. And this way you're still always up to date software wise.

Get an NFC chip and an above average camera in the g6+ and we'll be talking.

More like have NFC in every region since this phone has NFC in certain regions.

My 2016 Moto Z Force Droid is on the December 2017 patch.
My 2015 Moto X Pure Edition is on the November 2017 patch.
I'd expect updates to the lower lines to be slower, or just behind in general. Quarterly security should be the minimum standard, IMO. That said, the Moto G5 Plus is an incredible value. And I'll always pick it over it's competitors because it doesn't ignore half of the US market.

A HUGE plus with this phone is that it works on all of the networks and that is left out of the article. Moto proves that a phone can be made that does this at a reasonable price.

I wish it would support band 71!

It would be nice in the future, but this model was introduced too early in the year.

Or that they are willing to sell them at a loss or very little profit. Are Lenovo actually making a profit on these phones?

Correction:
Moto Z Force Droid is on Nov 2017
Moto X Pure Edition is on Oct 2017

Did the moto x pure get nougat?

Isn't the Xiaomi Mi A1 better than this phone in almost every way?

It is. Only issue with the Mi A1 is availability.

Mi A1 is getting security updates regularly which the Moto G5 Plus is not.

I'd rather have the mi a1 if it has software buttons, NFC and global LTE over this phone. Fingerprint scanner needs to be on the rear for me.

The Moto G5 Plus is a very nice phone. The main problem is lack of regular updates. Mine is on August 2017 security patch , that too I got in Oct in India.

Yeah, the updates have been subpar. Really miss the days when Moto was constantly updating its phones and keeping on its promise.

Received the 1st Nov security patch just now.

Yeah lack of updates is always been a concern for Motorola buyers but I'll tell you what Motorola is probably one of the best when it comes to fast processors and having decent displays and decent price tag and a decent warranty and he won't ever have to worry about the phone shutting down on you or anything like that because it's a Motorola a trusted brand kind of like a Colgate toothbrush

As someone who came from a Samsung Galaxy S7 (Excellent phone BTW) to now using the Moto G5+, I can honestly say that I'm impressed by how well this phone works. Of course, there's no NFC (at least here in the USA), the bezels are huge, the camera is average, and the design is kinda tacky. But it has amazing battery life (Can usually get almost 2 days worth), One Nav Button for gestures, the fingerprint scanner on par with Flagships, Class-Leading Moto Display, decent ergonomics, and it has more than enough power for my usage. To me, Flagships aren't doing enough to justify their existence. The vast majority of Flagships have come out with outdated software (there's been no Oreo), most don't have battery capacities that exceed 3500 MAH, many are coming with glass (fragile material) but no wireless charging. Many manufacturers have decided to abandon the headphone jack but budget phones still have them. There's minimal difference in performance these days between a budget/Midrange phone and a Flagship. Sure the Midrange phone might take a second or two longer but it's fast enough for the average consumer. I guess what I'm saying is... I'm not really seeing a reason anymore to purchase Flagships anymore... A midrange phone, aside from maybe the camera, can do 80% of what a Flagship can do at a third, sometimes a fraction of the price. I'll be buying Midrange phones, even budget phones from here on out.

So you'll settle. The flagships have the latest specs and the best support. Battery capacity is nothing if you don't have an efficient processor. Most people use cases on their phones and lots of us use wireless charging. Headphone jack? I won't buy a device without it and Samsung is great about that. Mt phone will last upwards of three years or better so you might be paying less initially but the same in the long run

Yeah, I am willing to settle especially if it means having a mostly good phone at a third of the price that does everything I need it too. I can easily buy a Flagship, but don't need to anymore when Midrange phones are more than adequate. With all the money I save I can invest it or stash it away for something more important. Also, what's your current phone?

Mine is an S8 Plus. Cost me about $400 on a bogo deal. Not a normal deal but a good deal!

Well that's if you can get it at a deal. Otherwise it's a nearly thousand dollar phone. It's justification for a lot of us. Sure, I'd like a thousand dollar phone, I'm sure it would just fly and fly and fly through the applications that I'd run on it. However, I don't have a thousand dollars nor if I even did does my life justify such an expenditure. I use my phone for calls, text, the occasional email, surf the web and the occasional game. I'm not coming down on you, your life is perhaps different. I'm just saying that not everyone needs, wants or can afford a pricey flagship. The G line has been great for me!

I salute your wisdom and maturity

The Snap 625 IS an efficient processor.

That's exactly what I've been doing for the last four years after I realized what I actually do with my phone. No more high end phone's for me.

Moto G5 Plus has NFC in India. But our phone here is 4GB/ 32GB and not 64 GB as in the US. Motorola has too many variations in specifications of the same phone from country to country.

Well, the latest sony xperia xz1 shipped with oreo, and most of their flagships are updated to or are promised to have oreo. Sony' pretty good with updates, along with Nokia. But yeah, flagships are really just for those who need the bragging rights or eed a status symbol. For me, I'd never spend more than 200 on a phone, so yeah the
iphone x can choke and die really

Wow, that's really honest of you to say all this. I half expected a bunch of naysayers to pile on here about how their Samsung or their LG or their Pixel is the end all by all of devices. But you really surprised me in saying that you left a Galaxy S7, for whatever reason, and in a way downgraded but seem to be more than happy with your decision and result. Admittedly I've never had a flagship level phone and while I wouldn't say no to one I just don't see the need for one, let alone at upwards of $700.00. I guess for me it's a lifestyle justification thing, I get by quite nicely with mid-range devices and have been more than happy with my Moto G5 Plus. Folks whose comments I read go on and on about their high end phones, but I often wonder what I'm missing that they're so excited about? Then usually I remember, that's when a flagship becomes a status symbol as many mid-range devices can do most everything a flagship can. I'll say this much. I always buy mid-range, right now I'm rocking the Moto G5 Plus. My brother does everything Apple. He's I'm sure either has or is about to get one of the new IPhones. On paper his might beat mine spec wise. But the experience is where you can make or break a device - even if you're comparing a flagship to a mid-range device. No one is even going to notice that my G5 Plus is a tenth of a millisecond slower than some IPhone with an A11 chipset. What will be noticed is that my device is doing everything your device is doing, almost, for about six-hundred dollars less...

I hope the follow-up to this phone has a (slightly) nicer design, NFC, and type C charging. I'd be all over that. I don't mind a sub par camera that much.

I understand where you would want the type C charging but there's nothing really special about NFC in fact these can get into your phone a lot quicker that way

Rubbish, Android Pay is brilliant and it means I don't have to carry a wallet anywhere and that includes getting cash from an ATM.

Just bought one for my daughter from Costco $169, They are offering a $50 discount. BOOM! How you like them apples.

The deal is still there, if anyone is interested.

Good article. I hope more people buy the mid-range phones as this will force the lowering of prices on so-called flagship phones. Time will tell.

Or raising the prices of midrange...that would suck!

Happy to see this article. I've been telling everyone I know how happy I am with my G5 Plus. I took a chance on it, hoping it would be adequate, but in almost every way it has turned out to be a huge upgrade over my previous phone (a Droid Turbo 2). I asked myself pretty much the same question Russell asked; yeah, there are a couple of small compromises, but are they worth paying another four or five hundred dollars for? Not to me they're not. This phone deserves way more attention than it gets.

I hate my G5 Plus. So many problems and it's gonna take forever for the promised Oreo update even though they barely modify stock Android.

What specifically don't you like about it aside from the slow updates? (I hate the slow updates as well)

I LOVE MY MOTO G5 PLUS!!! After about 10 years of top-of-the-line phones, this one is more reliable and has better battery life and almost pure Android. With 4 gigs of RAM and 64 gigs of memory, you can't beat the price!! If people want to go out and spend $1,000 for a phone, be my guest. I refuse to do it anymore. And if I want Oreo on my phone, I will freaking put it on there. And if I want security updates, I will freaking put it on there. I am one of those customers who don't need all the bells and whistles on a freaking phone. Thank you for this article!!!!! And another thing I forgot to mention, it works with any phone provider in the United States, CDMA or GSM!! How many unlock phones out there can do that??

This is lenovo-motorola's best phone. It works everywhere. GSM-CDMA is a huge plus. Their flagship is nothing to write home about, but this phone is very good. It has some flagship qualities & the battery is great. I would recommend the g5plus,4gb's & 64gb's of storage to anyone. It just works & modestly priced!

No NFC is a deal killer unless I can use Samsung Pay with my Gear S3 watch?

You can. One of the bonuses of owning those watches.

Everyone knows the iPhone X is the best device of the year. 100% of all people know this.

Boo! To each their own I guess...

For what? Fragility? Color accuracy? Charge speed? TCO?
There is no "best device", just the one that best suits your needs. The Moto G5 series does a pretty good job of that for most people. Protectionism in the US means that most Americans never get to see the best of the competition to the iPhones, just as they never discovered the limitations of US cars because foreign imports were discouraged.

Totally disagree. Performance is great on my $149 Honor 6x and the battery life is 1.5/2 Days easily.

Are you talking about Moto G5S plus? Because I see Moto G5S plus pictures posted throughout the article.

Most important phone of 2017? Who writer this ****? Are you kidding me? I'm not at all saying it's junk like the Pixel or Nexus, but come on, hasn't this idiot heard of the S8, S8+ and the Note 8? These authors should come out of the basement once in a while! Damn man.

How much do those cost tho?

You are comparing a sub $300 device to an almost $1,000 device and criticizing it based on that. Come on man.

Did you even read the article dude? You COMPLETELY missed the point. The Moto G5+ represents a phone that you can get a great experience from without having to chuck several hundred dollars. Are the Galaxy S8, S8+, and Note 8 better? Yes, by a long shot. Superior Build quality, Camera, Samsung Pay, Wireless Charging, More Screen Real Estate, Superior Display, just to name a few. But are they $500 or $600 better? That's subjective. Many people value features like wireless charging or Samsung Pay and that's perfectly OK. For me, there definitely good but not must-haves (I should know I had last years Galaxy S7!) I just need a reliable phone that gives me a decent amount of features, preferably vanilla, and yes, affordable. And for me, the Moto G5+ does just that.

Not knocking the phone dude, just the choice of the title of the article. Not everyone can afford a flagship phone, and not everyone even wants one. I was calling out the moron who wrote this article as it is misrepresentative of this device. I just don't like false advertising and misrepresentation.

The title is absolutely correct, though, it's you that didn't understand it. What are, for instance, the two most important cars? Probably the Ford Model T and the VW Golf. The Model T made cars affordable but had compromises. The Golf showed that it was possible to make very good cars at moderate prices. Exotica like Ferraris and Lamborghinis are not actually important as very, very few people will ever buy them. In phones the Model T equivalent is possibly the original iPhone - flawed but showed what was possible. Now Lenovo have shown that the technology is good enough to make phones that are good enough for probably 80-90% of people at prices a fraction those of Samsung and Apple's top of the range, and sell them in the US. It's a tipping point between having to pay a lot of money to get good performance, and having to pay rather little money. It also should be a wake up call to Apple. 96% of cars sold, roughly, are non-performance cars. At some point in the not too distant future probably 96% of phones sold will be cheap low and mid rangers, and the midrangers will be better than today's iPhone X. That's why this is important. It's the commoditisation of good phones.
The likely result is that the market will move more and more to services, which is where Apple and the Chinese are weak at the moment.

retarded much? you didn't understand a single word in the article.... duhhhhh.. you are the idiot, not the author.

Moto G5 or G5 Plus are not the best budget phones. reason is you can get Galaxy A3 2017 for £180 and Galaxy A5 2017 for £250 from Ebay.
Galaxy A3 & A5 2017 have waterproof, themes store, always on display more features.
same thing also applies to OnePlus 5T is not a best budget phone when you can get Galaxy S8 for £500 from Ebay.
trusted seller look at thousands of feed backs then buy from Ebay.

The issue with putting the Galaxy A3 and A5 over the G5 Plus is that unlike the G5 Plus, those are not available in a lot of places. I had to buy an international model in order to get one.

https://apkdownloads.net/yareel/
Valuable information! Looking forward to seeing your notes posted. The information you have posted is very useful. Keep going on, good stuff. Thank you for this valuable information.

I think if it had come out a couple of months earlier, the Moto X4 would be at the top of the list. It's under $400 and has USB C, NFC, waterproofing and some versions have Alexa as well as Google Now and the Moto actions and fingerprint navigation.
I've had it for a few weeks and it's the best phone I've ever used. Only downside is the camera can be slow and low light photos are meh.

Whether it's the Moto G line or someone else's line, it's been a topic of discussion for a while now about how the top of the mid-range tier is (has been for a while) touching the low end of the flagship tier for a while now; more so with every year. I'm an Android guy and really enjoy the Moto G line, so much so that when I banged up my G4 I was given store credit (had the store bought warranty) and could've bought any phone I wanted. I simply picked up the Moto G5 Plus and checked out. It's that good of a phone. My brother does everything Apple, and perhaps spec for spec my $230.00 G5 Plus on paper won't beat his IPhone 7 (he probably has the 8 or X now...). But experience wise you'd be hard pressed to tell any substantial differences and I didn't shell out nearly a thousand dollars to boot! About the only thing I'd like to see brought to the Moto G line of devices is optical image stabilization over dual cameras as in the G5 S Plus...

I bought the G5 Plus after I sold my iPhone 7 Plus and was waiting to pre-order (and have delivered) my iPhone X. It is a good phone for the money. Huawei and Asus also have some nice ones in this price range as well. The only things I don't like about the G5 Plus is that is was only 5.2" instead of 5.5" screen (even the G4 Plus has a 5.5" screen), and every time I opened photos then hit the Home button, there was a very noticeable delay. Other than that it works great, and I still have it as backup phone.

It's a great phone I think you're really enjoyed if you don't you can always trade it in but I think you'll find that the Moto G5 plus is a decent phone it is really decent I wouldn't call it a Cadillac but I would call the Dodge or maybe a Plymouth

Moto Maker was the best ever offered by Motorola. It would be awesome if Motorola got it back to allow customizing the phones. Loved my "Bamboo" back Moto X.

Could have been an important phone, but , no nfc in the US. Now its just another dropped ball in the endzone. Another coulda, woulda, shoulda phone. Nothing to see here. Move along. Maybe next year. Hey look, there is a line gathering out in front of the LG Stylo 3 Plus booth...

Great piece, I enjoy my G5+ a lot. I honestly couldn't care less about updates, security or otherwise. I change my phone every 1 - 1.5 yrs anyway. I came from the Moto X Pure and really liked that one as well. I hope next yr's model has stereo speakers, NFC and keeps the headphone jack, happy holidays

Yeah Securities a little overrated when it comes to smartphones in my opinion as long as you have my Android you're in safe hands

My previous phone was the Motorola G 2 but I'm know using a ZTE Grand X4. For top quality photos I don't use my phone but instead use my Canon Rebel DSLR. I still prefer using headphones connected by a standard 3.5mm audio jack though I see those days are numbered. I've never had a NFC-enabled phone and haven't yet encountered a situation where I needed it. The NFC revolution hasn't arrived yet in western Canada. My price range is the bargain phone range, I just wait for features of flagship and mid-range phones to filter down. Articles like this one illustrate what I can look for in my next phone.

My girlfriend loves hers. I've messed around with it and like it too. My Galaxy S7 Edge is so laggy at times compared to her G5s. I've really only got camera, wireless charging and Samsung Pay over her (in my opinion).

Shame that the article is about the G5+ but the pictures are from the G5S+.

I skipped this phone over the lack of usb-c. I know of sounds stupid but I've switched over and didn't wasn't to switch back as ridiculous as that sounds

What's the big to-do about USB-C? I'm very happy with micro-USB as all my existing cords and chargers are that format. I just bought a G5S Plus and one of the negatives was lack of USB-C, but I don't see that as a negative at all. What difference does it really make? What am I missing here?

I like micro USB personally it's just easier to plug in it's just nicer and I have a bunch of those cords already hanging around my house literally

I have this phone and I love it the only thing I don't like about my Moto G5 plus is the fingerprint sensor doesn't always work and some times it lags when I'm playing Word is hero but okay that's nothing big right I've had this thing for a while and although I like it I'd like to upgrade to a moto Z-Force but okay it's not a big deal until I get the money I have to sacrifice and that means having to have this phone that's okay I wish the phone was a little faster and I had NFC but it doesn't and I guess I have to deal with with that I don't use Android pay all that often just when I'm out and about in the town you know what I'm saying but oh well that's the way life is it just goes that way I guess

Your Motorola is definitely one of the best companies that mid-tier mid-range phones I would say ZTE is probably the worst along with HTC and Hawaii but oh well you have a decent phone LG and Samsung and Motorola are probably the best

You spend the entire article talking about the G5 Plus but not a single photo of it, only the G5S Plus...

As far as security updates go. Google should reexamine the process and take that portion away from the OEM and push a universal security update to everyone.

It's called Project Treble and it's happening.

You people are so damn lazy!! The amount of people who don't buy a phone because it has no NFC, is the dumbest crap I heard in a long time. It doesn't take much effort to pull out your debit/charge card!! The amount of people who just like to show off is astounding!!!

Wow. How judgemental are you. Do I think that you're lazy to take your car while you can walk? No getting my card out isn't that tough but the NFC payment is very useful for me. It even stores my discount cards from different stores so that they can just scan it right from my phone and I make the payment afterwards. NFC has other uses as well. Your argument is so wrong! Just because you don't use it personnaly doesn't mean that it's for showing off! What are you even doing on a tech site if you don't like gadgets and features!?

Or you can find a payphone and carry loose change for phone calls. Or carry a paper map in your pocket. Or perhaps a camera around your neck?

saved my arse when I waited in line to buy my Christmas presents and realised I forgot my wallet at home. So lazy because I didn't want to have all my items reshelved [some were last ones] drive 30 minutes back to my house with good traffic. fight back to the mall then find parking, go back in gather my items again, just to pay with a card. wow, I sure am lazy. Im all honesty pulling out my debit card is just 2nd nature. but having everything in one place is a huge convince. Many times I read an article on my ipad, have to go to work so I leave and pick it right back up on my phone. is that lazy? no it's I have 1 less item to carry around, and one less thing to worry about losing.

I do all my shopping online. In my PJs. No waiting. Good prices. And I can find anything I want without being tempted to buy junk that was not on my original list. The *only* way to shop!

I can't seem to reply without a screenful of gobbledegook. As far as updates go, yeah it would be great if they weren't OEM-dependent. Had the same issue with Blackberrys - BB would come out with an update and some carriers would make you wait months and months before they pushed it out. As far as NFC goes, I've had NFC on my Blackberry for a few years now - haven't used it once and don't really see a need to. When I bought my G5S Plus I saw it didn't have NFC and didn't give it a second thought - I just bought it.

I never use NFC. But I do use Samsung Pay (MST) all the time.

Samsung Pay is what made me fall in love with mobile payments. Near flawless and they even have a rewards system going on.

" You can buy three of these phones for the same price as the Pixel 2, and if you handed these two phones to someone who didn't know anything about phones there's a good chance it wouldn't be immediately clear to that person which phone was superior." I agree with this, but I can't help but adding this got a good laugh from me. It says more about the Pixel 2 than the G5. I bet if you handed someone a G5 and one of the other flagship OEM phones, there'd be no confusion about which was superior.

I liked the Moto G5 Plus. I thought it was too small for me so I got a discounted Z2 Play which is literally an overclocked G5 Plus with AMOLED, USB-C and NFC. For an encore, I hope the Moto G6 Plus just modernizes a bit so it will the total package in the budget sector. They have an opportunity to set up and run train in the budget segment if they modernize a bit. While most people looking for a budget phone don't care about NFC, USB-C and 802.11ac WiFi, budget consumers who do research and enthusiasts do. I think the G6 Plus will use the Snapdragon 636 (promises a 40% increase in performance) and that will give Moto the chance to use AC WiFi, have a better camera, and implement NFC and Bluetooth 5. If Moto does this, there is no budget device that will really top it. And if they want to be fancy, make the battery slightly bigger at 3500 mAh or 4000 mAh if they can fit it. If they run it with Oreo out of the box and Project Treble which will help with updates, Moto's G6 may be the phone that will be okay for all but the most demanding users.

I like the size of the G5 Plus, I'd prefer it to be slightly narrower actually. So I guess I'd like the Moto G6 (not Plus) to have all the features you mentioned, but in a smaller case than the G5 Plus.

https://m.gsmarena.com/lenovo_p2-8319.php

That phone is 350$ in Canada. Wow! What a rip off!!! :@

Motorola G5+ or an Honor 6x. I'd take an Honor phone any day.

You are right, i have a Honor 6x EU (BLN21) versión with NFC and gyroscope, battery lasts and no lag present and a very decent camera.
Android Central Newsletter
Get instant access to breaking news, the hottest reviews, great deals and helpful tips
Thank you for signing up to Android Central. You will receive a verification email shortly.
There was a problem. Please refresh the page and try again.