Android Q's gestures are changing again, but this time it's good news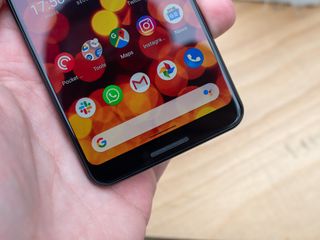 (Image credit: Android Central)
What you need to know
Leaked Beta 5 build shows new 'Back Sensitivity' option for gestures.
A Google developer outlined new change that allows 'peeking' drawers for hamburger menus.
Exclusion zone size limits also being introduced for back gesture conflicts.
There's a lot of changes going on with Google gesture system in Android Q, and we've already said plenty about how much more needs to be done to fix the issue on both the system and developer sides of things. We still have another beta version or two before Android Q's final release, and it looks like Beta 5 is going to show some marked improvement in regards to back gestures — especially with apps still using hamburger menus — but let's just say I'm not holding my breath.
Back Sensitivity
Back Sensitivity was found in an unreleased build that pushed out to a Pixel 3 XL user a few days ago. According to 9to5Google, Back Sensitivity is a slider between 1 and 4 that can decrease how sensitive your phone is to the back gesture, something that the user who reported the setting said noticeably improved their navigation experience. The build in question was QP1A.190626.001 which means Back Sensitivity might not be part of Beta 5 but possibly Beta 6.
Peeking in drawers
One of the biggest problems with Q's gestures is that with them enabled, you cannot swipe out left-side menus in an app, which breaks a whole lot of apps (including many of Google first-party apps). Peeking, as was announced by Google in Berlin will allow users to sneak in the hamburger menu to slide it open, thus taking the onus off developers to immediately change layout or add exclusion zones.
🚧 The drawer behavior is changing. Users will be able to open the drawer by peeking the drawer, and then swiping. Big benefit is that this works with existing apps with "old" DrawerLayout versions. pic.twitter.com/WVyOzQFzHO🚧 The drawer behavior is changing. Users will be able to open the drawer by peeking the drawer, and then swiping. Big benefit is that this works with existing apps with "old" DrawerLayout versions. pic.twitter.com/WVyOzQFzHO— Chris Banes (@chrisbanes) July 2, 2019July 2, 2019
The concept is an interesting one, but it remains to be seen just how well the peeking works in actual day-to-day use. I have a sneaking suspicion that we'er still going to swipe out of apps while trying to access the menu a lot, but I would love to be proven wrong here.
Exclusion zone limits
Google's first stop-gap measure for app interfaces being broken by the new back gesture was to have app developers set exclusion zones so that part of the edge would function as normal and part would still be the back gesture. The problem with that, which we touched on in the Android Central Podcast, was that there was no way to tell how much of the screen edge was excluded and there were no limits on the size of an exclusion zone, meaning some apps just set the entire left edge as the exclusion zone, forcing users to use the right edge for back and the left edge for the menu swipe-in.
New rules for Exclusion zones will limit them to 200 dp on either side of the screen. Apps can request more, but the Android system will only be required to honor the bottom 200 dp per-side. This still doesn't fix the problem with not knowing which section of the screen is or isn't an exclusion zone, but at least we now know the entire side of the screen can't be excluded.
Nothing's solved yet
One thing we know for sure from all of these changes this summer is that this problem won't be solved quickly. Exclusion zone limits still require app developers to add them in the first place — something most apps haven't done yet — and peeking may or may not have a noticeable impact on users trying to squeeze out the menu instead of flicking back to the last page. Back sensitivity is the most interesting of the solutions yet, but we don't have any firm details on when it might launch and what the real impact of it will look like.
There's also tons of smaller issues with the back and recents gestures, like the random flashes when using a third-party launcher, many of which have seen no improvement over the course of the summer. Fall will be here before we know it, and I really hope that when it comes gestures are actually ready for mainstream use, especially since Google is requiring manufacturers to include it going forward.
Ara Wagoner was a staff writer at Android Central. She themes phones and pokes YouTube Music with a stick. When she's not writing about cases, Chromebooks, or customization, she's wandering around Walt Disney World. If you see her without headphones, RUN. You can follow her on Twitter at @arawagco.
Thanks but I'll keep the perfectly good back button in my navigation bar.

Same here...I understand the navigation bar will remain an option...my fear is they will remove that option in the future...

Exactly. Why mess with something that works perfectly well and everyone is used to?

Blackberry 10 gestures were the best in the business. Why hasn't Chen gotten which Google to fix gestures on Android?

Because he is an incompetent nitwit...

I have barely used the gestures on Android Pie. They are pretty much worthless. Having used BB10, these "gestures" amount to a brainfart. BB10 was a true gestures based OS with the flow and peek functions baked into it. What IOS and Android are trying to do is a laughably bad copy. Hopefully they will improve. It is weird to see Apple and Google trying to catch up to what BlackBerry offered back in 2013...and at that time everybody was laughing at them and were calling BB10 "too complicated".

Yes. I agree with this. BB10 was ahead of the game.

I used BB10 extensively and recently have been using my old Z10 and Z30. I also miss BB10's gestures. However.... One thing that I like *better* about Samsung's system (I have an S10+) is that you can swipe up to go back. When I started using my Z10 again, I realized that you had to touch the screen to bring up the onscreen 'back' control in most apps. I was instinctively 'swiping up from the bottom right' to go back (like you do with Samsung's Pie gestures). It makes using apps quicker (one fewer interaction, since you never have to 'bring up' the back button before going back).

Google should just use Motorola's gestures which is closer to theirs. It has the pill on bottom and it works the way it should. Some folks just don't like those gestures where you have no button at all.

Agreed. If actually forgotten I was using the gestures on my Moto until I read your post. I couldn't use the pill in my pixels, as they were garbage.

I don't get the complaints about the gestures. They're absolutely fine. Been using the same ones on my Huawei's for months so when I got my 3xl they were 2nd nature from the start. In beta 5 they fix the Google apps issues anyway.

If only some other phone company had already figured out a great gesture system that most people like...

Gestures are good, but the 3 button layout is still the most convenient. My Huawei has the gesture support and I use it at times. But always fall back on the 3 button layout. Gestures aren't convenient with cases, specially the back gesture. Good that Android gives options to choose what fits the user. Maybe when I buy the Pixel 4, I'll get a better idea on how the gestures differ from Huawei's

My Mate 10 Pro with a case on was impossible to use the back gesture. My Mate 20 Pro is fine with a case on because of the curved glass let's you get right to the edge. My Pixel 3 XL is fine with a case on also because it doesn't require you to swipe in from the absolute edge of the display. It's like they've actually allowed for people using cases. Huawei and Google's gesture set up are exactly the same which I think is great as it made switching easy. Huawei have a gesture for One Handed Mode too of course which I sorely miss in the Pixel. It irritates the hell out of me that they've omitted such a useful tool on a big phone that's impossible to use one handed

Ahh.. Fellow Mate 10 Pro user here. That's the exact reason why I'm not comfortable with the gestures. I use the phone without the case when I want to use gestures. The body is hardy enough to withstand all the falls so far. The gestures really needs the fast task switching that the iPhone X onwards has.

Samsung and One Plus have very simple and natural gestures that Google should just copy. Samsung let's you 'go back' with an up swipe from the bottom right, home with up swipe from the bottom middle, and app switch from the bottom left. (You can switch the left and right actions if you want to) Its super simple and easy to remember since it follows directly from the behaviour of the regular navbar... it's just an up swipe instead of touching a button. But the locations for each action are still the same. One Plus has a similar system but uses and 'upswipe and hold' to switch apps I believe. The problem has been solved! Google is way over complicating things and breaking apps, and confusing consumers in the process.
Android Central Newsletter
Thank you for signing up to Android Central. You will receive a verification email shortly.
There was a problem. Please refresh the page and try again.