TicWatch Pro on sale for $249, comes with GPS, NFC, and two displays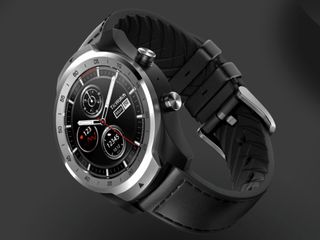 Mobvoi is one of the few companies that's been keeping Wear OS alive for folks not interested in watches from Kate Spade and Michael Kors, and the latest addition to its lineup, the TicWatch Pro (opens in new tab), is shaping up to be its most exciting release yet.
Where Mobvoi's TicWatch S and TicWatch E have been cheaper/more affordable watches, the TicWatch Pro aims to offer every feature you could ask for. There's NFC for making mobile payments with Google Pay, a heart-rate sensor, step-tracking, GPS, an OLED display, etc.
All of that sounds like stuff you'd expect from a flagship smartwatch, but Mobvoi's trying something different with the TicWatch Pro by adding a second FSTN LCD display on top of the OLED one. Here's how it works.
When you're interacting with the TicWatch Pro, you'll see the OLED panel and use it like you would any other gadget. However, when you toggle the screen off or the watch is just sitting on your wrist, the OLED screen will turn off and the LCD one will kick into gear — showing basic information such as the time, your heart-rate, battery life, steps-taken, etc. When you lift the watch to your face or tap on the screen, the LCD will shut off and you'll be met with your regular Wear OS interface and OLED display.
The TicWatch Pro in normal mode (left) and with the power-sipping LCD panel (right)
Furthermore, the TicWatch Pro will also come with an "Essential Mode" that'll completely turn off Wear OS and the OLED screen and only show you the basic info found on the LCD panel. If you want to toggle Wear OS back on, you'll need to wait about one full minute for the boot process.
If you allow Essential Mode to automatically switch on, Mobvoi touts you can get 5 days of juice. If you exclusively use Essential Mode, you're looking at an impressive 30 days of battery.
You can buy the TicWatch Pro from Amazon right now for just $249.99 in either Black or Silver colors. Do you plan on picking one up?
See at Amazon (opens in new tab)
Android Central Newsletter
Get instant access to breaking news, the hottest reviews, great deals and helpful tips
Joe Maring was a Senior Editor for Android Central between 2017 and 2021. You can reach him on Twitter at @JoeMaring1.
There is no need for a watch face to be round anymore. Please stop it. You all look the same.

Says the person who whines like everyone else.

What's wrong with a round watch face?

Nothing wrong. If people want a square or rectangle face, strap a phone to their wrist.

Interesting as that is my exact thought when I look at every iPhone user's wrist... "huh... they all look the same. The. Exact. Same..." Well, that and the fact that it's anything but classy. We all have our preferences, but I'm quite fond of my round watch face. On my wrist, I prefer function with a classic, stylish appearance over function with toy like, grade school appearance. I understand the argument to be made though, and each to his own.

Opinions clearly vary. I much prefer a round screen. I think the Apple Watch shape is fugly. JMO.

You must not own any actual watches. I have a few square shaped watches and they look really good, but square shaped watches like Apple watch are aesthetically ugly. Some digital watches can pull it off nicely and if your feeling nostalgic the Casio calculator watch. It's not about round but making something look good and round is the easiest and cheapest shape to make look good.

Ooooohhhh this might be a birthday gift and an added piece to my watch collection!!!

I'd like to see someone rejuvenate the hybrid idea Kairos did with a mechanical watch with smartwatch interface. I always loved the idea. This is not a back concept as well.

Garmin has a hybrid, as does Skagen. So does Nokia, their Steel HR is actually a pretty nice watch, i thought about getting one. All of these are mechanical with smartwatch screens, and get great battery life. My only complaint is that they don't have a second hand.

Get two days out of my Huawei Watch 2...

Huawei? Why, your watch is spying on you!!! /s

I get 2 to 2.5 days from my HW2 as well. Though 5 days would be amazing...so the question is if I wait for the Pixel Watch (rumored) or try this TW Pro?

I've had the Ticwatch E for several weeks now and I am very impressed. I've had several smartwatches before and still use a couple of them. But overall, I like the Ticwatch the best. This new Pro version will be in my future!

Why is the LCD image mirrored? How am I supposed to read that?

I think it was mirrored for aesthetic reasons for that picture, but the LCD mode isn't actually mirrored and is quite easy to read, even glancing at it angled away from me a bit as I type this.

I"m a big fan of my Ticwatch S. If I was not waiting on the new silicon from Qualcomm for my next Wear OS device, I'd give this serious consideration.

I love my Samsung Gear S.
I have gotten so many compliments and questions. A curved square smart watch I prefer better than every round looking watch.

With mobvoi's terrible customer service I will not even look at this watch. Although it looks pretty good.

I can agree, it took me forever to get an RMA issued on a single Ticwatch that I simply wanted exchanged. I hope it improves.

Interesting idea with the dual screens. E-ink would've been even more power efficient. Still, it won't be anywhere close to the 15-20 days I get per charge on my Garmin Fenix 5. Plus, I can go from a 10000 foot skydive to a 100 mile bike ride to a 30 meter scuba dive without so much as changing the watch band. It's seen combat, been smashed into the dirt, drug through the mud, and not so much as a scratch on the bezel or a scuff.

And it's priced accordingly

Good to see new Wear OS watches being launched. I have the Fossil Explorist Gen 3 and it's a lovely looking premium watch. It is missing a heart rate monitor and NFC though, something which this looks to have incorporated without the bulk of the LG Watch Sport or Huawei Watch 2. GJ.

I wonder if I got a notification... I'll just wait a minute while Wear OS boots... lol

Anyone know what thickness this watch will be? It seems to check my other boxes.

It's a bit thick... it's about 1.5x the thickness of the S9+ I'm using mine with.

Damn damn damn! I really want to get this. But I also wanna wait to see what the pixel watch is gonna be like, and also to see what Samsung had planned for the Gear S4.

Disappointed in the Ticwatch E. Or maybe it is Wear OS that was the problem. Underwhelming features and unimpressive battery life compared to the Gear S3 Frontier/Tizen...

Man, I'm tempted, especially since my Gear S2 stopped working today. Well, not exactly, but I've been using the P beta on my Pixel 2 XL with no issues. Watch worked fine... until I factory reset the phone. After that, The Gear app and plugin show up in Google Play as not compatible with my device. I'm going to try to get them via APK Mirror,but it doesn't have the latest version of the Gear S app, so I may be SOL unless Samsung decides to update the app.

Very tempting, but the manual has operating limits of 5 C to 35 C (42 F - 95F) - that seems a bit too narrow for outdoor use in Texas. Otherwise a nice looking watch

(glances at watch) (glances outside at Texas heat) (shrugs and goes back to typing in the AC)
Android Central Newsletter
Get instant access to breaking news, the hottest reviews, great deals and helpful tips
Thank you for signing up to Android Central. You will receive a verification email shortly.
There was a problem. Please refresh the page and try again.