Microsoft shows off how its new Android Wear Outlook watchface can keep you connected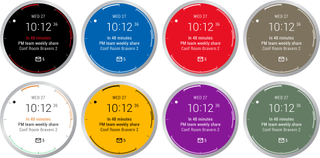 Microsoft has released the Outlook watchface for Android Wear. This new addition to the wearable platform will allow users of Microsoft's email app to take their work life on the go. Installing and deploying the Outlook watchface will display an overview of one's day with key details on upcoming schedules. The next 12 hours of your life will now be covered by the connected Android Wear-powered watch.
This watchface joins Outlook support for Android Wear, which rolled out in April. As detailed in the official announcement (opens in new tab):
As well as that, the Outlook watchface will also show just how many unread emails are currently ready for viewing. Personalization options are also available, because everyone wants to make their wearable reflect their own personality and style. Different face backgrounds can be selected, alongside numerous accent colors that can be switched out on a daily basis.
The watchface can even handle the ability to RSVP meeting and event invitations. It's a pretty neat addition to the Android Wear experience. rocking Outlook on your wrist? Let us know how you're getting on in the comments!
When is this rolling out cause I don't see it in my watch face options Posted via the Android Central App

Yeah I was having this same thought

The watch face will be available in version 2.1.24

When will this version be available?

Have Outlook installed and no watch faces... Was thinking same thing Posted via the Android Central App

Is there a link? How do we install it ? I'm not seeing it as a watch face option.

https://www.androidcentral.com/e?link=https2F2F... Just install the Microsoft Outlook app from play store and it will let you pick the watch face on the watch.

I already have it installed still dont see the option Posted via the Android Central App

Maybe the app needs to be updated? I don't see it either. Posted via the Android Central App

Since the Outlook app for Android drives my phone to it's knees, I think I'll be skipping this. No refreshing on the email widget, takes 5 seconds to load an email, new message refresh often results in double listing of all messages, etc. That app is a pile of crap.

Actually it's quite good considering they are still working on it. I've seen worse out of google's camp. I'm looking forward to using it.

I agree, they should work on basic functionality. The app still does not do 2 way multi calendar sync with my phone. Posted via the Samsung Galaxy S6

Works pretty good on my 6p, needs a little work but isn't a resource hog by any means. Posted via the Android Central App

It's not a resource hog at all for me. But I agree the new emails take longer to load than Gmail. Posted via the Android Central App

That's gonna look weird on my Asus Zenwatch...

How are you liking that watch was thinking of getting one for my mom Posted via the Android Central App

I have one and for the money it's great. Posted via Galaxy S7

This looks pretty sharp, will have to try it. Posted via the Android Central App

There's nothing to try. I just installed Outlook and there's NO watchface.

Same here. Maybe not available to everyone yet? Posted via Galaxy S7

Didn't see that on my Asus Zenwatch 2

There was an update today to the app... When I installed it I now have the watch face.. Posted via the Android Central App

I had to uninstall and reinstall the Outlook app, one install my watch asked me to activate the watchface, its brilliant.
Android Central Newsletter
Get the best of Android Central in in your inbox, every day!
Thank you for signing up to Android Central. You will receive a verification email shortly.
There was a problem. Please refresh the page and try again.