Microsoft launches new Outlook.com email app with old design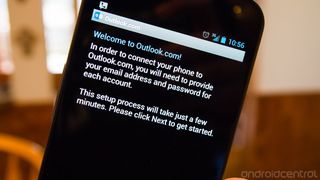 Microsoft has just released a new version of its email app to coincide with its overall email rebranding to Outlook.com from Hotmail.com today. While the app brings a lot of features that Outlook users will like -- ActiveSync, Contacts and Calendar sync, multiple account support -- it is wrapped up in a very bland and outdated design that reminds us all of Android 2.3. We had high hopes that Microsoft would bring something more striking. Maybe wrapped up in a "holo" UI, or at very least something of the metro "modern UI" style that has won many people over on Windows Phone.
Nevertheless, if you're an Outlook user, you'll probably be getting one of the better experiences out there using this official app right from Microsoft. You can take a look via the Google Play Store link above.
Source: Outlook Blog (opens in new tab)
Andrew was an Executive Editor, U.S. at Android Central between 2012 and 2020.
I do have a Hotmail email account on my Android phone in the stock email app. I'll give this one a try after I get home from work.

I've always used the stock email ago for my Hotmail/Outlook account. Doesn't sound like there is any benefit to using this?

Not sure what this really brings to the table over the "Stock" email app, aside from simplifying trying to track down the activesync settings.

I just downloaded it and it looks identical to the Hotmail app. It just appears like they changed colors, and that's about it. I've yet to dive into it deeply b/c I'm at work, but I don't see any big change.

Other than saying you using Microsoft on an Android phone why is this really even needed? I've been using the stock app since getting on Android and it works just fine. I don't use any calendar functions with Hotmail/Outlook since it's all in my Google Calendar. So I just need it to check email. Stock app works great for that. Stock app + Lightflow allows for sounds and LED colors to let me know when emails come in for different accounts. It's almost as sweet as the Blackberry days!

Why wouldn't you just use the stock (or sorta-stock) mail clients that already support ActiveSync/EAS?

Lmao. Is an ugly app an incentive for me to ditch the much better Gmail app?

That is NOT a microsoft app. Microsoft releases apps under the name Microsoft Corp. The hotmail app is not MS either. This is why its nice to have the app store regulated at least a little bit...
Android Central Newsletter
Thank you for signing up to Android Central. You will receive a verification email shortly.
There was a problem. Please refresh the page and try again.