How to use a tablet on MetroPCS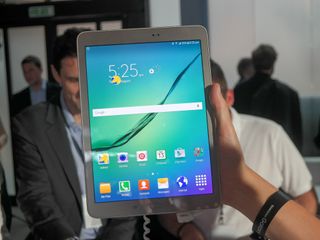 Not only can you get great prices at MetroPCS for phone plans, but did you know you can also get a MetroPCS tablet plan too? For as little as $15/month you can grab some data for your favorite tablet so you can keep going even if you're not on Wi-Fi. Plus, if you already have an existing MetroPCS phone plan, you save even more!
MetroPCS Tablet Plan
MetroPCS tablet plans are flat-rate, simple plans to get you data on your tablet for those times when you stray a bit too far from home or the local coffee shop. There are three plans to consider depending on what you're looking to spend and how much data you'll be using.
Here's how the tablet plans on MetroPCS work:
$15/month for 2GB of data ($10 with existing plan)
$25/month for 4GB of data ($20 with existing plan)
$35/month for 6GB of data ($30 with existing plan)
As with most things Metro, the more you add, the more you'll save. Just as you can save big by adding multiple phone lines, you can also save by adding a MetroPCS tablet plan to your existing plan. Each of the current plans can be had for $5 cheaper providing you have an existing MetroPCS plan already.
Most people should be able to get by with the smallest of the tablet plans on MetroPCS — $15 for 2GB. Depending on how you're using your tablet, this should be quite a bit for the average user. Of course, if you're going all-out and racking up the data while you're off W-iFi, you'll want to go for the larger 4GB or 6GB plan instead. Both still a great price for the month.
In addition, you can also add mobile hotspot or international texting to your MetroPCS tablet plan. The hotspot feature (allowing you to use your MetroPCS tablet as a Wi-Fi hotspot) and international texting will both run you and additional $5 a month as added features.
Get Going!
So there you have it. If you want to head out with your tablet and have a solid data plan along for the ride, MetroPCS has you covered. You'll have plenty of data to keep you connected when you're off Wi-Fi and still have some cash in your wallet for your next latte.
Android Central Newsletter
Get instant access to breaking news, the hottest reviews, great deals and helpful tips
Editorial Director - High Yield
After getting his start writing about BlackBerry in 2008, Adam is the Editorial Director of High-Yield content at Future. Leading an outstanding team, he oversees many of the articles the publisher produces about subscriptions and services – VPN, TV streaming and antivirus software. From buying guides and how to watch content, to deal news and in-depth reviews. Adam's work can be seen on numerous Future brands including TechRadar, Tom's Guide, T3, TTR, Android Central, iMore and Real Homes.
Android Central Newsletter
Get instant access to breaking news, the hottest reviews, great deals and helpful tips
Thank you for signing up to Android Central. You will receive a verification email shortly.
There was a problem. Please refresh the page and try again.