Material Design UI and new features coming soon to Gmail on web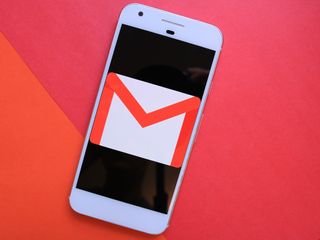 Back in May, Google hosted a NEXT Live EMEA event to talk about new features coming to Google Cloud and G Suite. A lot of information was spewed out at the event, and one announcement that slipped under our radar has to do with a few new additions that are coming to Gmail.
First thing's first, the most noticeable upgrade for Gmail that was shown off is a brand-new Material Design overhaul for its user interface on the web. Gmail doesn't necessarily look bad in its current form, but it is a great departure from the Material Design aesthetic that's slowly working its way across all of Google's other services.
In a screenshot of the new Gmail interface shown off at Google NEXT, we can see that the entire UI is considerably cleaner and much more minimalistic. The tabs of black text on the left-hand side have been replaced by more visually appealing icons, the Social and Promotions tabs are gone, and there's also handy options for quickly accessing your Contacts and Tasks.
Along with the new look, Google also announced a couple of new features that are coming to Gmail — including Smart Reply, smart groupings, and the ability to snooze emails. Smart Reply automatically populates possible replies that Google thinks you'd want to send, smart groupings automatically bundle emails into certain categories, and snooze allows you to hide/snooze emails until a certain time or when you arrive at a specific place. Both smart groupings and snoozing emails have been available in Inbox since its debut, and it's nice to see these features make their way to Google's primary email client.
There's currently no word as to when these updates will be fully rolled out to Gmail, but we certainly hope that they arrive sooner rather than later.
Joe Maring was a Senior Editor for Android Central between 2017 and 2021. You can reach him on Twitter at @JoeMaring1.
Still waiting for rich text signatures on mobile z_z

As long as I can still use my theme (Which is a dark theme) I don't really care. :-)

How did you change the theme?

Right-hand side, click the cog and there should be a menu option for Themes. Been using a the since the mid 00's

Can you know send emails to group members

compose Email, Click To, Click dropdown (My Contacts) Select group you want to send to.. "Select All" and presto you are now sending to group.. if you want to send and they not see whos in group just BCC vs To.

So, what is the direction for email and Google? GMail or Inbox? I thought Inbox was the direction they were going, but all I see are improvements to GMail coming out. This goes for desktop and mobile. Honestly, neither of them are my favorite - I like pieces from each - still looking for that perfect email system (clean, not too "automatic" with grouping and organizing, etc)

Can we get themes on the Android app plz? C'mon

Ugh. I love Android, but i can't stand Material Design. we were on the cusp of 3D-looking, full color icons/borders/etc everywhere...and now instead, we've taken a big step backwards with flat, 1-2 color icons everywhere. It just looks juvenile and is terribly annoying to me.

Opinions!!! I love Material Design but you don't. If things keep working, you shouldn't complain about design languages

And I think I should complain, because I no longer like the way things look on my $1000 phone. The OS looks like it's from 1995 nowadays, whereas the hardware looks futuristic.

Everything before Material looks old and a bit tacky.

I agree, I have always loved Android but used iOS instead because Android was too ugly imo. When 5.0 rolled out with material design, I quickly got rid of my iPhone and have been using Android since...I love material design!!

I love inbox and looking forward to them completing it! Gmail looks old and tired bringing the best inbox features to Gmail is great! Instead of clunky extensions snooze is a fantastic feature built into inbox and reminders replaces third party to do lists.. What Gmail/Inbox really needs is a way to connect Contacts with Email! So if you want to call John Smith next week the task/Calendar or reminder art attached... So Inbox has reminders, would be great to have a red follow up that works the same way as reminders that links back to contact and is searchable!! Who would need a seperate contact manager at this point and would compete better with Outlook which has a superior contact management and note system at the moment

Just improve the performance, Gmail is woefully slow at times!

Why remove tabs? Just make them optional or customizable. Some of us use these tabs to sort incoming email.

Won't be happy until I can theme the Gmail app to fit the rest of what I've got going on with my Android device... Don't use Gmail for PC so otherwise don't really care...

So far previews of MD Gmail look a lot like Inbox in red.
Android Central Newsletter
Thank you for signing up to Android Central. You will receive a verification email shortly.
There was a problem. Please refresh the page and try again.