Marshall unveils Stanmore II and Acton II with Alexa and Google Assistant integration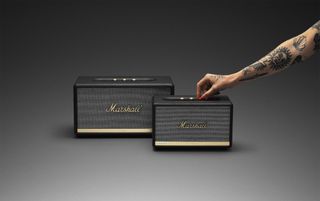 Marshall debuted upgraded versions of its Bluetooth speakers last year with multi-room capabilities and Chromecast support along with Spotify Connect, and at IFA 2018 the company is introduicng a new lineup of products with Alexa and Google Assistant integration.
The Stanmore II and Acton II are the first Marshall products in the Marshall Voice series. Unlike the portable Kilburn, the Stanmore and Acton need to be plugged into a wall. The styling of either speaker hasn't changed considerably, but they do feature a new fret design, and another notable addition is a gold strip at the bottom with five LEDs that will light up when invoking Alexa or Assistant.
Image 1 of 2
Alexa integration is enabled out of the box, and Marshall says Assistant will be available later in the year. In addition to playing music, you'll be able to interact with either speaker just as you would with a Google Home or Echo, allowing you to set reminders, control smart home products, get weather updates, and much more. The underlying hardware itself hasn't changed from last year, so you shouldn't have any problems getting room-filling sound from either speaker.
I've been using a first-gen Stanmore hooked up to a Chromecast Audio (opens in new tab) for three years now, and while that combination has served me very well, built-in Alexa and Assistant integration is a noteworthy addition that enables a whole host of new experiences.
The Stanmore II Voice will go on sale from October 2 for $399, with pre-orders going live later today. The speaker will make its debut in the U.S., followed by other markets where it'll be available for €399/£349. As for the Acton II Voice, the speaker will be hitting store shelves on November 9 for $299/€299/£269, with pre-orders kicking off from October 2.
See at Marshall (opens in new tab)