How to make your Android look like a BlackBerry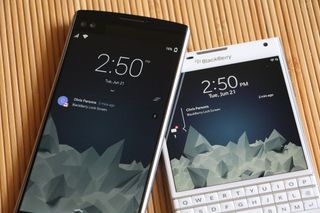 I've shown you how to make your phone feel like a Nexus, a Windows Phone, even an iPhone. Next up was BlackBerry, but in all honesty, some things just can't be replaced and replicated. Don't get me wrong, there are a few tweaks that bring back a little of that old BlackBerry magic — and I'm gonna share them with you — but there's no magic icon pack or launcher that just pulls it together into a real complete BlackBerry theme.
That's a testament to BlackBerry's unique design — and its (sometimes painful) simplicity.
BlackBerry fans, if you haven't jumped over to Android yet (or you jumped over a few years ago and are in the market to upgrade), you can buy a few phones that are entirely Android yet distinctly BlackBerry. The BlackBerry Priv has the best physical keyboard on an Android phone in years, is getting security updates just as fast as Google's Nexus phones. Unfortunately, it's also over a year old now. BlackBerry launched two more reasonably-priced phones last year — the DTEK50 and DTEK60 - but they're lacking a keyboard.
We've also got a new Blackberry phone coming to Android this year. Codenamed Mercury, many are lovingly referring to the new keyboard-sporting as Merc, and with a new phone comes a new chance for BlackBerry to win our hearts again with the security and productivity-based approach they have to Android.
If you don't have room in the budget for a BlackBerry phone, hope is not lost. You won't have an exact BlackBerry theme, because BB10 was — how do I put this delicately?— unique. Even our friends over at CrackBerry who gave me the reference material for this post said BB10 was rather basic. And to that end, here's how to bring some of that basic beauty back to your phone.
Home screen
While it's not quite the same system as BlackBerry 10 (which was little more than a recents page and an app drawer), the closest I've come to the BlackBerry layout for a launcher is the recently resurrected ADW.Launcher (opens in new tab). ADW has a very different feel from launchers like Nova Launcher and Action Launcher, but it contains the numbered home screen and app drawer pages that you're used to. If you really want it to feel like a BlackBerry, you'll keep the first home screen page clean except for maybe a date/time widget, and you'll put all your apps on pages 2-5.
For icons, you can take one of two paths. The first path is to download what few stock BlackBerry icons you can and apply them to system apps as custom individual icons and then just take the stock Google icons for the rest, the same way BlackBerry itself has done on the Priv. The second path is to forget the BlackBerry icons and just grab a consistent, good looking icon pack that's dark, has depth, or both. Here are a few icon packs often touted among the CrackBerry community:
I'll repeat it as long as I have to, but I implore you to use a wallpaper that brings some personality and life to your device. But if your heart is set on using one of BlackBerry's wallpapers, they're all right here... Please at least use one of the fun ones!
Lock screen
The lock screen that best brought back the BlackBerry magic — and used by CrackBerry editor-in-chief Chris Parsons in his own quest for a BlackBerry theme — is Next Lock Screen (opens in new tab) by Microsoft, another company that knows a thing or two about productivity. We covered it in our Windows theme, it's not so much a lock screen replacement as it is a layer atop your lock screen, and so long as you're using a fingerprint to lock your phone or frequently using Smart Lock, you shouldn't notice the dual layers much.
Next offers a quick launch bar for your most-used apps and shows your latest notifications and appointments on your lock screen, giving you a glanceable way to check your phone without having to unlock it during a meeting or do a lot of swiping. The only major change for most users will be swipe down to unlock rather than the traditional swipe over/up.
BlackBerry Apps
Want the true BlackBerry experience? Just download their apps.
Once upon a time, you had to own a BlackBerry phone into order to enjoy the BlackBerry suite of Android apps (opens in new tab), but no longer! Apps like BlackBerry Hub+ Services (opens in new tab), BlackBerry Calendar (opens in new tab), and even BlackBerry Launcher (opens in new tab) are available on phones running Android 5.0 and up. The BlackBerry Launcher is closer to Google Now Launcher than BlackBerry 10, but it has some useful features like unread counts (via BlackBerry Hub+ Services), icon pack support, and swiping up on apps on the home screen to reveal their widgets.
There is a catch here, and that's that BlackBerry is very much in the business of selling individuals and businesses services. Hub+ Services is a subscription, and even apps like BlackBerry Launcher that can technically work without Hub+ have ads if you're not a subscriber so that BlackBerry can get at least a little revenue off non-subscribing users.
So, what BlackBerry touches have you been missing on your Android phone? Are there are more tweaks you have for getting that old BlackBerry magic on your device? Share you tips, tricks, wants and desires in the comments below!
Android Central Newsletter
Get instant access to breaking news, the hottest reviews, great deals and helpful tips
Ara Wagoner was a staff writer at Android Central. She themes phones and pokes YouTube Music with a stick. When she's not writing about cases, Chromebooks, or customization, she's wandering around Walt Disney World. If you see her without headphones, RUN. You can follow her on Twitter at @arawagco.
Yes, please! Posted via the Android Central App

I have the Black berry keyboard apk, Best keyboard out there. Wish they released it to the play store for all

+1 Posted via the Android Central App

Where did you get it. I have missed this since my Z10. Best keyboard ever. Posted via the Android Central App

What's this?
https://www.androidcentral.com/e?link=https2F2F...

What he meant is that he wished that you can download it on any device Ayyyyy lmao

Good article but I prefer to make my Blackberry Priv, look and feel like WebOS. So it's a Blackberry Android WebOS UI setup.

You must have a cool looking phone. :o

What's with all these crappy articles? Posted via the Android Central App

Little harsh. But no I don't want my 6p looking like a blackberry... I would have just bought a blackberry. I just don't get it. I understand that it makes sense in lots of people's heads... just not mine. :-) Posted via the Android Central App

It's a way to have the "illusion" of the best of both worlds. Some of us do want this. Not for BB, but in general, it's very interesting.

Sometimes people can't upgrade, or just want to try a different style on the hardware they like most. My Note is very Google-style, with only the S-Pen and related apps to show it's a Samsung device - the reason I switched from Nexus was for the stylus, but I still prefer Google software. (I admit I use Nova to take advantage of the big screen in ways the Google Launcher doesn't, but I still use Material Design icons and a Material Design theme). Basically, some of us prefer certain software and certain hardware. This kind of tweaking is a way to achieve a blend of the two. Posted via the AC App on my Note 5

Agreed. Isn't the beauty of Android in it's versatility?

What's with the crappy attitude? Posted via the Android Central App

Lol Posted via the Android Central App

Oh, come on. This one's alright.

THIS one? What's been wrong with the others? ((fake pout))

Ahaha I meant that it actually contains useful info, compared to those "Best phones for xxxx carrier" articles that just repeat poor information over and over again.

Eh, those have their place. I thought you were dissing my other themes.

I'm still trying to glue the keyboard on..... Posted via Serenity

Make sure you add some type of sliding mechanism that gives a satisfying little snap click. via S2 9.7 or the amazin S6 Active ;-)

Ara, I am impressed by these articles and your work to do them. It's really interesting to see how much you would be doing to achieve this.

Yay for Google Translate via S2 9.7 or the amazin S6 Active ;-)

A lot of the BlackBerry apps are available in xda forums... search for BlackBerry or PRIV and go to the one posted by Cobalt... no rooting needed Posted via the Android Central App

@bhrgvr
This. There's even a guide at in the Crackberry forums about it.

Or just go here and put them all on your phone: http://forums.crackberry.com/android-apps-f444/working-blackberry-priv-a... Posted via the Android Central App

I purposely left them out. Root may not be needed, but I'm still not comfortable telling our readers to just go pull the extracted apps from the Priv and run them on their phone. It's an option, but not one most would want to use.

My modified BlackBerry apps are not pulled or extracted from a Priv. BlackBerry Manager downloads them directly from Google Play Store. Just to be said.

Why do this when I can just buy -- wait, I think I have one looking at me right now! Ah sweet, dark, rich flavourful blackberry juice.

Sorry, there is no android replacement for my bb passport. Maybe when bb chooses to make a passport design, android os phone.

Not sure why anyone would want to do this. If this is what u want just buy a blackberry.. Posted via the Android Central App

Know anyone else making an Android phone with the BlackBerry hardware keyboard? Posted via the Android Central App

Very mean comment.. Very myopic opinions.. Android is the land for all.. Windows guys,, BB guys etc... Every one will try to match one's preference based on history... Gotta love droid

I have a priv and an op3 and put the BlackBerry apps on it installed Posted via the Android Central App

And if the extraordinarily popular Blackberry look is not your cup of thè, If you want to make your phone look like an amazing iPhone, look up the "Blasé Blasé, Meh" app. Or look up BBM for short. via S2 9.7 or the amazin S6 Active

I had to vote your comment Up because I found your BBM acronym quite amusing. So did my Special Lady Friend who bought a DTEK50!

Why would you want your phone to look like a fourth rate phone? Are they even fourth rate? Posted via the Android Central App

Because they miss the look of it?

Great info, thanks.
I have a Samsung Galaxy S7 which is my first non BlackBerry device ever and leaving my Q10 was like a divorce (traumatic). Sprint quit carrying Blackberrys and I needed a new phone but didn't want to leave Sprint. After researching for a very very long time I chose the S7 and very happy with it. I just don't want to be reminded of my Berry.
Thanks again.

I have a working Blackberry hub, Blackberry calender, Blackberry keyboard and Blackberry services working on my s6 Posted via the Android Central App

How did you manage to do that? Google Nexus 6P

Read the comments...click the link... C'mon now Posted via the Android Central App

This is the best of Android, if you want to make your phone looks like a Xperia, a S7, a Blackberry, an iPhone, a Nexus or whatever you want just for fun you can do it!, I'm stick to Material Design, inclusive I make my own "perfect" icons, but sometimes I just apply some of the iconpack that I bought and boom! a new style until I get bored and I switch to other one, something that I will never be able to do with my iPad Air lol xD

That's one reason why I love Android. You can make it look like stock, a different skin or even iOS, Windows Phone or even a BlackBerry. Sure, it's not 100% similar, but it's pretty close.

I Miss BlackBerry Hub. I can't wait for Samsung Focus.

I love the Hub as well. If they can only release it on other Androids. Google Nexus 6P

http://cobalt232.github.io/blackberrymanager/
Download and install this apk.
Contains hub and other priv apps. (No root required)

Um, Hub is avaliable for all android phones. As nice as that cobalt link is, just download it from the playstore.

Agreed. It's ad-supported, but in the most user-friendly way possible. When you fire up the Hub, you'll see an ad banner at the top of the screen. You can swipe it away and be done with it, but I mostly don't even notice that it's there. I appreciate Cobalt's work for when the Hub wasn't available to non-BB phones, but I'd rather support Blackberry's efforts so that they keep updating the software.

So Nice , I wana see that!

This is a pretty awesome post! Thanks for all the hard work. :D Will definitely be adding a couple of these tips to my device. A droid a day keeps the Apple away

BlackBerry Virtual Keyboard, the best!

Interesting to see this article surface again.

(cough cough) http://crackberry.com/youll-never-guess-whos-hosting-blackberry-mercury-launch-event-mwc17

Wow, such a great post. I've been using the PRIV for a year and didn't know some of this. Thank you!

Sure Cobalt232 knows how to do it. Is the best mixing the best of both worlds, BB10 and Android

I love the Belle icons.....on my Symbian Belle powered 808 PureView.

Meh , I rather just but my sim card in my q20 that already has a bunch of Android apps and IS a true blackberry ...lol

I had a few Android apps on my Q10, but they didn't run natively. After I had my bariatric surgery (which has been quite successful BTW...75 lbs lost since September 26!), I needed the health-related apps to run natively, and so I switched over to Android.
Trouble is, my BlackBerry Hub+ apps aren't synching correctly with my computer, so there's an issue here.

Congrats on your journey to getting more healthy !!

Nice touch Ara, to resurrect this article as the Merc sits ready on the launch pad. Let's hope the new BlackBerry Mobile can get these devices some traction and visibility.

Can you make it look like a Palm Pre with webOS?

It's not so much the look the BB10 lovers want. Its the feel, and android and iOS will never have it. BB10's greatest feature was active frames ie. swipe up to hub, swipe over to home screen, and peaking. Android and ios simply open an app then open another app; it's not the same and there a lag on the phone because of it. Even the best gesture apps don't compare to the natural flow of sliding the hub into the screen or back out again.
Android Central Newsletter
Get instant access to breaking news, the hottest reviews, great deals and helpful tips
Thank you for signing up to Android Central. You will receive a verification email shortly.
There was a problem. Please refresh the page and try again.