How to give your Android phone a Microsoft makeover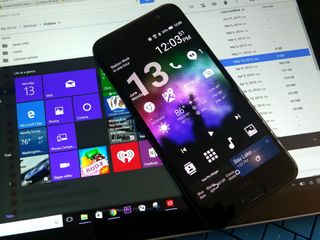 Windows Phone is in an odd place right now — an argument could be made Windows Phone's been in a weird place for a few years now — and whether you have come to Android for more apps, or more consistent experiences, or better hardware, you're here in the Android ecosystem now. But that doesn't mean you have to kiss all your Microsoft and Windows services goodbye.
Whether you're looking to recreate as much of your Windows Phone experience as you can, or you just want to see what Redmond can offer Mountain View, we've got the guide for you. Some devices offer more Microsoft services out of the box, from Cyanogen OS on the OnePlus One to Microsoft productivity suite on the Samsung Galaxy S7 — but there's plenty out there besides.
Home screen theming
Windows Phone has a distinct UI that is somewhat reproducible in your Android device's home screen. Microsoft has opened up to Android (and iOS) in recent years, bringing dozens of apps to the Google Play Store covering the entire Microsoft ecosystem.
When it comes to bringing Microsoft magic to your Android visual experience, we have a few ways to go...
Arrow Launcher
You might expect a launcher that Microsoft brings to Android to try and mimic the launcher on Windows Phone. You'd be wrong, though, as Arrow Launcher (opens in new tab), one of Microsoft's Garage Projects, is instead its take on a 'smart' launcher that adapts to your habits. And similar to Yahoo's Aviate and Nokia's Z Launcher, you have a home page of apps, a contacts page, and a designated page for widgets.
Arrow is a launcher that uses a lot of gestures, most notably the swipe up on the dock for an Apple-style control bar containing two rows of apps (nine apps plus the drawer shortcut), some basic setting toggles, and a brightness bar. The brightness bar doesn't play well with Adaptive Brightness, telling you to turn it off before manually adjusting the brightness, but otherwise works well.
As a themer, I feel obligated to tell you that Arrow doesn't do icon masks properly, which is a bummer for any unthemed icons you may have, especially on your home screen. I would recommend square icon packs like Stark (opens in new tab) or Minimal UI (opens in new tab) to bring maybe a touch of the tile motif back to Microsoft's launcher. Arrow also doesn't support individual custom icons, which is a double bummer, but the icons included in the pack will look nice. What it does have is a simple setup that is easy to familiarize yourself with and easy to lightly customize, but Arrow lacks more granular controls.
SquareHome 2
Now, as Microsoft chose not to give us a Windows 10-style launcher for Android, we must turn to third-party launchers. While there are several versions, many bearing W8 or W10 tag somewhere in their title, the tile-based launcher I'd recommend is SmartHome 2 (opens in new tab).
It looks a little unintuitive at first glance, it's actually pretty easy to get the hang of. You hit the plus at the bottom of the grid to add new tiles, including widgets, and you can change the theme of more than one tile by long-pressing one and selecting the double green arrows, which is not Done, but rather multi-tile editing. Once you've selected your desired tiles, you can re-theme them with the painter's palette icon. While it defaults to a frosted glass theme, you can also color your tiles from the palette provided.
If you want to add more pages, you pinch in the screen and hit the add page button appears. You also pinch in to reach the launcher's settings (the list button in the bottom right section of the screen). You can apply icon packs in SquareHome, and with the default theme and the white text, I highly recommend Whicons (opens in new tab), a free pack with a decent selection of icons. You can also add widgets to tiles, and the best widgets you can use for these will undoubtedly be transparent widgets, preferably with white or colored text.
Wallpapers
No matter the launcher you choose, you're gonna need some wallpapers to go with it. Again, I would never, ever use a stock wallpaper instead of a wallpaper that gives your phone some personality, especially when we offer you five new wallpapers every Wednesday. If you absolutely must have a Window-style wallpaper though, you're in luck, because they're easy to find and the style is well-represented. You can find some lovely examples here.
Lock screen
Microsoft has not one but two lock screen replacements on Google Play, each aimed at slightly different crowds.
The first, Next Lock Screen (opens in new tab), shares some features and UI with Arrow Launcher, and is aimed at productivity. This is technically not a lock screen replacement, as it defaults to the system lock screen when actually unlocking with a PIN or pattern. If you unlock with a fingerprint, you'll never notice a difference, since inputting your fingerprint will still unlock the phone. Next just functions as a layer on top of your lock screen, really.
You select five to ten of your most-used apps to appear on the bottom of the lock screen and you get the same quick toggles as on Arrow available with a swipe up. You can open these apps by tapping them on the lock screen… unless you're not using Smart Lock, in which case you tap an app, get taken to your lock screen, unlock your phone, and are then dumped into the app you chose. Next is an interesting little lock screen control center, but if you're not keeping your phone unlocked most of the time with Smart Lock and a decent timeout, or using a fingerprint, then Next just gives you one more screen to swipe through before you get to your home page.
The second lock screen app by Microsoft is Picturesque Lock Screen (opens in new tab), a Bing-powered lock screen overlay that gives you notifications, sports scores, news, and weather at your fingertips. Except the only sports are Cricket and the NFL. And the notifications don't display by default, you have to click to show them. Oh, and did I mention it's powered by Bing? Bonus points for Bing Rewards, if you're into that kinda thing, but still… Bing.
The controls for this home screen are the opposite of those in Next. You swipe down for quick toggles and quick app shortcuts and you swipe up to unlock. You swipe left to reach the news/sports results, which are powered by Bing. At the top of the lock screen is a Bing search bar, which can search through your contacts, installed apps, and your web history. Somehow I dig Picturesque a little less than Next, but if you're a Bing user, knock yourself out.
Cortana
Missing that blue ring from your Windows Phone — or (much more likely) from your Windows PC? No problem! Cortana made the jump to Android last year, and for Windows 10 testers, you can even try synchronizing notifications between your Windows and your Android devices, which is something that's bound to make many users happy when it comes to the rest of us later this year.
Unfortunately, while you can get Cortana on Android (opens in new tab), in the U.S. she won't be quite as quick as she is on Windows Phone, because her voice activated 'Hey Cortana' was removed late last year. Apparently, it was causing major issues, such as breaking users microphones and hotword activation for Google Now.
If you want Cortana more deeply-ingrained in your system and you're a more technically-savvy user, you might also consider flashing CyanogenMod on your device. (That's a big step beyond apps and themes, though.)
Microsoft Suite
Now, I could spend days going through the rest of Microsoft's offerings on Google Play, but I don't have to. Microsoft has built an app to point you to all of their apps and directs you to their Google Play listing to download them. It's aptly called Microsoft Apps, and it lets you browse through Microsoft's apps either by category, through their most popular apps, or just scrolling through every app on offer.
Now, you may think this is a glorified list app… and it is. But scrolling through Microsoft's apps on Google Play — especially on desktop — is just like pulling teeth, and even if you just download Microsoft Apps (opens in new tab), use it to install 2-3 apps (or 20-30), and then uninstall, it will likely be quicker and easier than jumping back and forth inside the Google Play app. Will it do much for you long-term? Maybe not, but if you've just made the jump to Android from Windows Phone — or if you just want to bring yourself closer to Microsoft's ecosystem — it's a quick simple app that'll help jump-start your Microsoft adoption. And that's all it needs to do.
So, do you rock the Windows Phone look on your Android phone? Or do you prefer Arrow Launcher and Next Lock Screen? How much Microsoft do you have/want/need on your phone? Share your Windows-based themes in the comments, along with any Windows Phone features you wish would jump to Android. I'll start: SYSTEM-WIDE DARK MODE!
Android Central Newsletter
Get instant access to breaking news, the hottest reviews, great deals and helpful tips
Ara Wagoner was a staff writer at Android Central. She themes phones and pokes YouTube Music with a stick. When she's not writing about cases, Chromebooks, or customization, she's wandering around Walt Disney World. If you see her without headphones, RUN. You can follow her on Twitter at @arawagco.
Agreed with the system wide dark theme. I loved that on Windows Phone! Posted via the Android Central App

I agree with you. Posted via the Android Central App

...and I agree with you Posted via Galaxy Note Edge

One of the main reasons I love windows phone, even though I don't own one. It's best to assume I'm being sarcastic. if I'm ever serious I'll type "/s" to make it clear.

This article makes me nauseous Posted via the Android Central App

Yea and there's nothing even remotely similar to Windows Phone Posted via the Android Central App

Exactly. I used windows phone for about 4 years... And this article looked nothing like that experience. Without live tiles you really can't even remotely duplicate the experience Posted via the Android Central App

I used the W8 launcher over a couple different stretches of time. It does a good job of bringing the look and feel of Windows 8 Mobile to an Android phone.

The main design thing WP has going for it is definitely the black theme on the system UI.
But the tiles are done for. When I switched I thought about reproducing the WP UI on Android and then I realised how stupid it was, specially since Android's look is actually more close to Windows desktop than WP itself. Oh and
"Windows Phone is in an odd place right now" Windows Phone/10 Mobile is dead.
Nothing odd about death in my book. Posted via the Android Central App

We've been calling Windows Phone dead for years. At this point I kinda treat it like Danny Phantom: half-dead, half-alive, entirely odd.

Awesome Posted via the Android Central App

Yep mostly dead, moved from WP to Android about 2 months ago. W10M is a mess, and very glitchy. Some apps need to load couple seconds before they open. A lot apps crashing. I know some people might say "I never had these problems". But many people have. Posted via the Android Central App
for LG G3

Windows 10 Mobile will never truly die because of how much code is shared between it and Windows 10 proper

If no one buys their phones, if developers don't care for the platform, if Microsoft itself has other priorities, it's dead.
Tizen shares code with MeeGo. Just because Tizen is around doesn't mean MeeGo is alive.
WP10 may exist and continue to exist. It doesn't mean it's alive. There are Symbian phones still being used and working. Doesn't make Symbian alive. Same goes for BB10, for example.

There will always be phones and fans of the platform and as the app ecosystem revamps and grows so will the market share. I don't want to live in an Andoid vs iOS only world. That would be less exciting IMO. One picture at a time--LG V10

You have been chosen. Buy all the Windows things. Buy them all. Keep the dream alive. via S2 9.7 or the amazin S6 Active ;-)

About 9 character string is all that's common.

The entire OS is the same. Win10 mobile is just a SKU. Posted via the Android Central App

I'm still using two Windows phones (not Windows Phones) and I'm really, really enjoying it. There are still some niggles but overall the user experience is amazing and Windows 10 Mobile is truly a gorgeous operating system.
As far as bringing Microsoft to Android, I think it's a good experience. I think Microsoft's Outlook and Office apps are better than Google's offerings, but I also think Groove Music on Android isn't nearly as good as it is on Windows 10. I like a good mixture. I like Next because of the Bing wallpaper feature and the smart functions but Android's simple and elegant lock screen works well. I tend to use a Launcher like Google Now or Nova (usually Nova) and then use Microsoft apps like Outlook, the Office Suite, OneNote, and OneDrive. I'll also install Cortana for the quick integration. I'm not a fan of Microsoft's Arrow Launcher, but to be honest I can't find a use for most of the Garage Projects. I hope people know that they aren't true Microsoft applications. Honestly, Android is fine on its own, but I do enjoy mixing it up with some Microsoft services (I do believe quite a few of them are just downright superior to what Google is doing), but right now I'm actually really liking Windows 10 Mobile.

Arrow is my default launcher, and I use Next lock screen also. I have the MS office suite loaded and I use Outlook as my default email client with gmail synced in. 2 years ago I would never have thought I would have so many MS apps on my android phone!

Windows Phone is dead. Let it rest in peace.

Only it's not Posted via the Android Central App

Windows phone guess you could say The Walking Dead. It's not completely dead but I wouldn't call it alive and thriving either. Out of the Apple, Android and Windows if I can actually mix Windows phone UI with Android's apps I would have the perfect phone for me. Sent via Tandy Color Computer
-----------------------------------------------
before you see the light, you have to deal with the darkness

Agreed Posted via the Android Central App

How is it not? Galaxy s7 edge

WP is irrelevant, it's DEAD, put a fork in it, Microsoft has. Posted via the Android Central App

You are right, Windows Phone is dead. But not Windows 10 (Mobile). Posted via the Android Central App

That one is even more dead. It's deaded. Posted via the Android Central App

This statement is dead. Let it rest. If Windows Phone were truly dead people would not even bring it up.

If Windows phone is dead why do they come out with a new build each month? Why are more developers making apps? I'm on the fast ring for new builds and it just keeps getting better.

NO! NO! NO! Posted via the Pixel C

:-) Posted via the Pixel C

It is my comment. Posted via the Android Central App

Why on earth would you want to do ANY of this??? There is a very good reason Microsoft is best avoided, years of anti-consumer practises... Trying to make your phone appear more like their disastrous and desperate attempts to stay relevant is the last thing I want to do.

I was a WP user but switched to a S6edge plus. Not because i disliked tge OS but rather being on T-MO US. There was no devices to go to unless i wanted a low end device. Microsoft messed up with exclusives to at&t only. So to voice my dislike i switched to Android and to further it i switched all my laptos to Android i did not leave Microsoft they left me. Posted via the Android Central App

Wow. You sound like a jilted lover.

LOL! :-) Posted via the Android Central App

He finally saw the light. Posted via the Android Central App

Although I think it's pretty stupid to buy Chromebooks or use anything that isn't Windows on a laptop, you spoke with your wallet and that's the smart thing to do and the only language corporations understand. So kudos for that. Posted via the Android Central App

You say that like T-Mobile could be forced to carry a phone they didn't want to carry. You could've bought the 950 unlocked and just put a T-Mobile Sim in... Posted via the Android Central App

No, you will loose some of the carriers functions.

Very interesting to see this, thanks. Not what I expected but still nice though.

Tiles. I miss the whole os. I miss my 1520. I miss reliability. I just want the same apps at the same quality on win10. Damnit Microsoft! Posted via the Android Central App

Yeah, nothing was better for managing multiple email accounts than Windows Phone. But still, the browser was crap and W10 was never good on my 830. I've done some of these things on my S7E (I like the Next lock screen), but it's till no Windows phone.

I tried to love MS's launcher and lock screen. I always end going back to google now.

Good guide, but I'd personally just buy a Lumia 950 XL for the complete Windows 10 Mobile experience.

Alternatively, you could throw the money directly in the toilet and flush it down.

Lmfao! Posted via my Nexus 6

I've been back on Android for two years now but I do very much miss some of the WP8.1 features and aesthetics. I still remember how I wished WP will make it and for a moment it did look like it has a shot, when pan-European market share was slightly over 10% and more and more mainline apps are coming to the platform. But all is long gone *sigh Posted via the Android Central App

Thanks for this write up. Posted via the Android Central App

Pour some out for WP. I miss so many things about it- sadly nothing in this article helps. If Microsoft releases a Surface phone next year with a fingerprint reader and pen support I'll trade in my Nexus 5X (though I'd still have to get some random Android phone from work because we've switched from Office to Google Apps). Posted via the Android Central App

I thought Cortana was only integrated at system level for CyanogenOS, not CyanogenMod? Posted via the Android Central App

The only thing I really miss from my windows phone is the ability while driving to have my text read to me and be able to reply by voice. Windows was great at doing this. It would cut off my music and read my text and I could reply by voice. Other than that I don't miss it that much. I have tried some of the apps in the playstore but I never got any of them to work like windows

"but still… Bing" What is wrong with Bing? Get over yourself

I'm on week one of switching from a Windows 10 phone to Android. I decided not to go with any of the launchers that make the phone look like Windows and give Android a try. I do love the Bing homepage image as my lock screen, but using Next lock screen broke the quick camera launch function on my 6P. Maybe I'll try the other (I use Bing pretty regularly - if only for the rewards. I can get a $5 Amazon gift card each month just for doing a few clicks per day). The other thing that is bothering me is I don't seem to be able to use voice/Cortana to reply to tweets on my Band 2. I thought that was supposed to have been added with the most recent update. Oh, and Groove is in dire need of an update. Beyond that, I love being able to say, "oh yeah, I can get that app now." Most of the apps I use regularly are just better on android as well (mostly thinking about Untappd here).

Installed Picturesque and it also disables the quick camera launch on my S7. As far as I am concerned this S7 is just a placeholder until the new Windows 10 Mobile devices come up.

One Question.....Why? Posted via my Nexus 6

~4 year and going WP user and i have to say this article is useless (guide)

Been with Android for a month after being with WP since WP7 launched. Have to admit there are so many things that Windows Mobile has done right and so many things I'm not sure why Google hasn't done yet. All and all we go for the phone that has access to the world of Apps. I agree, being able to get any app is great but W10 has better apps and even 3rd party apps. But it's not popular enough so that's what it comes down to. Oh well. There's still a chance!! S7 edge Posted via the Android Central App

I gave up WP because of the lack of apps, but it looked cool. Hey Ara, are you going to do an article on HTC "freestyle" themes, of did I miss that one? Posted via the Android Central App

Eh, I should do those at some point... But then I'm stuck with HTC Themes icon packs... Posted via the Android Central App

Well, you could make it an HTC specific article, like "Exploring HTC Freestyle Themes" or something. It's not just for the 10, as I know it's on the M8 and I assume the M9 as well. Don;t know about the A9 though...

Which are those pack of icons used in the Arrow Launcher? Can't find them.

That's Glim. Posted via the Android Central App

THIS IS AWESOME. Posted via the Android Central App

Like buying a Ferrari and putting a Hyundai engine in it.

This is the first thing I do on all my android devices . Install cyanogen and remove googles spyware from my phone.

Hi,
I recent bought an android phone. I absolutely hate it!!!
I miss my Wp. In android I can't get my Facebook contacts in the contacts app. Why?
When I installed Outlook on my android phone, I assumed my contacts would go in the contacts app. Nope. Why?
Several of the apps from windowsphone are way better than the android app.
I must say, that there might be a million android apps, but I don't need 500 Tetris games. I just need one.
So why did I buy an android phone? I think that Windows phone will be a more business phone os. A bit like blackberry. To bad, because I love the WP interface.
The above opinions are mine, and you have the right to disagree. Posted via the Android Central App

I moved to Android almost 2 years ago, still cannot get the same user experience, on WP some apps or features are more integrated with the OS, contacts, social media, camera apps, etc. something that you cannot replicate with the vast app selection on Android, that's true. But even if Android cannot offer better user experience it offers a big world of apps, features and unlimited customization. I understand you, for instance I was feeling the same hate with all the thousands of keyboards available on Android, but finally I can enjoy the Swiftkey beta from MS

Thank you for the information.

This is probably as close as it gets. I miss my windows phone UI but I need the android app market. Ah well Posted via the Android Central App

Yuck on all Launchers that are not Arrow. There is nothing...nothing on Android that comes close to usefulness of the native windows phone UI.
I still miss it.

I was a Windows Phone user (Samsung ATIV S, WP8.1). I switched to Android for 1 (one) app. That's right. For me the app gap is 1 app. I got the app (which sucks, but is required for my sport). I lost productivity, ease of use, the personalized experience, and the feeling of 'my phone' all Androids feel the same unless you root and hack your way to a custom rom. As for the MS apps, i.e. Outlook (3-in-1-app) on Android pales in comparison to the experience on WP/W10M. It's just so slow and limited (compared to my 2012 ATIV S). Android is all about the extra's. Windows is about you, the user. If you don't get this, you most likely have never used WP of W10M at all or more than a few minutes. And I get the Android fanboy-ism. Android is the biggest Mobile OS. Surely they must have built a solid system by now that has everything at least a basic user could ever want. I assumed this as well before my (blind, no trials) switch to the Moto X 2014 @ Marshmallow. I was wrong. I went from disappointment to disappointment. For example, I use my phone as my alarm. 1, it's unreliable; sometimes there are sudden battery drains during the night, leaving me to wake up late and find the phone dead. Never happened on Windows. 2, I want to see the time of my next alarm on my home page. This means installing Dashclock and Alarms (a shortcut to the alarms tab of Google clock). That's right, I need 3 apps to do a basic thing.
These Microsoft apps all suffer from the same Android universe issues. There is never a simple solution like on Windows. You always need more apps to do less.
Doe this mean I want you all to jump to Windows? No, if you're happy with Android, stick with it. But don't assume Windows is useless or dead because is has an unassuming market share.

Pal I have had several WP devices, including the Ativ S. The Microsoft Experience is better on Android now. MS were slow with features for WP and there was no way to make the phone your own. They all looked the same. I see no reason for Windows to exist on phones these days. Posted from my Nokia 3310

Next Lockscreen also breaks Google Now as well. It creates a lot of noise in the microphone for some reason. Figured I should mention that since you mentioned Cortana breaking it.

Totally out of curiosity... why is it that all Android Central writers -- even the ones who write anything at all about Cortana -- are still completely oblivious to the fact that the Hey Cortana feature has been restored? I don't expect the average Google-saturated Android user to hear about things like that right away... but isn't that the sort of thing an Android Central writer should be aware of if/when they actually bother to write anything about Cortana?
I'm not a big Cortana (or even Microsoft in general) advocate/fan-boy -- Cortana is neat and all, as are Siri, OK Google, etc -- but it just seems strange for that sort of news to not reach the folks who... you know... are the one's who actually report that sort of news.
Eh... my two cents. Posted via the Android Central App

I sure do miss Windows mobile. Hope to go back to it soon Posted via the Android Central App

Launcher 10 is the best launcher on google play store for windows phone lovers that do miss WM10 UI. It's almost the same, excellent. Live tiles(buy), tiles and graphics as on wm10, give it a try and you ll see what I mean. I am still a Lumia 950 user with a second android phone. The only better are the apps. Nothing more. WM10 although is an OS not completed is way way better than android for my opinion.
Android Central Newsletter
Get instant access to breaking news, the hottest reviews, great deals and helpful tips
Thank you for signing up to Android Central. You will receive a verification email shortly.
There was a problem. Please refresh the page and try again.