Major Swype beta update released with syncable dictionary, personalized prediction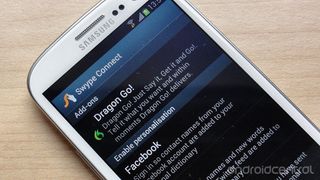 Swype developer Nuance has announced -- and released -- a major update to the beta version of the popular Android keyboard. The new Swype beta, which is available to download now from the official site, adds in several new abilities designed to make word prediction more accurate. Among these is a feature more commonly associated with rival SwiftKey -- personalized prediction based on social networking accounts, SMS and email.
The devs have also added in the ability to sync your personal dictionary across multiple devices, and download new languages from within the app. On top of that, a more intelligent prediction engine is promised, based on Nuance's XT9 tech, which the developers say will make Swype smarter based on historical usage. Dragn dictation is also included, if you prefer talking to typing.
All in all, this looks like a worthy update to one of the most popular Android keyboards, so if you're a fan of Swype, you'll definitely want to check it out. The new version of Swype is available now over at the source link for English and Spanish users.
We've got the presser after the break.
Download: Swype Beta
Nuance Launches Next Generation Swype
Swype's New Living, Learning Keyboard Gets Smarter Every Time You Use It
Burlington, Mass. – June 20, 2012 – Nuance Communications Inc. (NASDAQ: NUAN) today announced the next-generation Swype keyboard, a four-in-one keyboard that is a revolutionary step forward in the way people communicate and input text on their mobile devices. Swype now combines touch and voice input with unique adaptive capabilities to understand users' preferences over time – becoming smarter and more personalized every time they swype, speak, tap and write.
Staying connected has never been more exciting as Swype provides consumers with more choice in how they input text, and now interprets a user's personal language style – ultimately providing an amazingly fast, flexible, and accurate experience. New features include:
· Next Word Prediction: Swype's next word prediction is amazingly intelligent as Nuance has integrated capabilities from its renowned XT9 portfolio. Swype gets smarter based on historical usage, so prediction becomes more accurate with each use.
· Voice-Text Dictionary Syncing: Swype now includes a personal dictionary. Every new word a user enters on the keyboard gets added to their personal dictionary for speech and text, and you can even have Swype learn from emails, texts and posts. These updates are then mapped into Swype's unified language model, so people can immediately speak or write that same word no matter how unique or specialized.
· Language Downloads: Swypers everywhere can communicate in any language they speak, as Swype now supports the download of over 55 languages right from the device.
· Four-in-One Keyboard: Swype now delivers a four input modalities in one keyboard. People can swype from letter to letter; type rapidly with predictive text input powered by XT9; speak their text naturally through a fully integrated Dragon button; or, simply write letters, words and symbols using their fingertip. Further, users can switch back and forth between modalities on the fly – providing the ultimate in keyboard personalization.
"People use their keyboards every day in every way – so input needs to be fast and simple," said Michael Thompson, executive vice president and general manager, Nuance Mobile. "The new Swype living, learning keyboard ushers in a new era of input, where the keyboard adapts to the users' unique way of communicating every time they swype, speak, tap or write."
Android Central Newsletter
Get instant access to breaking news, the hottest reviews, great deals and helpful tips
Alex was with Android Central for over a decade, producing written and video content for the site, and served as global Executive Editor from 2016 to 2022.
Let me guess: if swype was preinstalled on your phone - you can't upgrade. I love swype but I hate that without hacking my phone , I am forever stuck on the old version.

Yep, unless the OEM wants to update you. I think that's how Swype is making money now, by working with the OEMs. They consider the OEMs their clients anyway, not us. There has been a few posts about that in their forums. It usually comes up when people ask why Swype isn't in the market like all the other keyboards. The benefits of rooting your phone are worth it in my opinion. Just delete the original and the beta installs perfectly fine.

I agree and I understand why. But I just think it is crazy that the OEMs / Swype have placed the users in this position: root your phone (and void all warranty) OR live without the most recent updates.

According the official announcement on Swype Forums: "•Install Swype Beta alongside your pre-installed version of Swype! You no longer do you have to root your device to get the Swype Beta if Swype is pre-installed. We've changed the namespace so you can maintain your perfectly tested pre-installed Swype keyboard AND try out the latest and greatest from Swype." http://forum.swype.com/showthread.php?6389-Next-Generation-Swype-Beta-Ju...

Now what will I do with my Tin-foil hat!?

EDIT - disregard my reply. Others already beat me to the reply.

Sure you can, just root it and uninstall with Titanium Pro.

Too bad someone didn't tell Swype they have an update. I'm in their beta program,but don't see this new update available anywhere when I sign on.. ;) Version 3 is incredible. A "must get".

One thing I kind of don't like is Swype has an online component, Swype Connect. With it having the ability to scan my emails and pretty much everything while at the same time communicating with it's mother ship it makes me a little nervous. I still use it though and just try not to think about the bad things. It sounds like this next version is going to be nice. Swype will finally get better at knowing what words you want based on history. That is my biggest complaint, always screwing up the same word. My other complaint is not having the ability to remove the damn language and microphone (dragon) buttons. I would rather have a longer space bar than two buttons that for me have no use. Update isn't pushing to me yet either. Here is a message posted in their forums: "Updates may take up to 72 hours to arrive on your device. You will receive an update notification the next time your device checks in to the Swype Connect service. You can manually initiate this process by pressing the "Refresh" button in the Swype Connect section of Swype Settings, though your update request may be deferred anyway based on server load. Please wait at least 72 hours before reporting update failures on the forums. Thank you."

im a beta tester but can't get the update :/ damn

Any Rezound users try this new Swype? Does it fix the problem where Swyping too quickly will break up your intended word into 2 different words?

Just downloaded 10 minutes ago onto my rooted rezound and it works fine

I have installed it and it seems much better to me. I was also having issues with the size of the keyboard and that seems to be fixed too.

It was pretty easy to install the new update / version.
Open your text message app, touch the "Swype" symbol
On the bottom left, the menu opens up and at the bottom
it has an update option, does the rest on its own. FYI I'm
Using a non rooted unbranded Sony Xperia Neo V. Should
work on any phone I imagine.

Their servers are slamed guys their forums aren't even working right now!

They seem to be clear now. I just installed it on my Galaxy Tab. First impression. Awesome. I last used Swype on a Tilt2, both on WM6.5 and an alternate xda-developer build of android. This is even smoother than I remembered. With soft music at a higher volume on my surround system, dictation gets some words wrong. But that's without any learning of how I speak. I'm impressed.

Version number? / How to tell if automatically updated?

Version 1.0.3.5809
If you go to keyboard preferences and tap "swype connect" and you have the ability to enable facebook and gmail personalization, you have the latest beta.

the previous versions have all been 3.x why has it gone back to 1.x?

Way to go, Swype! You've taken the most annoying new feature of the ICS keyboard and made it your own.

Anyone know how Dragon compares to Google's TTS Engine?

Very favorably, IMO. The only thing you lose (if you're using ICS) is the ability to pause and then continue to dictate. Dragon listens, and when it thinks you're done, it transcribes. And it does it pretty accurately.

Dragon's voice recognition is actually better than Google's one built into the OS.

anybody know why some are able to DL it and some are not? I'm suppose to be a beta tester however I haven't gotten any notification from Swype and the Swype forums aren't much help. Where can one go to get the update? (update) finally got it to work, I guess it was due to their servers being slowed down today. Works awesome on my Dinc. I hope it works just as awesome on my GS3 when it finally ships. :-)

I have downloaded it and just started using it on my Droid Charge. Loving it so far. The keyboard is much better. The speech recognition is very good! I use Dragon on my PC and it is pretty much all there in Swype Beta, from what I can tell. Well done!

My old Swype ID no longer worked. I had to re-register. Then they emailed me a code to activate. Not sure I like that as it sounds like a way to shut us off in the future.

Can't wait to get home and try this out on my old Nexus S I got laying around

This is uncanny, I just installed swiftkey's new beta and was giving it a go but miss being able to swype. I hate the space bar, lol. Now this, looks like i'm back to my high school crush!

Welp. It seemed nice. But now the keyboard gets frozen on the screen after I'm done typing. Missed some phone calls because of it. Uninstalling for now. I'm too happy with the existing version to download something that doesn't work right.
Android Central Newsletter
Get instant access to breaking news, the hottest reviews, great deals and helpful tips
Thank you for signing up to Android Central. You will receive a verification email shortly.
There was a problem. Please refresh the page and try again.