Logitech dropping the price of the Revue to $99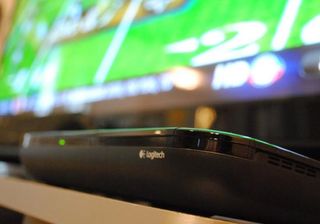 After a disappointing financial year, Logitech will be dropping the price of its Google TV box, the Revue, from $249 to $99.
Sales declined 4 percent year over year while they reported an operating loss of $45 million compared to an operating income of $12 million just a year ago.
Due to this and the desire to get broader adoption of the Google TV platform, Logitech will drop the price drastically. This puts the device right in line with the Roku box and Apple TV.
If you've been holding out from buying Google TV due to price, you may want to hop on this deal from Logitech. Especially because we're expecting Honeycomb to hit the platform sometime this summer (see our first look from I/O), which should bring an abundance of apps to your TV. See the press release from Logitech after the break.
Source: Logitech (opens in new tab)
Logitech Announces First Quarter Results for FY 2012
Company Takes $34M Q1 Charge for Planned Price Reduction on Logitech Revue
FREMONT, Calif., July 27, 2011 and MORGES, Switzerland, July 28, 2011 — Logitech International (SIX: LOGN) (Nasdaq: LOGI) today announced financial results for the first quarter of Fiscal Year 2012.
Sales for Q1 FY 2012 were $480 million compared to $479 million in Q1 FY 2011. Excluding the favorable impact of exchange rate changes, sales declined by 4 percent year over year. The Company posted an operating loss of $45 million, compared to operating income of $12 million in the same quarter a year ago. Included in Logitech's Q1 FY 2012 operating loss is a $34 million charge to cost of goods sold due to a planned price reduction on Logitech Revue with Google TV. The net loss for Q1 FY 2012 was $30 million ($0.17 per share) compared to net income of $20 million ($0.11 per share) in Q1 of FY 2011. Gross margin for Q1 FY 2012, reflecting the charge related to repricing of Logitech Revue, was 26.1 percent, down from 35.3 percent one year ago.
Logitech's retail sales for Q1 FY 2012 were flat year over year, with an increase in Asia of 29 percent, an increase in the Americas of 1 percent, and a decrease in EMEA of 14 percent. OEM sales decreased by 16 percent. Sales for the LifeSize division grew 34 percent.
In Q1, Logitech achieved strong growth in Asia, driven primarily by China. Also notable for the first quarter was continued sales momentum by the LifeSize division and a positive initial reception of the Company's new tablet accessories.
While Logitech is making progress in improving operations in the Company's EMEA sales region, the Q1 performance reflects sustained weakness in the region. The Company also experienced minimal sales growth in its Americas region, primarily due to very weak sales in the Digital Home category. Logitech's loss in Q1 was compounded by the significant impact of the decision to reduce the price of Logitech Revue from $249 to $99 during Q2. The action was taken with the goal of accelerating adoption of the Google TV platform by removing price as a barrier to broad consumer acceptance.
In a separate announcement today, Logitech said that Chairman Guerrino De Luca has assumed the additional role of acting president and chief executive officer, succeeding departing CEO Gerald P. Quindlen.
"I resume my former role as CEO, on an acting basis, with unwavering commitment to Logitech and strong confidence in the Company's future and growth potential," said Guerrino De Luca. "My priorities will be to pursue our many opportunities with a strong sense of urgency and to renew the confidence in Logitech among all stakeholders."
Outlook
For Fiscal Year 2012, ending March 31, 2012, Logitech has lowered its sales outlook from approximately $2.6 billion to approximately $2.5 billion. The Company has lowered its FY 2012 target for operating income from approximately $185 million to equal to or greater than FY 2011 operating income of $143 million.
Prepared Remarks Available Online
Logitech has made its prepared written remarks for the financial results teleconference available online on the Logitech corporate Web site at http://ir.logitech.com. The remarks are posted in the Calendar section on the Investor home page.
Financial Results Teleconference and Webcast
Logitech will hold a financial results teleconference on Thursday, July 28, 2011 at 8:30 a.m. Eastern Daylight Time and 14:30 Central European Summer Time. A live webcast of the call, along with presentation slides, will be available on the Logitech corporate Web site at http://ir.logitech.com.
About Logitech
Logitech is a world leader in products that connect people to the digital experiences they care about. Spanning multiple computing, communication and entertainment platforms, Logitech's combined hardware and software enable or enhance digital navigation, music and video entertainment, gaming, social networking, audio and video communication over the Internet, video security and home-entertainment control. Founded in 1981, Logitech International is a Swiss public company listed on the SIX Swiss Exchange (LOGN) and on the Nasdaq Global Select Market (LOGI).
Seriously. Is it worth it? The Sony/Google tele 24" is going for like $598. But getting terrible reviews. I really like this idea, and is a much cheaper alternative

if you understand what it is and isn't capable of before purchasing it it's totally worth it, but if you have unrealistic expectations going in you'll be disappointed, as it is right now it's cool but a work in progress

So Stone what is the reader's digest version of what it does Vs what it doesn't do? I have a roku, and absolutely love it! But I like this idea even more.....but what are the limitations? Will Hulu work without monthly membership with this?

as of now hulu won't work. don't expect it to do much streaming at all other than netflix and youtube and you'll be all set. web browsing is possible but challenging at times (depending on the page) the keyboard is really cool and netflix works just fine. much more than that right now is a stretch. also media server streaming (from a network share) is really spotty at this point.

About the media streaming... I've been waiting on the XBMC project to launch a proper Android port for some time now. Once they do this, the streaming media part from a share is no longer an issue. If XBMC + MythTV frontend came out (not the crappy XBMC implementation of MythTV), I'd immediately buy 3 of these devices.

Compared to those who have already had a Windows 7 HTPC, the logitech is simply not enough.

I am going to go into my other job today just to make a quick $150...let me know when u ready to take the money logitech.
and it better not just be for the box! i want the keyboard also!! :)

So, when exactly is this happening? At that price point, might be worth it just for hbo go and sunday ticket (now that we have football).

I would also like to know when this is happening. I am onboard.

not sure i need this contraption. it might be overkill.

The way I read it the price drop was a past decision not a current or upcoming one.

Depends on what their fiscal year looks like. They could have decided to take the loss in quarter 1 to offset the loss in quarter 2, if the accounting made sense. It depends on whether we're entering quarter 2 or quarter 3 for them.

I agree. Just haven't seen any site with a price even close to that number yet. But maybe just have to wait until August.

I have tried to bring myself to like Google tv, but I think it still needs some work. While I agree it is pretty awesome and the addition of Honeycomb will be sweet, I think it really needs something to set it apart and make it stand out... a better, built in DVR that works with a Cablecard (thus making it compatible w/ just about every cable company), expandable storage, and access to my home network files. Until then, It just blends in with Roku, Apple TV, and everything else.

a built in DVR would be cool. Although the $99 price tag levels the playing field significantly, I still think the way they both sit now, the Apple TV wins the spot . I wish somehow some way they could all play nice and play my downloaded iTunes movies on Google TV. Damn DRM lockdown.

Yup. This is the correct price point for this. I'll be buying my second one now.

Wonder when this will happen. They still have it listed at $299 on their site. BB has it listed for $249.

I've been thinking of getting one and now with the price drop, it may be sooner than expected. I've been reading up on Google TV a lot lately.

Yeah I just checked BB as well and it's still listed at $249. I will pull the trigger when this price goes into effect.

Not a month ago I went out and purchased the Sony Google TV 40" and last week went out and purchased the apple TV for my other television. As far as functionality goes, Google TV goes above and beyond what Apple TV currently offers. I would have seriously considered this had I known Logitech was going to drop the price of their unit, but overall I'm still very pleased with the Apple TV as well (Great UI for Netflix as well as built in functionality for my two Mac's and iOS). Prior to purchasing the Google TV by Sony I read all the reviews both good and bad. I have to say in all honesty for all the bad reviews I read, I have to believe it's 100% because of the owner. I haven't had one issue with mine, no pixelation, no loss of signal, the remote works well with my current service provider and so forth. I think a majority of the bad reviews are due to people not knowing how to properly hook components up (Not component lines). Don't get me wrong, could I have gotten lucky with a great television? Sure! I'll accept that. But after using it as much as I have and really being skeptical of it in the first place I'm extremely happy with my purchase. I just hope that if someone is thinking about purchasing a Google TV unit and stumble upon this article they get to see all sides of the spectrum, not just the bad but the good as well. Michael~

I'll be buying one at $99. +1 to the poster who said it should still come with the keyboard. If they take that away it'll just amount to a $49 price drop.

I already have the Sony/Google TV Blu-Ray, when this happens I will buy the Logitech for the 37 inch in the bedroom. It's definitly worth the 99 bucs. Smart thinking by Logitech.

I'll grab one or more of these as soon as they're available for $99. This is one of the only devices to which paid Amazon Prime subscribers can stream the free Prime videos. My Tivo HD allows me to transfer Amazon videos that I purchase or rent individually, but the free Prime videos can only be streamed on a browser or the Revue (and Roku, I think).

I bought one of these a month or so ago (I have a Roku as well). Shut off uVerse, went back to RoadRunner (Internet only) and haven't looked back. On my Ubuntu box, I have a Virtualbox VM of WindowsXP, which is used for not much more than running a PlayOn server, which lets me get Hulu, CBS, History Channel, and hundreds more "channels", for free. Can't WAIT for Honeycomb on my Revue. It's gonna rock!

Google TV is still pure junk compared to a windows vista media center, because you can stream content to several TV's. Not possible with a Google TV. Unless they changed it.

I'm all over this. I was waiting on a price drop.

What does this do for the Dish Network price? Dish Network customers were getting it for $179. That was happening with $70 instant savings. Might this mean we could get it for $30?

A couple of commenters have mentioned the lack of the keyboard controller, but I don't see a mention of this anywhere. Where does it say that the remote keyboard isn't included?

I just got my $99 Revue at best buy today!
Android Central Newsletter
Thank you for signing up to Android Central. You will receive a verification email shortly.
There was a problem. Please refresh the page and try again.