Bottom line: The lock offers extra convenience and security for your home while the doorbell camera and two-way audio allow you to see what's happening just outside your door no matter where you are. The camera isn't as good as other video doorbells out there, but it gets the job done.
Pros
+

Built-in HD camera and video storage

+

Two-way audio

+

Easy installation

+

5 ways to access your door

+

Comes with Wi-Fi hub and door sensor

+

Buttons scramble around on pin pad

+

Access codes and fingerprint reader

+

Works with Amazon Alexa and Google Assistant
Cons
-

Expensive

-

Only two colors

-

Takes 8 AA batteries

-

Night vision isn't the best
Why you can trust Android Central Our expert reviewers spend hours testing and comparing products and services so you can choose the best for you. Find out more about how we test.
When it comes to turning your home into a smart home, there are always two things needed for your front porch: a video doorbell and a smart lock. That usually means that you will need to install two different devices to get your home all set up the way you want. Which also means that you might need to open two separate apps whenever someone's at your front door and you want to let them in. However, a new device called the Lockly Vision offers both in one reliable package, so you only have to install one smart device instead of two.
Lockly is a smart lock company known for its unique pinpads which scramble the location of the numbers and makes it harder for would-be intruders or peekers to guess your codes. This company's devices also tend to have fingerprint readers and work with mobile apps and smart assistance so you can access your door in a variety of ways. That being the case, each of these standard Lockly features is also included in the Vision.
This unique device allows you to access your front door using one of five different methods, view your porch, and speak with visitors. It's a great unit for any home, bed and breakfast, or business as it offers 99 access codes, a physical key slot, a digital pinpad, remembers up to 99 fingerprints, and works with smart home assistants. However, the camera, while decent, isn't nearly as good as some other quality video doorbells out there.
Lockly Vision What I like
As with Lockly's other smart locks, the Vision is relatively easy to install on your front door. Just remove the old deadbolt and then follow the included instructions. I was able to get mine installed within 10 minutes. Here are some other things I like about this unique device.
Access options 5 ways to interact with your door
This is a very helpful deadbolt as there are several different ways for you, your family members, or trusted friends to be able to securely interact with it.
Digital pinpad codes: The lock has a digital pinpad that scrambles the locations of the numbers on the buttons each time the display turns on. This makes me feel safer, like it's harder for anyone peeking over my shoulder to figure out what my keycode is. I can dish out unique codes to family members, friends, the nanny (if I had one), or anyone else who needs regular access to my home. On top of that, I can also create one-time use codes for emergencies or unique situations. The app notifies me of who has entered my house based on the code used.
Fingerprint reader: The small circle on the right of the Vision is a fingerprint reader which can remember up to 99 different fingerprints. That way, I can quickly access my home without fumbling for keys or entering a code. I found it relatively easy to add a new user's fingerprint. It asks you to scan your finger several times to ensure that an accurate reading of your finger has been made. The app notifies me when someone enters using their fingerprint and warns me if it thinks someone is trying to enter my house with an unregistered one.
Physical key: The Lockly Vision comes with two keys that can be used with the physical keyhole. It's always good to have the key on hand in case the batteries die making it so the smart features don't work. Plus, if you have someone in your home that prefers a more traditional way of opening the door, you can give them one of the keys. If you need more keys made, you can always head to your local Home Depot, Lowes, or other home improvement store. I love that the Vision includes a sliding keyhole cover for a chic, mimimalist look.
Lockly app: The app lets me unlock or lock the door, adjust the settings, view the camera feed, or speak to people on my porch. It also notifies me if someone has rung my doorbell, interacted with the pinpad, or touched the fingerprint reader. That way I can check who's accessed the door and feel more secure that only trusted people can actually enter my home. If someone attempts to access the lock who doesn't have my approval, I can change keycodes or fingerprints scans.
Smart assistant: The included Wi-Fi hub is very easy to install and set up with the lock. With it in place, I'm able to control the Vision using a smart home assistant like my Amazon Alexa or my Google Assistant. Just make sure you set things up from the smart assistant's app in order to get that situated.
Using a smart assistant can be especially helpful for allowing guests into my home when my hands are messy or I'm busy doing something else.
The doorbell & camera Sound and notifications
Source: Rebecca Spear / Android Central
The doorbell admittedly isn't very loud compared to built-in doorbells, which means you might not hear it if you live in a multi-story home or if there is a lot of noise going on. You don't set it up with your current doorbell. Instead, it issues an electronic ring directly from the part of the device that is inside your home. However, you will be notified via app if the doorbell chimes. So, as long as you have your phone on you, you'll be able to tell that someone is on your porch.
If someone is at your door, you can use the app to easily communicate with them with the Vision's two-way audio. It's far from being the best sound quality, but the sound isn't bad and definitely does the job. Whether you're telling a friend you'll be down in minute or telling would-be burglars to buzz off, this feature definitely comes in handy. The camera shows the date and time and gives you a few other settings options whenever you access it from the app.
One of the best things about the Vision is that you don't need to pay for a video storage service since it comes with an included SD memory card that keeps your videos safe, private, and secure. To view any recordings, head to the app's log and you'll find videos along side notifications of the lock's acitivity.
Helpful accessories Wi-Fi hub and door sensors
When I removed the Lockly Vision from the packaging, I found several helpful items including a Vision Connect (Wi-Fi hub), door sensors, and a little doorbell sign. The hub is really easy to install and only took me a few minutes as I followed the included instructions. Once in place, it makes it possible for you to control the lock from anywhere with the app or by using your smart assistant.
Most smart locks will tell you whether they are in the locked or unlocked position, however, many will mistakenly make you think that the door is securely locked when the door is actually open. Thankfully, the Lockly Vision comes with sensors that you place on your doorframe. This then tells the app whether or not your door is actually shut to begin with. That way you can feel more secure about the state of your front door no matter where you are.
Finally, I love that the box included these helpful signs. Place one on the exterior of your house where the traditional doorbell location is, so people who are unfamiliar with the Lockly Vision know to ring the bell on the lock.
Lockly Vision What I don't like
I really like the Lockly Vision overall, but as with most electronics out there it isn't perfect. Here are the things I don't like about it.
The expense Well priced but still costly
The convenience of not having to switch between two different apps to check who's at the door and then let them in is one of the reasons that the Vision is so appealing. But is $400 a reasonable price for this convenience?
Most quality video doorbells sell between $100 and $250, while reliable smart locks also tend to be between $100 and $250. So, the price seems more on the high end, but reasonable at first glance. However, considering that the Vision's camera isn't the best and doesn't give you as many options as other video doorbells, $400 is definitely a bit expensive.
It should also be noted that it takes eight AA batteries for the Lockly Vision to work. This number of batteries makes sense given that the Vision needs power for both the smart lock features and the camera. The app does take measures to help you save power by timing you out of live feed after a certain number of seconds. Additionally, the Vision does come with the initial eight batteries needed to get the device running. Still, it might cost you a decent amount of money each time you need to purchase replacement batteries.
The camera Image quality, recordings, and night vision
Source: Rebecca Spear / Android Central(Top Left) Lockly Vision camera feed with porch light on. (Top Right) Lockly Vision camera feed with porch light off. (Bottom Left) Google Nest Hello camera feed with porch light on. (Bottom Right) Google Nest Hello camera feed with porch light off.
Unlike Ring, Google Nest, or several other video doorbell companies, the Lockly Vision doesn't have a recording storage service. Instead, it comes with a micro SD card for free local recordings so you don't have to pay a monthly or yearly service. However, you don't get as many camera options as you would with some other video doorbell devices.
For instance, you cannot set up camera recording zones and the camera is not motion activated. It will only record when someone rings the doorbell, uses the keypad, opens the keyhole cover, or when you specifically tell it to record in the app. So, if something happens on your front property without someone interacting with the lock, the camera won't record the events on its own.
While on the subject of the camera, the Lockly Vision doesn't have the best night mode. If you have a porch light on that illuminates the area where the Vision is installed then you'll still be able to see relatively well when it grows dark. However, if you prefer to keep the light off, the camera view will be very gritty and it will be difficult to make out any details in the late evening or early morning hours. The Vision's low camera quality is especially apparent when I compare it to the camera view from my Google Nest Hello, which is also installed on my house.
Limited colors Might not match your handle
The Lockly Vision currently only comes in Nickel and Black Matte. So if you have a gold handle or in my case, a Venetian Bronze handle, the unit will look a little out of place. It's possible more colors will become available during the life of the unit, but we'll have to wait and see if that is the case.
The Lockly Vision competition
At this point in time, Lockly Vision doesn't have many direct competitors since it's harder to find a video doorbell and smart lock in one device. However, there obviously are separate video doorbells and smart locks that compete with this unit.
The Gate Labs Smart Lock features both a motion activated camera and a deadbolt lock. You'll be able to communicate with people on your porch using two-way audio and there's a pinpad on the lock so you and your family members can enter using a keycode. However, the one major draw back is that this unit cannot be locked or unlocked using a smartphone.
When it comes to camera feed, 24/7 recording, and night vision, the Lockly Vision is lacking. The Google Nest Hello, on the other hand, allows you to see clearly on your porch regardless of what time of day it is and even lets you set up zones within the camera's field of view. This makes it so you can determine when the app notifies you of someone being on your property. You'll just need to purchase a Nest video recording subscription if you want this video doorbell to offer a 30 or 60-day video history for you to look back on.
As far as locks go, you can't go wrong with the August Wi-Fi Smart Lock (4th Gen), which attaches to your existing deadbolt. This device has built-in Wi-Fi so you don't have to worry about setting up a hub after installing the lock to your door. You'll be able to unlock the door from anywhere as long as your phone has access to the internet.
Lockly Vision Should you buy it?
Who it's for
If you want to only install one device instead of two
If you have multiple people coming in and out of your home
If you want a more secure deadbolt
If you want something that's easy to install
If you want to control your door with a smart assistant
Who it isn't for
If you want the cheapest options available
If you want non-stop camera recording
If you want a Venetian Bronze or a Gold deadbolt
If you're already looking to add a smart lock as well as a video doorbell to your front door, than you really ought to consider purchasing the Lockly Vision. It gives you plenty of ways for you, your loved ones, and your friends to enter your home while making your home feel secure. When someone is on your front door, you can see who it is and talk to them using the app. If you trust them enough, you can even unlock the door and let them in no matter where you are. This can be especially handy if your child forgets their code and needs to get in or your neighbor gets locked out of their house while you're away and needs somewhere to go.
4 out of 5
I will just say that the camera feed isn't as impressive as the feed we've seen with other video doorbells. The night vision is very gritty compared to Google Nest and Ring. And while there's no need to purchase a video storage plan, the camera doesn't offer as many helpful features as other quality doorbell cameras. However, if you don't mind being without those features and want to cut down on the amount of time it takes to install the smart devices you want, then the Lockly Vision is a good way to go.
Secure observer
Smart doorbell + smart lock
The Lockly Vision has a fingerprint reader, an HD camera, and buttons that scramble around every time the display turns on to better protect your door and allow you to monitor your porch.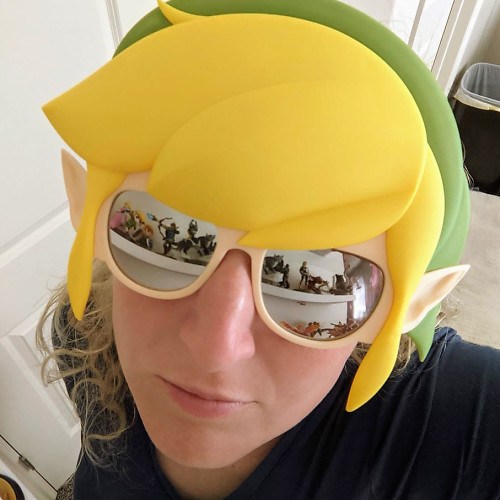 Rebecca Spear is a staff writer for Android Central who loves following the latest tech, drawing with her Wacom, and playing video games. You can find her posting about her pets, art, and video game preferences on Twitter @rrspear.