Light up your party with the MiPow PLAYBULB Rainbow Bluetooth LED Light Bulb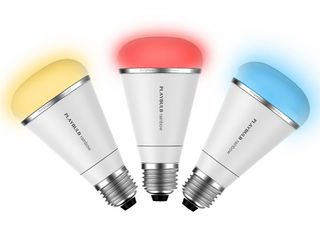 Aside from typical smart lighting that kicks on when I'm hitting the loo in the middle of the night, I haven't experimented with a smart bulb like the MiPow PLAYBULB Rainbow that has the ability to switch to dozens of custom colors and effects from my Android. It seems I've been missing out on a world of intelligent lighting that's perfect for parties, movies, or even bedside use.
The entire light measures about 4.6-inches in length and fits any standard E26/E27 light socket. Inside is an LED bulb that puts out 280 lumens and is capable of a RGB lighting scheme. The PLAYBULB Rainbow utilizes Bluetooth v4.0 and has a wireless range of around 30 feet, given there aren't many walls between your device and the light. At only 5W per bulb, your electric bill certainly won't have much to say about your new lighting setup.
After screwing in the smart bulb, you'll need to jump on the Play Store and download the PLAYBULB X app (opens in new tab) (also available for iOS if it's a divided household). Once installed, make sure your PLAYBULB is turned on and you should see it listed under "Devices". Tap Connect and you're ready to start experimenting with colors, effects and more.
You'll definitely want to go into the app preferences and switch on "Auto reconnect" to keep things quick and simple each time. The main light control screen features a color wheel that you can select from, also providing a color saturation adjustment if you want to keep things a bit dimmer than normal. If you really want to shake things up, toggle the Shake switch and go nuts with your device, whether it's to match the beat of a tune or to irritate your significant other. Pop into the Effects window to get even more customization options including flashing, pulse, candle effect, and a rainbow fade. Most of these effects have specific colors to choose from as well as speed settings.
Also available is a built-in music player which doesn't seem to serve much of a purpose as far as the lighting goes, but rather a quick way to select songs you've downloaded onto your device. There are options for beats and EQ here, but neither are active nor allow access — at least on my Galaxy S6 edge. Finally, the Scenes window gives you the ability to add a photo from your device and use an eye dropper tool to select a specific color from the image. Don't expect very accurate results here, though.
If you have more than one PLAYBULB you can easily set up a group, and control them simultaneously for a more impressive light show. Additional settings allow you to setup elaborate timers for a switch of colors, and when to put the PLAYBULB to sleep. The security settings feature options for start and end times, too.
Our take
Having just one of these LED smart bulbs around the house is a pretty cool addition and worth using for a variety of occasions. To really make an impression, you could add a handful to your screened porch or lanai and mix it up with some drinks and good friends. Their app leaves a lot to be desired with certain features that simply don't work, but the basics are still there. You can grab a single PLAYBULB Rainbow (opens in new tab) for around $37, or go all-in with a 3 pack (opens in new tab) which runs $87.
Buy now (opens in new tab)
Can't wait till you can buy a set with 5 smart light bulbs for less than $50.

Is this what they used to light up the White House. /good usage if you ask me Sent via carrier duck. They were out of pigeons

I've got a different brand of Bluetooth LED smart lights, I call them the poor mans Hue bulbs. They're pretty great.

Funny how none of these cutting edge technologies ever seem to available in the newest GU-24 socket standard.

Gee, I wonder why? Could it be because the GU-24 is a psychotic attempt to force people to unnecessarily replace all of their fixtures and lights? The GU-24 has literally NO benefit over an Edison base other than making it impossible to use incandescent bulbs. No one will ever use GU-24 bulbs other than those poor souls living in hellish social engineering ghettos like California.

probably because they want to be able to sell them to the largest market... and at least here in the states, that happens to be the same one we have been using for over the last hundred years.
Android Central Newsletter
Get the best of Android Central in in your inbox, every day!
Thank you for signing up to Android Central. You will receive a verification email shortly.
There was a problem. Please refresh the page and try again.