LG's Lollipop-powered flip phone goes global as the Wine Smart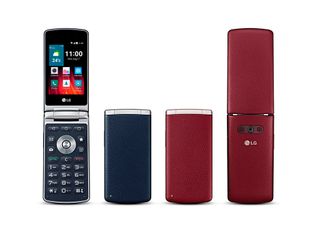 Late last month, LG announced the Gentle, a flip phone running Android 5.1.1 Lollipop. The manufacturer is known to launch several clamshell phones in its home market, with the handsets usually restricted to South Korea. That's changed with the Gentle, as LG is now stating that it will make the Gentle — which will be branded the LG Wine Smart — available in select markets around the world later this month, starting with France, Italy, Poland, Spain, Kazakhstan, Japan and the United Kingdom.
LG mentions that the Wine Smart is designed for a "generation of users who are more accustomed to the feel of flip phones." The phone features a 3.2-inch display with a resolution of 480 x 320, quad-core 1.1 GHz Snapdragon 210 CPU, 1GB RAM, 4GB internal memory, microSD slot, 3MP camera at the back, front VGA shooter and a 1,700mAh battery. The handset also offers LTE connectivity, although there isn't a mention of the specific bands supported. On the software front, the Wine Smart runs Android 5.1.1 Lollipop out of the box.
Pricing wasn't announced, but the Gentle retails for the equivalent of $170 in South Korea, so it is likely LG will be targeting the sub-$200 segment with the Wine Smart in international markets. Would you be interested in getting one?
NEW LG WINE SMART DELIVERS SMARTPHONE FEATURES WITH FAMILIAR FOLDER STYLE CONVENIENCE
Flip Phone with Android Lollipop Supports the Latest Apps and Multimedia Functions
SEOUL, Aug. 5, 2015 ― LG Electronics (LG) brings global consumers with its newest hybrid smartphone designed especially for a generation of users who are more accustomed to the feel of flip ― also known as folder or clamshell ― phones. Originally announced in the domestic Korean market as LG Gentle, the all-new LG Wine Smart will make its international debut later this month in target countries including France, Italy, Poland, Spain, Kazakhstan, Japan and the United Kingdom.
The Wine Smart combines the familiarity of a folder phone with an easy-to-use touchscreen and the connectivity and power of a smartphone. Thanks to the positive response to the original Wine Smart introduced in Korea last year, LG optimized the latest model with more advanced multimedia features to make the transition from feature phone to smartphone as seamless as possible.
The new LG Wine Smart is powered by Android Lollipop 5.1.1 to run the latest apps without complaint. To truly optimize the new Wine Smart for flip phone fans, LG included a large physical 3x4 numeric keypad for easy and accurate typing and hotkeys that provide instant access to frequently used features such as phone dialer, address book, text messages or camera. Larger-than-normal icons take full advantage of the 3x3 home screen layout on the crisp 3.2-inch HVGA display. The Wine Smart includes LG's Safety Care feature which can be set to automatically transmit emergency alerts and real-time location to pre-selected contacts whenever the user needs immediate assistance.
"Our goal with LG Wine Smart was to create a smartphone that fans of flip phones could embrace," said Chris Yie, vice president and head of marketing communications for LG Mobile Communications Company. "Consumers shouldn't have to miss out on the smartphone revolution because they prefer a particular phone design over another. With LG Wine Smart, they won't have to."
Prices and carrier details will be announced locally at the time of launch.
Android Central Newsletter
Get instant access to breaking news, the hottest reviews, great deals and helpful tips
Harish Jonnalagadda is a Senior Editor overseeing Asia at Android Central. He leads the site's coverage of Chinese phone brands, contributing to reviews, features, and buying guides. He also writes about storage servers, audio products, and the semiconductor industry. Contact him on Twitter at @chunkynerd.
I think this would make an interesting backup/work phone... Posted via the Android Central App

The people that need this phone setup are to old, dumb and stuck up to know it.
The younger people that like the idea of this phone will get bored with it pretty quickly. This is something that you give to your parents that already have a Flip phone but you want to introduce them to Android. LG G2
GSIII
Galaxy Note 4
(The Sprint Lover)

This article made me go dig out my old LG VX 8300 and just stare at it. Oh, those were the good old days when your phone would last for several days on a charge and fit in the palm of your hand. Posted via Android Central App from a beautiful Ebony backed Original Moto X or the amazing Nexus 10

Fit in the palm of your hand closed, once you open it it would not balance right and you would drop in your flip phone 7 times a day. Posted via the Android Central App

and when you dropped it, it would bounce and you wouldn't have to worry about a cracked screen. The call quality was also better. Sign me up.

Word is, is that it has better RAM management than the S6. Delivered by my Shamu

Pretty much any phone, feature or smart has better RAM management than TouchWiz so yeah. Cynicism Evolved

I would use this for a backup phone or just for nostalgia Posted via the Android Central App

Maybe I'm crazy but I think I'd love to have one. Might be a better phone for my parents to have too. Hell, I think I'd like to have a flip phone with flagship level specs, get me a good camera, a screen at least a little bit larger than what's being offered on this one, I'd definitely be interested in trying it. Only so much can be done with ye olde slab form factor.

The galaxy golden and the galaxy folder, 2GB Ram, LTE, 8.0 MP Camera, Android 4.4.x on the golden and 5.1 on the folder. I'd love any of these phones, but I don't see the Samsung flip phones leaving Korea

There is a reason that captain kirk used a flip phone. It is clearly the best form factor. Posted via Android Central App

If it's ends up around $200 USD, I'm definitely getting one. Just hope I can get a keyboard on the screen for typing... lol

Software keyboard on a 3.2" phone? Not very fun lol

Maybe not fun, but doable. I have a Neptune Pine (2.4" screen), and have successfully & without much difficulty managed to text and type using Minuum keyboard. I've been using that kb for sometime, and its quite handy whilst using the Pine. Just from my experience & my own opinion, that's all.

Cool phone, terrible name.

Can you feel the nostalgia?

No US for real? Posted via the Android Central App

Look a the bright side - I was going to order the Korean model but they never used T9 (in english or otherwise) in their numeric keypads. So the European models are more likely to have predictive!

This will probably sell better than the LG g4 or G flex 2 lol Posted via the Android Central App

Would love to have this phone. Wish they'd make it available to the US. Nice back up phone. I am staying with LG, so far G4 and I remember the LG Revere. awesome phones.

Motorola should revive their RAZR series. With their iconic design flip phone. I still use my Ferrari limited edition v9 or was it v8, from time to time just for nostalgia. Posted via the Android Central App

That would awesome. Isn't the RAZR flip phone still one of the best selling phones to date? After the iPhone of course Posted via the OnePlus One (Cyanogen OS 12 w/ Nova Prime)

Ah flip phones: when technology wasn't egg-shell fragile.

So much this. My old flip-phones always eventually looked like they've been through a warzone, but man it just always worked.

It sucks that the Western market seems to cater to boring spoiled kids these days. Flip Phones have aged better than any other form factor to date.

This needs to come to the US. I'd probably buy one as a backup to my G4. My mother actually should have this phone. Also, that is a random list of countries. Kazakhstan? Wasn't expecting that one.

They.... They still make these?? Posted via Android Central App

It won't come to the US because none of the US carriers can fit their bloatware crap on 4GB of internal memory. LOL Posted via the Android Central App

You win lol Posted via the Android Central App

Got to say, I miss actual keys. I'd love a flip phone or slider phone, of only they had flagship or near-flagship specs

Yes. Posted via the Android Central App

The last three flip phones I had were cheap Samsungs, and they would miss calls right and left. My boss would call me and ask why I didn't answer my work phone. Then I had 3 missed calls while I was in a meeting with her, and she got me a smartphone instead. Problem solved. I believe it was just that model (Samsung Smooth?) that was crappy, as none of the three different phones I had worked well. Now, the LG GR500 was great, aside from video looking like it was shot with a potato. Decent speaker, fastest data (for the time), swivel camera, and full two-way video which AT&T disabled. When dropped, the body of all my flip phones would get scuffed like any other phone, and the back and battery would go flying, but at least the screen was somewhat protected. The hinge was the common failure point. The first screen I ever cracked on a phone was an LG flip phone, the second screen was on an LG Vue which I crushed in one hand in frustration. The most satisfying flip phones I've had were the original Motorola StarTac, and the LG GR500. Can't say that I liked T9 texting better than a touchscreen keyboard with swipe capability, but my BFF at the time (Hey Cierra!) could T9 text as fast as some people could type, without even looking. I won't go back now though, as I've gotten used to thin phones with big screens that don't bulge your pants out.

Think of the many kids who wouldn't know how to type on this Haha.

that would be perfect for my parents who learned how to use some apps like Skype or Whatsapp but can't get used to the touchscreen
plus would be great as a backup phone
if they make a model with mid-range specs, let's say snap 410, 1.5gb ram, 8gb memory, 8mpx rear cam, 1.3mpx front cam, 3.5-3.7" display 800x480,
I would definitevely buy it

Flip phones in general are better as a "phone" and horrible for Web and text. Smart phones are better for Web and text and do a poor job as a phone. Unless your using a headset. Try talking for 30 minutes on a smart phone and not use the speakerphone. And btw speaker phone quality sucks.

Flip phones are awesome. I use BlackBerry smartphones exclusively and I had a dream I was using a state of the art BlackBerry flip phone. I was extremely happy in the dream and woke up to research flip style smartphones. Found this Wine Smart and a Samsung dual screened galaxy flip phone. If BlackBerry can build the PRIV slider as thin as they did, it would be interesting if they could build a really high end flip qwerty with dual touch screens... Posted via the Android Central App
Android Central Newsletter
Get instant access to breaking news, the hottest reviews, great deals and helpful tips
Thank you for signing up to Android Central. You will receive a verification email shortly.
There was a problem. Please refresh the page and try again.