The LG Velvet comes to Verizon Wireless from $699 in Aurora Red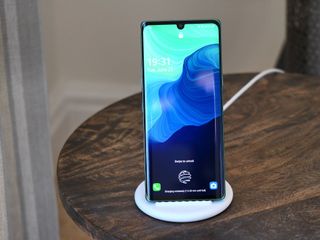 (Image credit: Android Central)
Update, August 19 (3:30 pm ET): The LG Velvet is now available at Verizon with 5G UW.
What you need to know
The LG Velvet has landed in the U.S at a $599 price point.
It's coming to AT&T first from July 22 and T-Mobile later.
Later in the summer, Verizon will sell an LG Velvet 5G UW version.
The LG Velvet will be coming to the U.S. from July 22nd, landing first on AT&T. LG will be selling the phone from $599, though retail partners may be free to set their own pricing with discounts, rebates, and deals aplenty.
Aside from AT&T, the Velvet will be coming to T-Mobile later in the summer. As for Verizon, just like with the S20 and A71, the carrier will be debuting an LG Velvet 5G UW to take advantage of its Ultra Wideband network. The Velvet will be sold in Aurora Gray, Aurora Silver, Aurora Red, and Pink White, though again, not all retail partners will sell all color variants.
Commenting on the release, Chris Yie, head of LG Mobile, North America said:
We reviewed the LG Velvet and found it to be a beautiful smartphone, but one which was held back by a weak camera and a slow fingerprint reader compared to other smartphones. On the other hand, a starting price of $599 makes those easy to overlook.
Update, August 19 ( 3:30 pm ET) — Verizon launches the LG Velvet in Aurora Red
Verizon will stock the LG Velvet in a nice Aurora Red shade from Friday, August 21. It'll be a bit pricier than other networks at $699, but you can grab it for $10 a month with one of Verizon's Premium Unlimited plans.
It's still yet to make an appearance at T-Mobile, even as the summer is fast dwindling to an end.
LG Velvet
The LG Velvet is a revamp of LG's mobile line. It's thoughtfully designed both when it comes to hardware and software. It still has its flaws, but the price makes those easy to overlook.
Android Central Newsletter
Get instant access to breaking news, the hottest reviews, great deals and helpful tips
Kinda feels like the entire review should be done over again now. One of the biggest knocks on the velvet was the package that was being asked for what was thought to be 730 dollars or so based of the Korean equivalent. Now that it is in the 600 dollar range its a whole different outlook. Compare it to the a71 5g for instance instead of the oneplus 8... Different frame of references gives a very different context for a review

Crappy LG may be also sell the US unlocked models for those who don't want to buy the sub par crippled carrier models. Stop bending over back to US carriers since either way the phone isn't going to sell well, at least do the right thing and offer non carrier models as well 😂

My question to LG, why did you take away your best feature? The 32bit DAC?

Probably to cut costs. Unfortunately it doesn't seem like a mainstream audience is interested in premium audio features such as the 32 bit Quad DAC. The velvet appears to be an attempt for a more stylish cost conscious mainstream option as apposed to the power user niche that a focus on premium wired audio experience implies. The cost cutting for the velvet is a decent trade off considering the total package imo

Wouldn't take this phone for free. It's a beautiful shell.

What are you saying exactly?

It's gorgeous to look at, but uninteresting.

It's a phone, like any other. If it had an apple or Samsung logo you'd say it's amazing.
One thing for sure though, I applaud them for not using a goddamn pin hole in the display

Exactly, it's a phone. Nothing about it compells me to use over anything else. Even some of LG's other offerings that are around the same price and offer more. And to top it off, they removed most of what makes LG phones interesting. And it does have a hole at the top. $600 for that? Hard pass...

Apple would never put their logo on crap like that lol.

Seems like everytime Verizon get's the latest 5g phone it's a hundred bucks extra. They are always nickel & dime-in you to death. By the time all carriers have 5g installed another 2yrs at least. What % of people are using it now? 20% maybe? 7 hundred bucks for a mid-range processer? For a hundred more you can get the V60? Ain't no bargain here, hell I'd rather get the pixel 4a!

Lg continues to stagger releases until it's not even important any more.

Not much difference between this & the V60. Now if they had produced the G9 with the 865+processer & the 32bit DAC, now I would be interested? Too much same, same? Lack of innovation, maybe!
Android Central Newsletter
Get instant access to breaking news, the hottest reviews, great deals and helpful tips
Thank you for signing up to Android Central. You will receive a verification email shortly.
There was a problem. Please refresh the page and try again.