LG V40 specifications: 6.4-inch OLED, 3300mAh battery, 5 cameras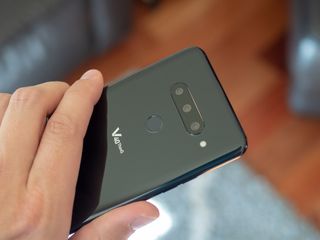 The LG V40 doesn't make a whole lot of changes from the G7 from earlier in the year, but where it does change it's for the better. You get a larger display, larger battery, a couple spec changes and new camera hardware to look forward to it LG's new V-series flagship.
Here's everything you'll find inside the LG V40.
Swipe to scroll horizontally
Category
Spec
Operating system
Android 8.1 Oreo
Display
6.4-inch OLED, 3120x1440 (19.5:9)
HDR10
Processor
Qualcomm Snapdragon 845
RAM
6GB
Storage
64GB
Expandable
MicroSD
Rear camera 1
12MP, 1.4-micron, OIS, f/1.5, 78-degree lens, PDAF
Rear camera 2
16MP, 1-micron, f/1.9, 107-degree lens
Rear camera 3
12MP, 1-micron, f/2.4, 45-degree lens, 2X zoom
Front camera 1
8MP, f/1.9, 80-degree lens
Front camera 2
5MP, f/2.2, 90-degree lens
Connectivity
802.11ac Wi-Fi, Bluetooth 5.0, NFC, USB-C
Audio
BoomBox speaker
3.5mm headphone jack
32-bit Quad DAC
Battery
3300mAh
Non-removable
Charging
Quick Charge 3.0, Fast wireless charging
Water resistance
IP68
Security
One-touch fingerprint sensor
Dimensions
158.8 x 75.7 x 7.6 mm
169 g
Colors
Aurora Black, Moroccan Blue (U.S.)
Get the Android Central Newsletter
Instant access to breaking news, the hottest reviews, great deals and helpful tips.
Andrew was an Executive Editor, U.S. at Android Central between 2012 and 2020.
Looks good other than the battery...I am glad I didn't wait for the v40, and got the Note 9. Well into a 14 hour day so far and I still have 50% battery... can't imagine 3300mh battery doing that.

Yep the battery paired with the SD845 which has done worse in efficiency compared to the SD835 is a disappointment unfortunately. The V30 will smoke the V40 in this area.

Specs are great and would've been a direct contender with the Galaxy Note 9 Butttttttttt I am not sure about the battery :/ We'll see.

It does seem a bit small for a 6.4 inch device, but I guess that's the price of shoe horning 5 cameras in there for... Reasons.

Android Authority claims 4-5 hours SOT. Considering that I reached almost 9 on the V30, this is an immediate disappointment, especially given the larger screen. No LG, no.

Pretty poor showing if that's the case... 4 hours is way below average these days. I'm at 7 on my OnePlus 5 at the moment... I might use my phone too much lol. And those aforementioned cameras will gulp juice down. 3 cameras taking photos at once is a cool feature that probably uses about 2% per shot!

Exactly. You'd think LG would go up to at least 3750 mAh, knowing full well that Samsung would finally hit the magic 4000 mAh. And only 64GB? I pass, no matter how much I love the quad DAC.

Yo why the baby battery???

Is 64GB the only storage option? And if so, can someone tell LG it's Q4 2018? Looks like a nice phone, but it does seem they're compromising some of the basics for the sake of the frills.

It will be priced well under the Note 9.

It will be priced well under the Note 9. It would have been a disaster trying to compete with the Note 9, given limited carrier support.

"802.11ac Wi-Fi" I think they mean Wi-Fi 5

Wifi 5 just came out. No phone supports it yet.

Many consumer's have waited all year for the V40 & pixal XL. I think both releases will disappoint many people. Both with notches, no thanks!

Yes it seems that way. I was really considering the v40 but that battery is too small. What a shame. I had battery problems with my v10 and now my note8 is slowly getting worse.

Just announced today and already an after thought. Sigh...I was really hoping this would be something special

Typical LG. Always looking for one "silver bullet" feature instead of everything being well rounded. There's no reason to buy this over Samsung, Huawei, or OnePlus.

Yeah I was talking myself into the V40 all week over the 1+6 or 6T and LG totally pushed me back to 1+. Small battery, all color options not available, and the price is too damn high.

Yes there is, how about the best DAC on a portable device

That's no enough to compensation for everything it doesn't do well

I would buy P20 Pro over any phone, or the Mate 20.
LG are lost

Small battery, Downgraded Quickcharge 3.0, no Android P, 64 and 128GB of Storage and SD card only expandable to 512GB. WTF LG I thought I would get a better Phone than last year but by the looks of this aside from the extra RAM, Processor, and Camera, I am getting the same phone as the LG V30 which I already have. My LG V30 has 64 GB of storage, has the same battery life and Can expand its memory up to 2 TB. My wife who has a LG G6 for sure will wait for the LG G8 or maybe the new Pixel 3.

How many micro SD cards larger than 512GB are on the market now? None. How many are expected to be during the life of this phone? Probably none.

A quick Google search reveals that 512 gigabyte micro SD cards exist now... PNY brand & Kingston

Huge screen, small battery

Pass. No material upgrade from my V30. May be even a downgrade. And that battery! Meh.

Given limited carrier support, they chose to compete based on price with a few specs that aren't top of class. Sales would have been a disaster with higher specs and price. The highest price and spec market, globally, is very limited.

Eg. Shipments of the Note 9 are only 5 million, vs 12 million for the Note 8. Note 8 sales were higher given the Note 7 mess.

It seems like lg just has no idea what to do with there phone division

Nothing too impressive, especially the battery, quite a shame LG always missing something important.

Really appreciate this fair and balanced review Andrew.

Trying to find Sth tempting me extraordinarily, cams! No
But the light weight and presence of the FM radio. 😽

Tiny battery. At this point it competes with Note. Price diff. btw S9 Plus and note 9 is non-factor in this pricing segment. Offers nothing comparable to the massive battery life disparity and S Pen/DeX features; not can they mat Samsung's device/accessory ecosystem. Bad pricing, IMO. Should be a $799-849 device. They're bad with support, as well...