LG Revolution promo materials hitting stores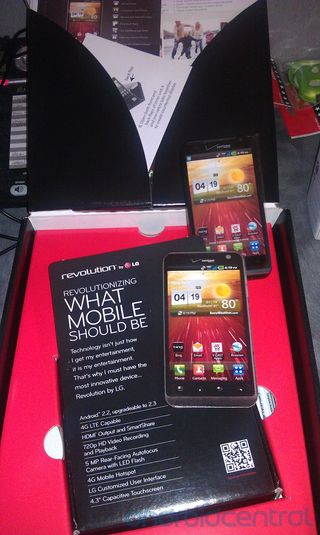 While we're still waiting on official word for exactly when the LG Revolution will launch on Verizon -- it's one of the phones announced way back at CES almost five months ago (see our first-look) -- word on the street is that we could see it this Thursday, May 26. We just got sent this picture of in-store promo materials and a dummy unit, so it certainly looks like things are getting close, eh?
To refresh: The Revolution is LG's 4.3-inch Android 2.2 device with a 1GHz Qualcomm processor and 5MP camera. It's an LTE-capable device and can act as a Wifi hotspot for up to eight devices.
No 8MP camera? that is disappointing

High Mega-pixels doesn't equal high quality 5mp is fine as long as the rest of the optical components are high quality.

It's like Best Buy sales reps. All they know is MP. More MP means better pic to them. It's kinda silly that people expect a sensor the fraction of the size to a DSLR to produce stunning pics.

Verizon really needs to release a Dual core 4G phone soon. I wish the Bionic/Terga was ready for market. It's silly that AT&T is going to have the beast of a phone the HTC Holiday soon and VZW is still releasing android 2.2 single core. They really need to have a flagship phone again.

Did they design this in a universe where Apple packaging doesn't exist?* *I'm jus' sayin'...† †I'm ardent Android user and avid Mac fan

Ooooh Yea.......Bing! Wish the Revolution would have been given the G2x's OS.

Don't care about 5mp vs 8mp. When will they finally disclose how much RAM? ...or have they already?
Android Central Newsletter
Get the best of Android Central in in your inbox, every day!
Thank you for signing up to Android Central. You will receive a verification email shortly.
There was a problem. Please refresh the page and try again.