LG Optimus Slider appears headed for Sprint in a pair of colors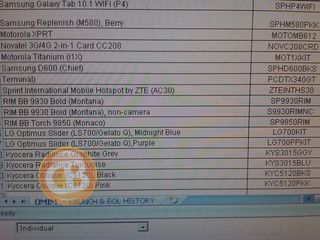 A long time ago, in a T-Mobile roadmap far far away, there lived a phone codenamed the LG Gelato. And here it is again, this time on a Sprint inventory sheet leaked to our sister site, CrackBerry. Dubbed the LG Optimus Slider -- which pretty much guarantees a horizontal sliding keyboard, right? -- it appears poised to be peddled in a pair of paint jobs -- midnight blue and purple.
Now LG has done a completely underrated job of dominating the market with its Optimus One line, getting the mid-level phone onto every major carrier in the U.S., as well as most of the regionals, too. That's no small feat. Is it about to do the same with sliders? If the Optimus Slider is at least in the ballpark with the Optimus One, you could certainly do worse.
Source: CrackBerry; via Android Central Forums
Android Central Newsletter
Get instant access to breaking news, the hottest reviews, great deals and helpful tips
Is this a Sprint road map? Because there are alot of interesting things on this slide? BB Tourch
D600
International Novatel Hotspot
Kyocera Radiance
kyocera Oblique we know a little bit about the d600 but everything else is new to me.

OMG! this is exactly what i want. I love my optimus S but i wish i had it with a physical keyboard. maybe by the time they release it will have gingerbread.

I think manufacturers are underestimating the desire for a hardware keyboard on high end phones. Why do they think everyone wants a black slab? I love my evo but I know people that will only get phones with hardware keyboards and I don't think it's fair to have them compromise on specs to get a legitimate feature

Thank you! Sprint will now have 3 really good sliders (Epic 4G and EVO Shift). Verizon has just the fugly Droid 3 with it's continued cramped keyboard coming up. They even canceled the Merge. I want buttons too, damnit!

Indeed. I wish my EVO had a hardware keyboard. I almost took it back to get the EVO Shift when it was released shortly after I got the EVO. If the Shift specs were closer to the EVO and it had a FFC, I'd have returned the EVO for the Shift. I HATE TYPING ON A SCREEN. I SOOOO WISH my EVO had a physical keyboard.

Too bad on no release date... This would be perfect for my lil girl.... Besides kids don't really talk anymore... Txt txt txt all day...

It shows a release date of sept 11th on the CB website. Its in the second pic;
http://crackberry.com/blackberry-bold-9930-blackberry-torch-9850-both-he...

No Samsung Within or HP Pre 3 ????
Android Central Newsletter
Get instant access to breaking news, the hottest reviews, great deals and helpful tips
Thank you for signing up to Android Central. You will receive a verification email shortly.
There was a problem. Please refresh the page and try again.