LG Optimus F3 comes to T-Mobile Aug. 7 for $0 down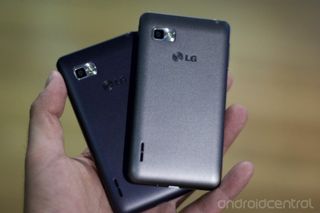 After seeing releases on both Sprint and Virgin Mobile, a GSM variant of the LG Optimus F3 will now be available on T-Mobile, starting August 7. The carrier is offering a limited-time promotion price of $0 down with 24 equal monthly payments of $10. To take advantage of this deal, customers should be on T-Mobile's Simple Choice Plan, and are subject to credit approval.
Like the Sprint and Virgin Mobile version, this device comes with a 4-inch IPS screen offering "sharp text and crisp images," a long-lasting 2460 mAh battery, and Android 4.1.2 Jelly Bean with LG's own apps suite. Exclusive to this version of the Optimus F3 is T-Mobile's signature WiFi Calling.
The LG Optimus F3 can be found at T-Mobile retail stores, select retailers, and online at www.T-Mobile.com. For more about T-Mobile's latest entry-level phone, see our hands-on with the Sprint version.
Want Posted via Android Central App

I don't see how I'd want this over an Optimus L9. Actually, an L9 with LTE would be fantastic. qHD 4.5" screen with the same internals basically. So if you want a small phone I guess the F3 would be better. Eh, a toss-up, I guess, but for me the L9 would be preferred. You can get one of those in a pre-paid package for $199 and put your postpaid micro SIM in it if you want.

L9 is only 1GHz dual core. Has a smaller battery and a bigger screen. F3 is 1.5GHz dual core. Both on 4.1 . The L9 is on sale right now at Best Buy for $169. Great deal for a nice little phone. Have 2 in my house. My guess the sale is to liquidate for F3 to take it's spot.

The L9 is a decent phone. I have one from t mobile. The one thing that absolutely kills this phone is low storage. I think it has like 4gb of storage. Couple of apps plus app cache and it's gone in practically seconds. Not to mention it isn't easy to root (until recently, now its practically a click of a button to root), and no official CM mod support. It's good if you just any a smartphone for browsing/streaming media. Games or anything else and forget about it.

What's the price in full? Might get this instead of the nexus 4. Posted via Droid RAZR M on the Android Central App

Can't day for sure, but the virgin mobile version is $179 without a contract, bit T-Mobile had different pricing structures, Posted via Android Central App

It's $240 from T-Mobile and $150 from MetroPCS.

That's stupid, it should be sub $200. There is no reason to get this over the L9 really. Posted via Droid RAZR M on the Android Central App

The L9 has always been higher priced ($240) @ Tmo stores. It can be had for $199 @ Walmart, BB or Target. I am sure this will be the same.

Unless money matters that much, there is no reason to get either over a Nexus, and I really dislike the Nexus. There is no real track record to date on updates with LG, at least with the Nexus you know you have a few coming to you

If you don't mind me asking, why do you hate Nexus devices? Posted via Android Central App

Mostly because it is so bare bones. I like the features that 'skinned' android gives you. Take the camera for example. The difference on the One and the GPe One is incredible. There is also a certain amount of 'LEET'ness concerning nexus white knighters. In almost every thread you find a nexus user touting it. I love my phone too, but come on. Heck, Phil even got into opening mocking skinned phones in another thread. I know the nexus is a decent phone. I think the it should be leading the way for android, but it isn't even doing that. The n4 is cheap, they should have tried to pull 32 gb internal to the norm, instead it is just more of the same. My hope is that the X is the best of both. Last year's hardware, running a full featured ROM (blur) but optimized to hell to show all the other oems that you can have both, a lightweight ROM and features that runs all out. I know there is more, but it's late and I am typing this from the phone. Posted via anything but a Nexus phone.

Sorry it was Jerry doing the mocking, not Phil Posted via anything but a Nexus phone.

I can respect that opinion. I will admit, that "stock" Android isn't for everyone. To be honest, I prefer stock Android, due to the lack of preloaded applications. I just traded-in my Galaxy Note 10.1 to Best Buy, to purchase a New Nexus 7. The amount of preloaded apps, on the Note 10.1, was nauseating (for lack of a better word). But, the features, from "skinned" phones, are starting to lead the way, even if they are perceived to be gimmicks by some (not by me). I do appreciate your thought-out reply.

@AaronDeVante
why would you choose this phone over the Nexus 4? ツⓖ◎◎ⓖⓛⓔ†

If you want the L9 then get it on Amazon. I think it's 180 and change? +no tax :-) Posted via Android Central App

Checked. L9 is On sale at Amazon for 169.00 :) Posted via Android Central App

I have the optimus G and can honestly say it's the best phone I have ever owned, and I've owned them all Htc, Samsung Motorola, and Sony.. LG has a bad rep but they have definitely been listening to feed back and have upped their game. The L3, L9, the g and G pro and of course the Nexus 4 are all great phones. My next phone is The G2 can't wait for Aug 7th Posted via Android Central App

The nexus 4 isn't LG. They put it all together, but it is Google specs. That phone also doesn't answer the biggest question about LG, updates. Posted via anything but a Nexus phone.

Uhhh... Yes it is. It is clearly the "LG Nexus 4." Just because the specs may be dictated doesn't mean LG had nothing to do with building the phone. Posted via Android Central App

they put all the pieces together, big deal. It does speak to their build quality but that is it. If you go to the tmo page for the N4, the only place that LG is referenced is a logo on the side, the rest is "by Google"

This device seems okay in its own right but choosing this over a Nexus 4 would be absolute retardation. Posted via Android Central App

This device isn't aimed at people like you and me. My 57 year old mother wanted a phone to check e-mail on easily. Updates don't matter, specs don't matter. She didn't want to spend $300+ on a phone. The Nexus 4 offers _nothing_ more than an L9 or an F3 can (for people like her). And grow up. Using "retardation" like that is offensive.
Android Central Newsletter
Thank you for signing up to Android Central. You will receive a verification email shortly.
There was a problem. Please refresh the page and try again.