LG might shut down its mobile business after failing to find a buyer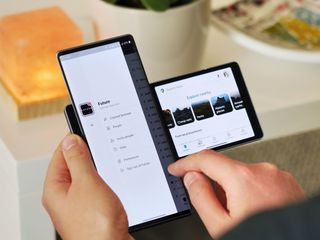 (Image credit: Alex Dobie / Android Central)
What you need to know
LG might be closing down its smartphone business for good.
The company had tried and failed to find buyers for its once-thriving mobile business.
LG is said to be sharing its decision by April.
LG's smartphone business might be done for, according to a new report from the South Korean trade Donga (via Bloomberg). The company, unable to find a buyer, is said to be strongly leaning towards shuttering the mobile arm of its business.
According to the report, LG has already pressed pause on its entire 2021 smartphone lineup, including the sequel to the LG Velvet and its rollable phone. The company had been in talks with the Vietnamese Vingroup as well as Volkswagen, but negotiations fell through.
LG is said to be considering a pivot to other industries in which it currently dabbles, including household appliances, automobiles, and other more profitable businesses.
The decision isn't out of left field. LG's CEO had hinted that nothing was off the table in January. An official had shared the following statement as well:
The company had floundered around the market somewhat aimlessly over the past half-decade, making phones that never quite struck out. Sure, it made one of the best Android phones we've seen in the Velvet, and even a wild, weird and wacky one like the LG Wing, but it also picked up a reputation of unreliability with both hardware and software. While the company's rollable phone could have had some appeal, LG clearly doesn't think it'll be enough to need the needle.
Get the Android Central Newsletter
Instant access to breaking news, the hottest reviews, great deals and helpful tips.
This is very 😥sad, but losing 4billion over the yrs, to be expected. A damn same indeed, E-gadds! My last LG was the G8, but my all time favorite was the V10, loved that phone! Oh well?

What's with you and "E-gadds!" You use it quite often... Are you perpetually shocked over your every thought?

I've had a couple of LG phones over the years and they all worked just fine for me. I hate to see such a successful company (as a whole) fail in this regard. Pretty soon all we'll have left in the US is Samsmug, Crapple, and OnePlus-or-minus depending on how you look at them. Sony seems to be a consistent no-show. Hmmmm?

Wait... Sony makes phones?

Don't forget Nokia! Oh wait I just did.

Im with you on this got the g4 and g5 as my phones back into android after Windows phone and enjoted them. Im hopful that huawei and harmony os can become a big player as i feel the big boys now need this competition.

I got my first LG phone 2 years ago with the G8. Honestly, their customer support was such a nightmare that I swore them off. I like the phone, but I wouldn't buy another new one from them on principle. As such, I intended to either get an Xperia or a second-gen Du, if MS can fix most of the (numerous) mistakes from the first-gen offering.

sad that HTC and LG are no longer in the conversation

The HTC one is really sad tho cause they were #1 in the US and just went south real quick. If HTC came out with a flagship phone rn I would so get it over any other phone period and I have an S21 Ultra. They were the refinement of Android phones before Samsung took that crown. Google became the new HTC in a way but failed with the last Pixel 5 by not giving consumers a flagship phone as well.

In the US, that would leave us with Samsung, Apple, OnePlus, Motorola and Google as our options for smartphones that you can go into a carrier store and purchase. You can buy Sony phones but they aren't available in carrier stores. I know you can import but this isn't exactly choice.

BestBuy also sells some Sony devices.

Mine used to, but they're not there anymore. The Xperia 1 II has seemingly disappeared.

Microsoft's also trying to show up with the Duo, plus Nokia still makes some mid- and low-range offerings (again, not in carrier stores).

Failing to find a buyer, huh? I suppose they thought their phone business was worth like $20 billion or something. My last LG phone was a Nexus 5X.

This is unfortunate, LG will be with the forgotten gods of smartphones; Blackberry and HTC.

No surprise but I'm sorry I have no sympathy for LG, its a dog eat dog in the Android world and LG despite some great innovation in the LG Wing, they just couldn't keep up with Samsung and didn't have their priorities right and didn't get the basics right, such as software and updates along with the constant problems their phones seems to have, remember the bootloop problems with the LG G4? Their last great phone was the LG G2, so it's no surprise that LG find themselves in this position and Sony will go the same way.