LG's failing smartphone business may already have a buyer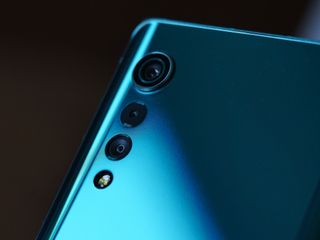 (Image credit: Alex Dobie / Android Central)
What you need to know
LG may have found a suitor for its smartphone business, according to a new report.
The company may be considering selling to the Vietnamese conglomerate, Vingroup.
If a deal is struck, it'll involve the company's U.S. business.
When it comes to smartphones, there's Samsung, there's Apple, and then there are others. Some, like Xiaomi and Huawei, dominate in sales if not in mindshare. Others like Google and OnePlus, despite making some of the best Android phones, may lack in sales but make up for it in column inches. And then there's LG, dominating neither in sales or mindshare, suffering loss year over year, the company may now be on the brink of selling its ailing smartphone business.
When reports broke last week, LG denied reports that it was planning to sell off its smartphone division. This week has proven LG's denials to be "untrue", and further reports have added some color to the situation. LG already has suitors lined up for the purchase — including Vietnamese conglomerate Vingroup.
Business Korea reports:
Vingroup's takeover of LG's smartphone business would provide the company with a foothold in the smartphone market, especially in the U.S. where LG controls just under 13% of the market. As it stands, Vingroup currently acts as an ODM for other brands through its VinSmart division (opens in new tab), but it has yet to release any smartphones under its own brand. If the deal comes through, it would only concern the U.S. arm of the business. LG is reportedly planning to sell off its business in portions as it does not forsee being able to sell it all to a single buyer.
The collapse of LG's smartphone business comes after years of phones marred with hardware issues. The company has also — outside of Google's Nexus phones — failed to define a distinct identity for itself. LG inadvertently positioned itself as an off-brand Samsung, but when Samsung makes good phones at all prices, it just couldn't compete.
LG Velvet
The LG Velvet was a revamp of LG's mobile line as the company moved away from the G-series. It's thoughtfully designed when it comes to hardware and software both. It still has its flaws, but the price makes those easy to overlook.
Android Central Newsletter
Get instant access to breaking news, the hottest reviews, great deals and helpful tips
I find it mad how years ago we had some big players in the market like HTC, LG, Sony and more but now we only really have 3 big platers in Apple, Huawei and Samsung. This is part of the reason why the industry is getting less exciting over the last few years. That said I am hoping new folding type devices can see a few others popup in the sales department and push the top 3. Loved my LG g4 and enjoyed the g5 to even though it was a strange move by them.

Sales wise LG just can't compete with the top doggies? Software & updates, always a definite problem? Say goodbye to the 32bit DAC & the jack. They have been losing 💰🤑for years. Maybe they should stick to TV'S & appliances, yikes!
Android Central Newsletter
Get instant access to breaking news, the hottest reviews, great deals and helpful tips
Thank you for signing up to Android Central. You will receive a verification email shortly.
There was a problem. Please refresh the page and try again.