LG might announce an upgraded V30 at MWC instead of the G7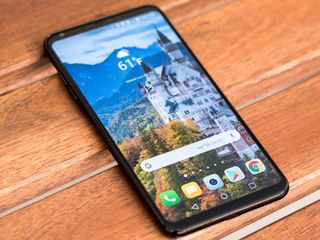 Just a few weeks ago, we were expecting to get our very first look at the LG G7 during Mobile World Congress this coming February. However, following LG's CEO's decision to scrap current development of the phone and start over from scratch, this is no longer the case.
This decision left us wondering if the company would have anything to show off at this year's MWC, and according to a new report from The Korea Herald, LG may announce an upgraded version of the V30 in place of the G7's absence.
The phone is supposedly being referred to as the "V30+a", and the main focus of the new model would be improved artificial intelligence features. It's believed that these new features could be based on the Google Assistant, but I find it a bit odd that Google would use a phone outside of its Pixel brand to debut new Assistant goodies.
It's also possible that LG will show off its own AI tech like HTC did with Sense Companion on the U Ultra, but seeing as how that went nowhere, I don't envision this being LG's saving grace either.
If this AI-centric V30 does turn out to be legit, what new features would you like to see?
Joe Maring was a Senior Editor for Android Central between 2017 and 2021. You can reach him on Twitter at @JoeMaring1.
Make it a bit heavier. It feels so light, that quality wise it just feels cheap even though the materials are first rate. Fix the selfie camera. It's terrible. Make the regular camera app better with better HDR+. Instant photos in auto mode are still too hit and miss compared to competition. Include 6GB RAM as an option from day 1. And finally, at minimum make the LG UI more stock like. The Settings page is difficult to use. It's search function is terrible compared to the Samsung S8/Note 8 series and the Pixel. It's bad to change it around a lot, but a lot worse when the search function in settings doesn't return results for obvious terms that are synonyms of whatever LG decided to call a feature in their settings.

LG should make the V series the new flagship brand and retire the G series. The Q series the mid tier, imo.

I agree fully. Once they got rid of the dual screen they did not need G series. It's not like the V series was made to compete with the note series. So why have two? Unless they decide to make a note competitor, which would be unwise. Put all the eggs in one basket and hope for the best.

I agree. I also think there is potential for a top tier pen phone. Lg makes the Stylo line but it just isnt speced well enough for techies or enthusiasts. Lg should also continue their entry level offerings for Cricket, Boost et al. That is one segment in which Lg is highly competitive.

I am hoping for a 16:9 version with a 6 inch screen And yes... I know that is not going to happen

Lol so why hoping then? There's no reason to go back to this screen ratio anymore.

Throw an 845 in there and I might bite.

Google used LG to launch a version of Android. No reason they can't use them to launch something else.

If your gonna improve anything the V series would be my choice. Wait till April & include the 845 processer. 6gb's & 128gb's of storage. Then it will definitely compete!

It will probably be announced early and released 2 months later. That's the LG way!

And that's a big part of their problem.

Oh don't worry. Even if they announce it at the end of February at MWC, you will NOT see this phone out in the West before May/June.

The V30 is the best smartphone I've ever owned. Only changes I'd make would be additional RAM, a better front camera, and make all colors available at carriers and unlocked. Dolby Atmos would be great too. I don't think additional storage would be necessary since expandable storage is included. I would definitely do away with the G series of phones. Really not needed when you have the likes of the V series.

Dolby Atmos? How would that even be possible??

The Nokia 6 has Dolby Atmos sound. So does the G6 and the iPhone X (https://www.dolby.com/us/en/categories/smartphone.html)

+100 for the front camera.

Really loved my V30. If all I wanted was a phone I would have stuck with it. I really wanted Dex, so I switched to the S8 that I bought my kid. The V30 is probably my favorite phone of all time as well.

LG here is an idea, you talked about we will support existing phones longer etc. How about instead of this stupid idea, just enable/update this feature on V30/G6 and at least show the few people who bought your phones that you still care.

I totally agree with you!! Why not just update the V30??

Releasing the 7.0 update for the G4 that they promised they'd release in Q3 2017 would also help.
If I had to make a decision on buying an LG phone, the terrible experience with LG updates on the G4 would be enough for me to disregard it.
And I'm not even one of those that likes Google's monthly placebo patches or cries out loud when OEMs take a few months to update their phones. But LG pushes that beyond the acceptable limits.

Include an excellent 8mp or better with wide aperture front facing camera and I'm in hands down. That's pretty much it for me.

All of the V30 internals in a flat screened G6 body.

A real front facing camera would be a good start. Add OIS in there as well

Instead of the V30+a, give me the V30+b.* *gratuitous "Bring back the swappable battery" joke

They should get Android 8.x out the door for it. My wife's v30 hasn't had a security patch since Oct. It's not just their hardware and release dates that need an overhaul but their software policies as well.

id say more ram (6 or 8gb variants) and possibly a nano ips display. also the new 845 chip.
Dolby Atmos would also be quite a nice addition, though it might interfere with their own dac software.

Releasing a better version of a phone that didn't sell seems like a waste. Just put all efforts in making one great phone.

It appears LG is definitely having problems at the mobile division. With the s9 series from Samsung just around the corner their looking to improve a 2017 model the V30. Does that make any kind of sense? Plus they scrapped the G7 plans. Does anybody know what's going on in LG land? I really don't think they do! Yikes!

I'm going to be right about this eventually.... Stop releasing new phones every year and update good current phones with new processor , camera and software....Maybe, LG is the first to see the logic and cost savings in that!

Isn't that what Apple and Samsung have been doing for years? Motorola is doing this as well with the Z line.

Upgrade the RAM to 6 GB, and the processor to the SD 845. If possible, increase the battery capacity; clean up the UI a bit, and lastly, include a Dolby Atmos setting. It would be nice if LG offered the Moroccan Blue color, if not the Raspberry Rose. Inb4 I get the "it's a whole other phone!" comments...

1. 845 CPU
2. improve the selfie cam
3. Improve the screen blue shift
4. Make the audio gain stage user-selectable
5. 6GB RAM standard
6. Improve jpg processing on camera app
7. Add new google AV1 format for video and photo apps
8. Implement native DSD decoding rather than DoP
9. Remove upsampling to 48khz on all 44.1khz PCM audio files from stock LG Music Player
10. Include indication of correct unfolding of MQA audio files

Here in the US the V30 has managed 10% of the market share. Is that good, of course not. Now they want to re-introduce a 2017 V30+a. Will big AL help sell this phone? Again, of course not. How will they compete with the likes of the s9 series or Apple. This is definite trouble in LG land. Whatever their CEO & upper management are thinking it just ain't working. Plus you dumped future plans for the g7. Your mobile division is in serious trouble!

V30 or v30+ is easily one of the best phones I have ever had. The problem is not the but their marketing is horrible.. They announced a phone and 4 months later it gets released. Promise regular updates monthly and yet to be seen. Promise Oreo by end of year 2017 but do not deliver. This is where LG fails not there phones.

Why would we need an upgraded V30? Really? How about you focus on supporting the devices you've already released that you continue failing to support?

I've had my V20 since October 2016. I have a Perfine 6400 ahm battery that lasts into the second day off the charger. The V30 lost me when they sealed the phone without any meaningful increase in battery. Yes, the V30 may have a little more tech than the V20. And that's OK. The phone is still a great phone. So I will not "upgrade" to the V30, no matter what they do to it. What LG needs to do is release Oreo for both phones. That would be something that would upgrade performance for both phones. When I finally give up the V20, it will most likely be for the Samsung S9+.

"the main focus of the new model would be improved artificial intelligence features" Apparently no one told LG that the MAJORITY of consumers do NOT use the A.I. features in their phones.
They scrap the G7 to rethink their line and they release a "upgraded V30" that touches on something that barely anyone cares at all? How misguided can you be? If they were actually upgrading things like taking the fingerprint scanner OUT of the back of the phone, or adding a camera button, or DECREASING the size of the V30 by at least 1", THEN it would be an upgraded version that would address the market that phablets like the V30 doesn't serve.
But no.
A.I.
Goog call, LG. You're absolutely in touch with reality.
Android Central Newsletter
Get the best of Android Central in in your inbox, every day!
Thank you for signing up to Android Central. You will receive a verification email shortly.
There was a problem. Please refresh the page and try again.