The U.S. smartphone industry has an LG problem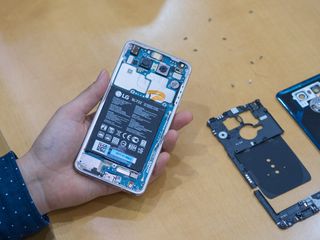 A few years ago, I was in New York for the launch of the LG G3. It was the first phone I'd touched with a Quad HD display and was pretty well built (though plastic) and fairly fast (though not the fastest) and overall people seemed pretty happy with the phone. That year, the company went on to sell over 10 million of them, so LG must have been fairly happy.
Back in New York, though, in a room filled with other journalists, members of LG's executive team explained how the G3 was the culmination of what its loyal customers wanted. That it took feedback from its millions of fans and turned that advice, as best it could, into a phone — one that went on to sell well over 10 million units.
This past week, LG announced that its mobile division lost money for the 11th consecutive quarter. Its vice chairman and CEO, Jo Seong-jin, said in an interview that "We will unveil new smartphones when it is needed. But we will not launch it just because other rivals do. We plan to retain existing models longer by, for instance, unveiling more variant models of the G series or V series." While it's been rumored that LG may scrap the so-called G7, or the entire "G" name altogether, the company says it will launch a successor to the G6 "when the time is right." Here's what a company representative told Android Central.
LG's in a good position to do this, since, despite losses in the mobile space, its overall business is thriving. The company leads the field in OLED television innovation, and had a banner year in appliance sales. Its LG Display business is ramping up quickly, even though hiccups led to the problematic Pixel 2 XL.
To us in North America, especially those attuned to the highs and lows of the quickly-changing mobile industry, LG's market share plateau and tepid customer loyalty sees a company in retreat, as so many others, from Nokia to Palm to BlackBerry have done before it. But LG's business is diverse and robust, and we only see the proverbial tip of the iceberg; back in native South Korea, LG enjoys enormous influence, and like Samsung dominates a wide range of industries, from manufacturing to robotics to autonomous vehicles and even medical equipment.
It's important to point this out because it helps explain why LG has, despite failing to find success in the smartphone space, maintained the twice-yearly release cadence that many Android manufacturers have slid into since 2014 or so. Smartphones are not just potential profit vehicles but hero products that, for LG, Samsung, Sony and other vertically-integrated companies, consolidate and focus expertise in disparate areas into a single point. Indeed, it's presumed that Sony has never made any money from its smartphone business, but feels it needs to make them because the smartphone is the center of our digital lives. Sony also makes the imaging sensors that go into almost every high-end smartphone.
But this brings us to today: LG is all but admitting defeat — last year it released two of its best phones ever in the G6 and V30, but hasn't managed to move the needle above 10% market share in the U.S. At the same time, Chinese competition from Oppo, Vivo, and Huawei have affected its place in Asian markets, reinforcing its need to do well in the U.S.
The irony in all of this is that LG's mobile revenue is actually increasing, and that the G6 led to a 9% rise in smartphone sales in the U.S. in the third quarter. But the company faced extremely strong competition from Samsung and Apple, and that trend won't soon abate. The U.S. market is becoming a two-horse race, dividing its riches between Samsung and Apple with very little left for even the strongest of third parties. Huawei's thwarted attempting to enter the U.S. market should be a soothing reprieve for LG and others — the Chinese company is the world's number three smartphone vendor and had every intention of dethroning the dominant players before long — but will not ultimately change anything.
This context somewhat justifies LG's decision to rethink its entire mobile strategy, and stop committing to annual product refreshes. People are holding onto their phones for longer, and only a small number replace them on an annual basis, despite carrier leasing deals encouraging frequent trade-ins.
LG's excellent relationship with the Big Four U.S. carriers likely means that any changes made to release cadences will be met with approval and understanding, and the change in strategy may mercifully mean less time between announcement and release. But there is unlikely to be any one recipe for a resurgence in the U.S. market, and LG's recent struggles reinforce the difficulty in finding success in great products.
Update, January 22: This article has been updated with comment from LG and to clarify that the "G" lineup, and the G6 successor, is still on target for release.
Get the Android Central Newsletter
Instant access to breaking news, the hottest reviews, great deals and helpful tips.
Daniel Bader was a former Android Central Editor-in-Chief and Executive Editor for iMore and Windows Central.
It wouldn't hurt if LG offered faster updates for their phones or updated the OS with newer versions of Android. I know I'd never buy their phone because they rarely, if ever, are the first to update their phones.

Perhaps focusing less on new flagship releases means they can redirect focus to keeping they ones the DO release more current...?
Perhaps...?

I agree with this. I also think the benefits of getting an LG phone aren't that clear to a customer walking in the store looking to upgrade their 3 year old phone. LG doesn't do a great job of marketing. I wouldn't know what to tell someone if they asked me why LG over Samsung with getting into really nerdy stuff like DAC and manual video settings.

Samsung Pay. Better screen by comparison, faster, better looking......

First to update to a new OS isn't always a good thing.

this is why I won't buy them. i bought a US unlocked G6 in mid-summer and it did not even have a day 1 update ready to be installed. And was still on the March (original shipping) security update. That was in July. Pretty dang pathetic. I really want to try a V30 but between the screen lottery and lack of updates, I'm going to hold off.

Man that stinks. My T-mobile G6 has had an update every two months minimum and I am currently sitting on the December security patch.

AT&T G6 here, and I'm on the Nov, 6 2017 security patch. Over two months old. With how fast things change in the mobile space, especially with security, that doesn't comfort me.

LG has no one to blame by themselves. Poor product decisions and support but they have plenty of positives to rebuild off of.

Just market the phone LG. Motorola has proven that if you market the phone people will buy it despite it not getting any updates. Market the phone so people will know it exists. The average consumers don't know about the last 2 phones your released. Let them know and they may buy it. I'm not taking about mobile ads. I'm talking about TV ads, billboards, things like that. It's not that hard. You have the money to do that.

I agree with you on the update point. Only a tiny fraction of consumers [mostly readers of Android sites] care about updates. Marketing would help, too. But LG also has to release a killer phone. The G6 was a good phone, but not a killer phone. The V30 was a great phone but not a killer phone, thanks in part to its crappy POLED. Adding LG Pay will help for future phones. Matching the quality of Samsung SAMOLED would also help for future phones.

You're on point. LG's biggest mistake is not focusing on advertisement. I can't believe I see more ads from vivo and oppo last year on tv and shopping malls and the result is that I see a lot more vivo and oppo phone in the wild now. Updates are nice and all but most consumers don't really care about it.

I'm all done with LG products. I had two phones that bootlooped & the issue was never addressed. I'm definitely done with them no matter how good their phones are!

It's all because they switched over to sealed batteries. :P

I don't know about that. I mean the G4, V10 and V20 all had bootloop issues.

Mine hasn't had any problems with bootlooping

Correction. G4 and V10 had bootloop issues. You cannot find any cases of widespread or numerous bootloops on the V20. And I'm qualified to say this cause I owned the V10 which did bootloop on me and my brother in law, and now have the V20 for over a year and no issues or forums claiming such cases.

Only my G4 bootlooped but my V20 is still running beautifully!

LG flagship smartphones are not sold in Europe. Why?

They are. Sometimes they are only available online, though (like from a retailer's website) and they are not marketed at all...

I don't know why LG largely ignores Europe as much as they do but they've only themselves to blame. Samsung handed the Note market to a plate on them with the Note 7 disaster and even though LG had the solid V20, they chose not to sell in Europe at all. One of the UK importers said it was the most requested phone they'd ever had and they'd pushed LG to change their mind and didn't. Then the G6 came out, it also looked a decent handset but it would be going up against the Galaxy S8 which had the newer Snapdragon 835 chipset (rather than the older 821), twice as much onboard memory and a much flashier OLED screen. LG's response was to strip out its quad DAC (one of its few standout features) and bump the price up meaning it cost 650 pounds rrp against the S8 at 680 pounds. Unsurprisingly it completely failed and it's nothing to do with marketing, the only decent interest I saw in the G6 was grey imports for the higher spec 64GB with quad DAC version at less than half the price of the official UK version. At least when it came to the V30, Europe did get the same phone as everyone else but it was expensive (more than an S8 plus and got my Note 8 for less) and very much a me too product. I was very much hoping for an updated version of the V20 as I'm not keen on the fragile curved designs that are in fashion right now, admittedly that's more of a minority these days but then they'd be offering a clear alternative to the likes of the Note 8/S8 rather than something that's far too similar. The blame frequently seems to go on marketing with LG but I think they have bigger problems than that, I'm very familiar with LG products but wouldn't buy any of their recent ones.

LG software sucks. Their solution is simple. Stop using your stupid software and take oneplus's approach. Keep it up to date as well.. Idk why everyone sits and ponders this simple issues. Updates, stupid software features, camera, battery life.. It's the same issues since day one. Pay attention Edit. Oh and their hardware designs are awful. They just all around suck. But excellent build quality!

If only more manufacturers focused on blowing their competition out of the water on those 4 things. People don't care so much about face detection or wireless charging. Tell them the phone has the best camera, fastest speed, longest battery life, and always has the latest updates. That phone will turn heads.

This is why TCL's BlackBerry Mobile is getting my money these days. Battery life above all and timely security updates keep me happy.

Agreed! While I generally prefer a stock-er Android build over a bunch of bloat, my phone at the moment is a Galaxy S7 Edge, which I landed on after trying and returning a V20. My biggest problem with LG is their software is just consistently buggy with little annoying quirks or stuff that's flat-out broken. Motorola is equally bad at updating their phones, and their hardware designs for the Z series haven't been appealing to me, but I like the way they do software. I'd still consider a Motorola if they get their hardware game right.

Just like HTC, they lack the ability to advertise. The advertising they do is not very good. Or in the case of the v series non existent. Samsung doesn't make better phones, they have just convinced people that they do!

No. They actually do make better phones. Bootlooping and lack of taking responsibility comes to mind.

The "problematic" Pixel 2 XL? Let it go Android Central click-baiters, it's the best phone I've ever used.

The screen is pretty bad (blueshift and black smearing). The color balance I think was to reduce the black smearing. Furthermore the white balance of the Note 8 is easier on the eyes. I wouldn't have gotten it if it weren't for a sale and extra Fi credit for the 5X. The biggest thing I notice is that even the Pixel line can't make up for bugs in 3rd party software. They stand out even moreso now because, aside from the screen, the Pixel 2 XL is great. Previously, I could blame the lag and slowdowns and occasional crash on the older, slower Nexus 5X and it's smaller ram.

The screen is pretty bad (blueshift and black smearing). The color balance I think was to reduce the black smearing. Furthermore the white balance of the Note 8 is easier on the eyes. I wouldn't have gotten it if it weren't for a sale and extra Fi credit for the 5X. The biggest thing I notice is that even the Pixel line can't make up for bugs in 3rd party software. They stand out even moreso now because, aside from the screen, the Pixel 2 XL is great. Previously, I could blame the lag and slowdowns and occasional crash on the older, slower Nexus 5X and it's smaller ram.

I agree that marketing seems to be LG's biggest problem. I replaced my Samsung Galaxy S8+ with the LG V30 and couldn't be happier. It is the all around best phone i ever had. Used to be sold on Samsung's flagships. Decided for the V30 against the Note 8 for reasons of dimensions, weight, and camera setup. Using it since October and absolutely love it. Nova launcher and a minimal Pierre Cardin genuine leather case make it look gorgeous. Not the slightest problem or complaint so far. To me it looks like Samsung, Google, and Apple just own the reviewers. Found so much false and misleading review statements on the V30. I used to upgrade every 6 months with T-Mobile's Jump deal. This is the first time I am not looking forward to the next upgrade. This phone is just perfect.

When it comes to phones, I never let bad reviews cloud my judgement either. What works for me may not work for you and vice versa.

They should stop the silly regional thing with the G6 and actually launch it shortly after the unveiling unlike the last 2 Vs

Agreed. The European version of the G6 was very under specced compared to the US and Asian models.

Great article Daniel. Well said.

I'm all for a better built phone, made to last, and supported with software updates for 2 years.

One thing LG can do to make themselves stand out is make variants of their popular phones with big batteries.
This trend of sacrificing battery to make a phone skinning with tiny bezels irritates me. I quit buying new phones because of it. There is nothing wrong with a thick phone if people know the reason its thick is because there is a 4000+ mah battery in the phone. I just don't get why Motorola is coming out with a new line of phones and their least powerful low end phone gets a 5000 mah battery but no variant of the G line with SD630 with get a battery that size. I would pay a reasonable premium for a Moto G variant or the Moto X4 with a huge battery.

LG's biggest problem is failure to have products available to purchase in a timely enough manner. Announcing a new device, and then making potential customers wait 2-3 months to buy the device isn't going to ever work. By that time, those customers have purchased other devices that were announced and actually available for purchase.

This was my point exactly! In addition to their minimalist take on advertising and promotion of their phones the weird gape between announcing a premium device and actually making it available is a true head scratcher? Remember that even though the current v30 was announced in September of last year the phone didn't become widely available until around November. The more I read about the antics at LG's cell phone division the more it seems like they don't have a clear vision or coherent leadership. It could be time to for a bit of upper management house-cleaning if they're serious about saving this brand and being a top tier contender w/ Samsung and Apple. Hopefully they don't end up like Nokia and Motorola.

Well, I was fully on board with LG this year to because my G6 has been rock solid and I love it. I thought they had finally turned the corner on design and good things were coming as they would build on that design. Now I can't trust them to out out a good device and I have no interest in going with Samsung again. I think that puts me waiting for the HTC 12 and Pixel 3.

Not putting out a phone every year might not be such a va

I love my V30, and want to see LG to succeed, but the same problems I have with my V30 are the same problems I've always had with LG, and why the V30 was my first LG phone. They do some really awesome stuff, and release really solid phones, but it always feels like LG forgets the basics while trying to shove in gimmicks and random features nobody really asked for. That, combined with awful marketing and subpar software support leaves LG weak to Titans like Samsung or Apple. The V30 is amazing. Keep the design, fix the screen, improve the cameras (especially the front facing. I don't much care for it but I know it's important to a lot of people), and simplify the software. Combine that with dedicated post-release support (frequent updates and transparency) and a refreshed marketing campaign, and you could have a winner.

They do the same thing every year, announce it and two months later release it. They time their releases terribly, market them even worse and their phones do everything mediocre, but nothing really well to stand out. The v30 should of been the best phone of the year, instead they put a terrible selfie cam on it and the dual cam takes ok pictures. My 500.00 5T does it better, with a better software experience and display. These guys just don't understand the whole package and what makes a product sell.

If LG introduces a newer more capable yet LESS expensive version of the v30 in the first half of '18 it'll be a pretty big slap in the face to everyone who paid the premium for the current phone. Remember that even though the current v30 was announced in September of last year the phone didn't become widely available until around November. However, as some people have noted, if an elongated hardware release cycle could lead to more consistent software updates that would be a plus for current owners. Could we get the "flagship" v30 up to Android 8 in North America?! The stable update has been available in Korea for almost a month! The more I read about the antics at LG's cell phone division the more it seems like they don't have a clear vision or coherent leadership. It could be time to for a bit of upper management house-cleaning if they're serious about saving this brand and being a top tier contender w/ Samsung and Apple. Hopefully they don't end up like Nokia and Motorola.

I opted for the V20, rather than the V30, since I wanted: replaceable battery and 16:9 aspect ratio,.

I went for the V20 because of. Replacing the batty was so easy. Then a couple of company's msde. Larger bsttys with new backs for the larger bsttys. The larger being 10000ma and they were made to fit the org batty charger...

Isn't it LG with the US smartphone industry problem? I think your title is backwards...

This is a losing proposition for LG. Here in 2018 their gonna re-introduce a 2017 phone the v30+a. This spells trouble, this will definitely not compete with the s9 or any Apple products. With a 10% of the market share here in the US this will never work. LG'S mobile division is failing to make money. What carries them is TV'S & Appliance's. They might as well join the ranks of HTC, two losing proposition's!

We have 2 LG G4 phones in our family. After 16 to 18 months, both died completely. Go ahead...drop the G series!

Faster updates folks...and 5gte please!!

I had an LG 3 and a LG4 and now a v20.
The G3 got hot when using video and would shut down after 5 minutes.
The G4 I absolutely loved when it worked.In 13 months I had 3 of them .Two bootlooped and the 3rd lagged and froze up so bad I had to turn it off by taking oit the battery but it was a beautiful phone when it worked.The v20 is not shabby but the camera no where comes close to IPhone 6( Yes I said 6) or Samsung series.
I wish they would just junk Android and install WebOS on their phones.
I miss wireless charging ( I installed it on my G3 and G4) but it is not a deal breaker.
I think the G6 looks to much like a Samsung and the v30 is cheap looking.

LG will be fine, even if their phone business releases one flagship per year. Of that one release, though, it better be tested, debugged to the fullest, and be trouble free. Internal quality control, will be a must, they can make good outsides. Having a reputation of boot loops, strange heating issues, and others will have to stop, or it won't matter if they release a new model annually.

LG phones are garbage inside. They do not last after 6 months. V20 G6, etc.. my V20 isn't even a year old and shuts itself off at random times and has terrible image retention (burn in when being on the same screen for only 1 minute!!!). After doing a quick google search, these are common issues with LG smartphones. I've owned at least 20 something smartphones over the recent years and none of them had these issues. Definitely wont ever be buying LG smartphones again. Seems like they cut corners on the inside of the hardware. Redditor fixed the image retention by reapplying thermal paste. Lmao. What? Im not disassembling my phone, and taking any chances, to fix LGs mistake. Imo, stay away if you want a nice phone that will last.