The U.S. smartphone industry has an LG problem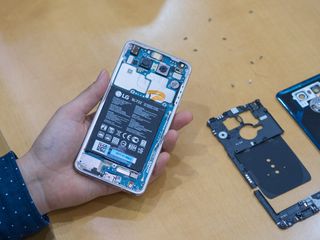 A few years ago, I was in New York for the launch of the LG G3. It was the first phone I'd touched with a Quad HD display and was pretty well built (though plastic) and fairly fast (though not the fastest) and overall people seemed pretty happy with the phone. That year, the company went on to sell over 10 million of them, so LG must have been fairly happy.
Back in New York, though, in a room filled with other journalists, members of LG's executive team explained how the G3 was the culmination of what its loyal customers wanted. That it took feedback from its millions of fans and turned that advice, as best it could, into a phone — one that went on to sell well over 10 million units.
This past week, LG announced that its mobile division lost money for the 11th consecutive quarter. Its vice chairman and CEO, Jo Seong-jin, said in an interview that "We will unveil new smartphones when it is needed. But we will not launch it just because other rivals do. We plan to retain existing models longer by, for instance, unveiling more variant models of the G series or V series." While it's been rumored that LG may scrap the so-called G7, or the entire "G" name altogether, the company says it will launch a successor to the G6 "when the time is right." Here's what a company representative told Android Central.
LG's in a good position to do this, since, despite losses in the mobile space, its overall business is thriving. The company leads the field in OLED television innovation, and had a banner year in appliance sales. Its LG Display business is ramping up quickly, even though hiccups led to the problematic Pixel 2 XL.
To us in North America, especially those attuned to the highs and lows of the quickly-changing mobile industry, LG's market share plateau and tepid customer loyalty sees a company in retreat, as so many others, from Nokia to Palm to BlackBerry have done before it. But LG's business is diverse and robust, and we only see the proverbial tip of the iceberg; back in native South Korea, LG enjoys enormous influence, and like Samsung dominates a wide range of industries, from manufacturing to robotics to autonomous vehicles and even medical equipment.
It's important to point this out because it helps explain why LG has, despite failing to find success in the smartphone space, maintained the twice-yearly release cadence that many Android manufacturers have slid into since 2014 or so. Smartphones are not just potential profit vehicles but hero products that, for LG, Samsung, Sony and other vertically-integrated companies, consolidate and focus expertise in disparate areas into a single point. Indeed, it's presumed that Sony has never made any money from its smartphone business, but feels it needs to make them because the smartphone is the center of our digital lives. Sony also makes the imaging sensors that go into almost every high-end smartphone.
But this brings us to today: LG is all but admitting defeat — last year it released two of its best phones ever in the G6 and V30, but hasn't managed to move the needle above 10% market share in the U.S. At the same time, Chinese competition from Oppo, Vivo, and Huawei have affected its place in Asian markets, reinforcing its need to do well in the U.S.
The irony in all of this is that LG's mobile revenue is actually increasing, and that the G6 led to a 9% rise in smartphone sales in the U.S. in the third quarter. But the company faced extremely strong competition from Samsung and Apple, and that trend won't soon abate. The U.S. market is becoming a two-horse race, dividing its riches between Samsung and Apple with very little left for even the strongest of third parties. Huawei's thwarted attempting to enter the U.S. market should be a soothing reprieve for LG and others — the Chinese company is the world's number three smartphone vendor and had every intention of dethroning the dominant players before long — but will not ultimately change anything.
This context somewhat justifies LG's decision to rethink its entire mobile strategy, and stop committing to annual product refreshes. People are holding onto their phones for longer, and only a small number replace them on an annual basis, despite carrier leasing deals encouraging frequent trade-ins.
LG's excellent relationship with the Big Four U.S. carriers likely means that any changes made to release cadences will be met with approval and understanding, and the change in strategy may mercifully mean less time between announcement and release. But there is unlikely to be any one recipe for a resurgence in the U.S. market, and LG's recent struggles reinforce the difficulty in finding success in great products.
Update, January 22: This article has been updated with comment from LG and to clarify that the "G" lineup, and the G6 successor, is still on target for release.
Get the Android Central Newsletter
Instant access to breaking news, the hottest reviews, great deals and helpful tips.
Daniel Bader was a former Android Central Editor-in-Chief and Executive Editor for iMore and Windows Central.