The LG G8 is currently the cheapest Snapdragon 855 flagship you'll find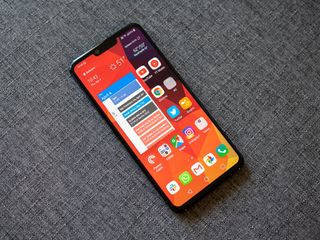 (Image credit: Android Central)
The LG G8 doesn't get as much attention as the rest of the Android flagships released in 2019, but that doesn't mean it isn't worth your time. It was one of the first phones to ship with the Snapdragon 855 chipset, and has two capable cameras and clean Android software. It's even starting to receive the big Android 10 update.
Right now for Cyber Monday, you can get it on sale for an incredibly affordable $399. For that money, it's pretty tough to resist.
Underrated flagship
(opens in new tab)
Incredible deal on a Snapdragon 855 flagship
The G8 is a competent flagship with capable face unlock, dependable battery life and an impressive dual rear camera array. And now it's available at its cheapest price yet!
$399.99 $849.99 53% off
The G8 has a clean and minimal design with a great balance of both old and new tech. You won't find an in-display fingerprint sensor on the G8, despite launching around the same time as the Galaxy S10, but I actually prefer its more traditional rear-mounted fingerprint sensor. You get a tactile feel for where your finger should go, and you can swipe down on the sensor to pull down your notification shade — something I miss every day on newer flagships.
You also still get a 3.5mm headphone jack, backed by LG's incredible Quad DAC that makes the G8 one of the best phones you can buy for high-fidelity wired audio. There's an impressively loud speaker under the display as well, and you get a microSD slot for holding media like music and movies.
That display is pretty great, too. It's a 6.1-inch OLED panel with great color reproduction that's a bit less saturated than Samsung's displays (in a good way, if you ask me), and with tight bezels the G8 still manages to feel relatively small and compact.
The G8 gets a lot of flack for its poorly executed motion gestures, but that's far from the only aspect of its software. You get speedy Android 9 software — or if you're one of the lucky ones who's already receiving the latest update, Android 10 — with Amazon's Alexa voice assistant built in.
There's a lot to love about the LG G8, and with an unheard of 53% discount for Cyber Monday, now's about as good a time as any to buy one.
Hayato was a product reviewer and video editor for Android Central.
The most very good underrated phone of 2019? A great display, good cameras & of course the 32bit DAC with wired headphones. It's a steal at Amazon for 399.00 bucks!

If only LG's software wasnt terrible. I think the LG g7 had the best hardware of last year but the worst software... This phones probably more of the same. I loved the g2 and g3 because you could unlock the bootloader... Every phone since has sucked, unless you could unlock it

Ridiculous complaint, just change the launcher.

Exactly, the ordinary users don't care about geeky hobbies such as changing the launcher, rooting the phone, customizations etc. It's all about first impressions and how it works straight out of the box. This is a big reason why iPhones sell so well. Koreans have never been good at software; their prowess is hardware. And LG is better known for their refrigerators and washing machines, even in South Korea, it is perceived to be the poor man's rival to Samsung. For Android phone makers, LG, Sony and HTC are all racing to the bottom. Will be interesting to see which company will be the first to drop out of the mobile market.

This phone will probably get updated to LG's new ui at some point.
Android Central Newsletter
Thank you for signing up to Android Central. You will receive a verification email shortly.
There was a problem. Please refresh the page and try again.