LG G6 breaks cover in fresh leak, offers great look at tiny bezels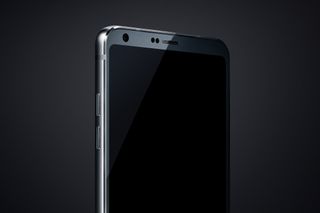 LG's continued strategy of letting plenty of details out ahead of its phone launches is well under way for the new LG G6, but now we also have a solid render of the front of the phone courtesy of The Verge. LG will be officially releasing the G6 at MWC 2017 in just over a month, but this render gives us plenty to talk about in the meantime.
So what are we looking at here? Well, the top half of a finely sculpted phone viewed from the front. We see a metal frame with nicely beveled edges flowing into a front that looks to have very small bezels. A typical set of sensors and a front-facing camera sit left of a standard speaker — nothing too exciting there until we know the exact specs.
The display panel itself looks quite interesting, though. Rather than the typical 90-degree corner you see on most phones, the edges of the screen are actually rounded in this render, nearly matching the curve of the phone itself. We already know that the LG G6 will have an interesting (and tall) 18:9 aspect ratio, but there could be a couple more display tricks at play here.
Previous renders give us some sort of an idea of what the rest of the G6 will look like, but based on this new render those old versions may be a tad off from the final design. Thankfully, we don't have to wait too much longer to see it all for real.
Andrew was an Executive Editor, U.S. at Android Central between 2012 and 2020.
That is a very sexy looking phone, from that render. I have a friend that has a Galaxy Note 3 and its been giving him issues. He's been looking at this phone for a little bit. Now with this render, and it's matching up with its specs, he's looking to maybe buy this phone when it's available.

The top bezels isn't smaller than the g2 g3 not g5. It's way series tho.

LG is always the brand that gets me all excited only to deflate all my hopes when their phones are finally revealed. What I'm liking so far though is that I really don't like the edge on the Samsung Galaxy series and yet the LG G6 has a slight Samsung feel to it. As someone who wants to skip edge, this may be the phone in my pocket in a couple months. I hope it has an IR blaster.

Looks good. But what kind of metal? I'm not a fan of aluminum phones. Steel baby. That's where it's at. Flicked via the BlackBerry keyboard on my Nexus 5X

Steel is also very heavy and tough to work with. Just look at the V10.

Yep. Fine with that.
I want to Hammer Nails with it in a pinch lol.

The V10 only has steel sides tho, and they looked great in gold.

Well, at least it looks nice.
Too bad it will be a mini-dinner tray and therefore automatically excluded from my list. And that's even assuming the motherboard won't die like the ones on the G4, G5, V10 and V20.

Your Nokia 6/8 are on the way. Probably should wait for it.

Where are you getting reports of V20s dying? G4 and V10 makes sense since they used the same flawed Snapdragon 808 chipset, but I have heard no such mass reports of the G5 or V20.

I'm with thunder18, where is DJCBS getting his information about the V20 dying from, the 'Alternative Facts' section? The only issue I've heard of with the V20 is the cracking camera glass. Besides that, nothing...

Have they finished fixing the bootloop issues for their past 3 phones? :(

Why wouldn't they have? They have acknowledged the issue, and so far so good with the V20.

Nope. Its most every LG phone as well, not just the flagships.

Looks nice. Good luck, Lg.

Going to be my next phone for sure. Really like what LG is doing on this so far!

Why are people so obsessed with smaller bezels? I have a phone with a small bezel and one handed usage is messy because my palm is registering at the edge of the screen.

No one is obsessed with them. But if done right they can give you more screen in a smaller body.

Really Johnny, no one is obsessed with them? No one? https://www.cnet.com/pictures/inside-samsungs-galaxy-note-7-testing-lab/

Nah, Moto Z Force swept me off my feet after 3 LG phones. I can easily go two full days with the Mophie Mod and I forget about needing a charger. This may be the (L) ast (G)asp this phone maker has left.

We buy them, swipe, run bench marks, install a new launcher, swipe, run bench marks, QQ about lag, swipe, reset, repeat. Every single phone we do the exact same thing and spend tons of money to get 1 extra frame per swipe and 1x more camera quality. Because if you're playing games on your phone you're not a gamer and have no idea what true gaming hardware is. Oh and let's not forget about that new "premium" feel. roles eyes
By the way isn't the Pixel the "god phone", so none of these other phones matter...right? I just have to LOL, because I am a phone *****...you're welcome

"It feels great in the hands" ought not ever be repeated again. We know...We know...

Looks better than expected so far but I'll admit I think it's gonna be a letdown. LG hasn't wowed me whatsoever other than the leather on the G4. That DID get my attention but damnit I hate the screens and I hate their software.

Looks really good , I'm a Samsung galaxy person... However I can see myself with this beauty.... Gota give it to LG , just bought my first product a LG G Pad III 8.0 and had it for only a few months. I'll tell ya they just shot me the nougat 7 update tonight.... Gota like that, don't Evan have that on my note 5....

Ewww, that phone looks sooo ugly.....
Is the last thing you'd hear me say. I am the farthest thing from an aesthetics snob you can get.
I hope the g6 is a massive success.

Then why was it the first thing you said? ;-)

I like the rounded edge around the corners of the screen. I hope the screen goes all the way to that rounded corner. Would look weird if the screen was actually square, and there was a mini bezel within those rounded corners.

I love my v20 i am glad to see lg trending in the right direction. They are finally listening to their customers

That remains to be seen mate, well see if they put another pissy battery in it , also not to mention another very average ips lcd .
Hopefully your right and things turn around.

Looks great. I hope it has a DAC & a decent-sized battery.

They better not pair it with strange software aesthetics like they always do..

It sadly seems like they're really focused on form, rather than function this generation.

Seriously.. LG has the worst motherboards of all high end electronics. Washers dryers phones refrigerators.. Etc etc etc

At least when LG's washers go bad, they don't physically injure you.
https://www.cpsc.gov/recalls/2017/samsung-recalls-top-load-washing-machines

Just in your bank account..

Supposedly it will use the SD821 and not the 835

18:9? Stop it guys, you would get marks took off in maths for such a thing.

Thank you!!! Why is no one just saying 2:1

The reason it is portrayed as 18:9 is because it is easier to grasp as a reference compared to the usual 16:9. If you say all other phones are 16:9 aspect ratio then say your new device by comparison is 2:1 aspect ratio, it can be difficult for people to wrap their head around. But I totally understand both sides of the argument though.

Look's great so far loved my G4 .... Still have the headphone jack can't believe this is something that has to get mentioned

Looks like a Samsung phone. Not that anyone can really make a unique phone these days, hard to make a new rectangle design.

18:9? Hasn't the article's author ever heard of a lowest common denominator?

Yo LG, I don't have that much experiences with LG, but I have good experiences with Nexus LG Devices.

I can't wait for this to be introduced. I like LG products and have had the G3, G4 and V10 as my daily drivers. I also can't wait to see how AC deems the Pixel superior to all the latest phones soon to be released!

They won't. They will say that the Pixel 2 is superior. And that the Pixel 7 is the best tablet.

That they will. It sends shivers up all their legs! The G3 rocked. Never had an issue with it and used it up till Dec 17 (2 yrs.). Walked into Verizon, picked up a Pixel XL and a V20. Walked out with the V20. They gave thew V20 a short little review and forgot about it, yet they still ramble on about the non-existent Note 7. Go figure.

That actually looks pretty good

They made a 1080 p display like this for the mi mix so I think this may be real.

Lol. Another dud, half baked amateurish software with a few smart hardware decisions, just like every LG phone.

Looks like a Moto Z, or maybe like an iPhone. Looks good but nothing New.

It'll be a tempting buy, but only if it's cheaper than the S8, now that the G6 will supposedly have the SD821 and not the 835. That said, if it's built as well, I'd prefer LG's software to Samsung's.
Android Central Newsletter
Get the best of Android Central in in your inbox, every day!
Thank you for signing up to Android Central. You will receive a verification email shortly.
There was a problem. Please refresh the page and try again.