Leaked photos show the LG G5 locked inside a secure case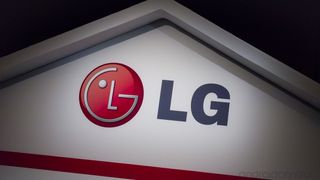 The LG G5 is soon to be upon us — we're at least expecting to see something at MWC — and already new photos are making their way online to reveal just what LG's next flagship smartphone will look like. Kind of. Unfortunately, the shots that are reportedly of the phone show the unit secured in a case. That said, one can still gaze at the USB Type-C connector, massive display and more.
These images were shared by Droid Life:
Have you any thoughts as to what you'd want to see in the LG G5? Be sure to let us know!
Source: Droid Life
Type C Forever!... Now let's get someone Quick Charge going. Google can keep their "Rapid" Posted via the Android Central App

hopefully it's 3.1 ... either way it's a good sign. need all the 2016 flagships to have USB-C so more 3rd party chargers/cables become available. slim pickings for my 6p right now!

The reason Google uses their own standard is because Quailcom's "Quick" charging solution is against the USB Type-C spec and can't be used. It used data lines to increase the power being fed to your phone. More lines all maxing out their power limit. USB Type-C Cables can handle more power and consequently it is a much better implementation to simply have the power being feed over the propper power lines. That is why you won't see "Quick Charging" on a USB Type-C phone.

not sure I get what you mean. I don't know what it's technically called, but my 6p with USB-C has quick charge

It doesn't. OUR 6p has "Rapid Charge" which is definitely different on a technical level from "Quick Charge"... a "Quick Charge" charger won't "Rapid Charge" OUR 6p... for example

I'm fairly sure Qualcomm Quick Charge does support USB C, we just haven't seen it used yet. Also, Google isn't using their own standard, rather the universal USB 3.0 rapid charging. Posted via the Android Central App

This.
The new Lumias are Type C with USB 3.1 and use Qualcomm's Quick Charge 2.0

This is right... The rapid charging is part of the USB Type C standard it's not a proprietary standard like quick charge it's part of the USB spec. Also this pic doesn't show a whole lot really... I guess you can see the camera layout...

Just just another type of plug to me where you fiddle trying to put the male end in the hole, no pun. I went with a magnetic cable and never looked back. http://www.amazon.com/Wsken-Premium-Magnetic-Charging-Motorola/dp/B00YH0...

Idk if I like it....granted u really can't see it....but um....yeah this doesn't look like a LG G model phone....I will however,reserve judgement until the final product is revealed Posted via the Android Central App

I know what you mean. I agree.

Where are the rear buttons? I see side volume rocker.

PLEASE let the buttons on the side be legit. The buttons on the back make it difficult to use a device when on a desk. Buttons on the side are no more difficult to use when on a phone call.

I don't think those are buttons. I'm thinking sim/micro sd slot with little pin hole removal button. Posted via the Android Central App

Yes, clearly is a SIM card tray, possibly sd card as well (hopefully)

A little strange for a case to provide permanent access to a card tray, no?

It's clearly a case manufactured for testing the phone and not one that would be sold to the general public so not strange at all.

I don't even know why your comment has been down-voted, you are correct.

Maybe, but if so that tray is damn huge.

If that's the sim/microsd slot, then where are the volume buttons?

On the source page, there's another shot showing the other side of the phone with a volume rocker.

I own an LG G3 and the buttons on the back are not preventing use on a desk. I tap twice on the screen to wake it up and everything else can be done on screen. Unless you want to use the digital scanner as the only unlock method and you want to modify volume often, using it on a desk is not an issue with back buttons. The issue I get is trying to unlock other devices by tapping the screen.

I don't like using other manufacturers. I have tried unlocking by tapping also. I feel a little awkward after since the phone doesn't offer it.

I did the same thing all the time when I had a G2. Went to use my wife's S5, tap-tap... nothing. I've since upgraded to a Note 5, so now when I use her phone I end up waiting for the screen to unlock by fingerprint.

That is an odd-looking camera module, especially when you look at all the other phones out there, but it looks to be consistent with the dual-lens rumors. Hope it's not like the Duo Camera. And a Type-C connector is a pleasant surprise. Even though I have a ton of microUSB cables, I welcome this change and hope others follow suit as well. Mmmmm, Android Smores....

trust me, you'll love it. I underestimated not having to worry about which side is up or down. prior to my 6p, I figured it's just an extra second or two, but now that I have it, it's a luxury that I'm glad I have. snug fit every time with quick charge, and won't wear out your port or charger like micro USB.

I haven't used USB-C yet but I have used Lightning, Apple's proprietary reversible connector that works just like USB-C when it comes to inserting and removing the cable. I thought it was a minor thing since I've gotten used to knowing which side is which on Apple's old 30-pin connectors and microUSB cables. When I got the iPad Pro (incidentally, my FIRST device with a reversible connector and port), I fell in love with the reversible nature of the connector. Sure, it's not dramatically life-changing, but it being reversible is actually a nice convenience I'm not going to trade away, simply because I no longer have to know which is the right side and also reduces the chance of me plugging it in the wrong way. I have yet to damage a connector or port by doing so, but it's nice to have that convenience.

Regular microusb and Type-C differences can be defined as one's bigger than the other but is reversible and feels more stables when plugged in, at least that's my experience with messing with a friend's Nexus 6P. Kinda helps too as Type-C is also aimed to eventually replace USB-A sometime in the future. One thing I've noticed with the unveiling of usb-type c last year were quite a few cable offerings which were microusb but had a hexagonal plug making it reversible. Cynicism Evolved

I have a genuine question that might seem like I'm just being an Apple hater but I really want to know because of personal curiosity. What were your reasons behind buying the iPad Pro? I'm trying to figure out what the use it and I just can't.

Hey, bear with me because this might be lengthy. I had an iPad 3 before the Pro. It was throwing up issues and struggled to even run Chrome and Safari. I needed an upgrade and one that will last far more than 3 years. The Pro fits the bill, because it's the most 'futureproof' of all the iPads with its A9X processor and 4GB of LPDDR4 memory plus NVMe storage. I also wanted a larger display and better speakers for media consumption and I also want something more suited for light productivity that's more portable than a laptop. It's perfect for college use to me, though it's pricey.

Thanks. I appreciate it. Makes sense. :)

Glad I could help. Just let me be clear that the Pro is not for everyone, however.

I know you asked the other forum member but i figured id chime in as well. I had a need to run 2 simultaneous apps one of which would be able to take handwritten notes and another that would be a research tool. The iPad Pro fit the bill perfectly. The fact my eyes are aging and that I'm not a small man made the size ideal. An added bonus was the media consumption side of it. The speakers are amazing and the size is perfect for watching movies in bed or reading forums such as these. I considered the Surface Pro and I still yearn for some of it's features (like the eraser on the pen and the flexibility of the OS) but the iPad has great specs for long term use and also should hold fairly high resale value in comparison to other slates. Posted via the Android Central App

Thanks for chiming in. I appreciate it.

Down firing speaker is second best, but at least not third.

Looks like a Nexus-style fingerprint scanner on the back

Seems the buttons are replaced and pushed to the side. I wonder how people will take it for those accustomed to back buttons but replaced by a fingerprint sensor! I wonder if it'll have that nifty removable lower have for the removable battery and sd card slot/sim card Posted via the Android Central App on my Frost Nexus 6P

Oh looks like they have gone back to boring humdrum samey design as everyone else. Shame. Hopefully its just a hardware tester and the finished product will look quite different.

If it opens from the bottom to pull out the battery, I doubt it'll be the same boring design as others.

Kill it with fire. It's ugly as f@#@ Posted via the Android Central App

That's what your mother said when she got you.

Um, that's the second time you've used the same immature joke that only you think is funny ... you and the other 3rd graders!

How can you tell, it's in a security case O_o

I dont think those are buttons on the side. If you look closely you will see a pin hole like what you see for a sim card tray or SD card tray.

Hmm so no removable back...? I still reckon its a hardware mockup for testing.

I could be wrong because you really cannot see where the buttons on the back would be, but it does look like a sim/sd tray to me. Guess we will see.

This. That is a SIM/SD tray. Maybe the buttons are on the other side which is covered. Coz if they are below the fingerprint sensor, it won't be the ideal placement.

I think you're right, but also look at the cutout of the SIM card tray. It's completely surrounded by plastic, so it can't be the same cutout that's visible in the pictures of the front and back of the phone, which is clearly a much deeper cutout into the plastic. So there are two cutouts on the sides of the phone, which means the other could be the volume rocker

It could be both. I think Huawei have the volume rocker doubling as a sim/SD tray on one of their phones, I forget which. [Edit: Oh wait, I just saw your next comment. Never mind] Posted via the Android Central App

I see a phone with poor button placement...

If it's below the FPS, yes. If it's on the other side which is covered, no. Hoping for the latter

Rumor has it that the fingerprint sensor might double as a power button.

Kinda like the V10/Z5 then

Glad they're getting rid of the back buttons. However I see one speaker on the bottom of the phone. Really wish they wouldn't have copied Apple and Samsung. That just broke the phone no matter how nice it is. Just like it did the galaxies last year for me. Posted via the Android Central App

Now that I think about the sim/sd tray could double as the volume rocker also sort of like the turbo did.

I highly doubt that's the G5. I don't see why LG would change the entire design language of the G series.

The same reason Samsung did something similar with the S6?

Except the only thing Samsung did was turn a plastic phone into a glass phone. The S6 still had the overall look of the S series. I just don't see LG totally removing the back buttons.

Maybe it's to make it look more 'normal'? Honestly, I have no idea. I liked their implementation of the rear buttons. Don't know why they ditched it. Mmmmm, Android Smores....

My guess would be they wanted the fingerprint sensor on the back. That means the buttons gotta move to the sides as below the sensor wouldn't be an ideal position (index finger naturally resting).

Judging by the size of the sensor, it is likely that there is no space to put the volume buttons without either making the phone larger or making the sensor smaller.

Maybe because LG's mobile division only made $0.22m in profit last year. "Same as last year but better" certainly wasn't pulling in as much money as they would like. If what you have isn't working, try something different.

Any guestimates on diagonal display size from these photos? If not >= 5.6" I'll have to pass.

I'm thinking it's 5.5" or less judging from the pics, but I could be wrong. Doesn't look like 5.7" though and 5.6" I don't think anyone has done yet.

Looks like 5.59 to me... sorry dude. ;)

Anyone else notice that dirty/moldy box in the background? What the hell kind of nasty hoarding situation is going on there?

lol, good catch ... yeah wtf is that?!

It's the workbench. Keyboard in the shot.

One of the leaked pics seems to show a fill set of back buttons, including volume buttons. Another shows just a fingerprint scanner. Perhaps the design wasn't totally decided when these devices were made. I hope they keep the back buttons. They're a nice unique LG feature. Posted via the Android Central App

This is the picture I'm referring to, that seems to show back volume buttons. http://m.imgur.com/fWdOaLf Posted via the Android Central App

I hope they go with this version, it's so much easier to change volume in your pocket! Posted via the Android Central App

That's a pretty small fingerprint sensor/power button combo. Mmmmm, Android Smores....

Now this seems like what they would do. Thanks for sharing.

Could be a carrier specific version.

I absolutely love it... I love my HTC a9 and I feel like this could be come it's daddy! I will own one! Release it already. Posted via the Android Central App

I REALLY hope they didn't get rid of the removable back and battery, but if that is indeed and SIM card slot...........

I'd just like to see the US carriers leave basic Android alone! For some reason they disabled the multiple users feature...go figure. Posted via the Android Central App

Keep the buttons on the side, where they belong! Posted via the Android Central App

I hope this proves the smaller ticker screen is false, tried it on a V10 and I'm not a fan. I'd prefer them to stick with the Circle Case. I'm eagerly anticipating this phone, my wife needs to replace her Note 3 and I love my G3 and may pull the trigger for myself while I'm at it.

Is the case called "bootloader"?

I really hope they'll put better speakers on the G5. I was somewhat disappointed on G4 and G3 speakers. They were really smalle and could be easily muffled. Maybe put them on the bottom of the phones.

I believe the first picture with the 3 holes next to the Type-C USB Connector and Mic (going right to left) are/is the speaker, which is located on the bottom of the phone. This is a the second best spot in my opinion, with the first being the front, as the sound always comes out a little lower for me or even muffled a bit when watching videos since I use the Circle Folio Case on my G3.

Looks like another device that everyone will complain about once all speculation is over and it's finally revealed...same as every other device. Posted via the I don't care what kind of phone you have.

Every phone will have its own batch of complainers. Mmmmm, Android Smores....

Love the G4 and am hopeful for the G5. Please have OLED! Posted via the Android Central App

I wish the phone had front facing speakers or speakers on the left and right frame (while horizontal) so the hands cup the sound to you. Posted via the Android Central App

i agree that the pic of the sim card tray cutout isn't the same side of that phone as the larger cutout (which is where i'm guessing volume buttons would be, considering that you need the full cutout on a case to be able to actually press them. on another note, anyone notice the lack of a headphone jack? wally

I thought the headphone jack was to the left of the USB-C ... if that's not it, could be on top

That looks like a microphone. I'm assuming the jack is on top. Posted via the Android Central App

Eat your heart out, iPhone lovers. Posted via the Android Central App

I'll reserve judgement, but I don't like what I see. Definitely not going to be happy to see buttons on the side. One of the great things about the G series has been the huge clean slab of screen without any protrusions on the edges. .

Someone on another site (claiming to be an insider) suggested the fingerprint sensor on the back would double as a kind of jog wheel, whether that's true or not, who knows. Would be really cool though, and that could be how they let you still control volume from the back if you want to, but have side buttons too for those that prefer to control it that way. If the magic slot replaceable battery rumour is true, then I will definitely be getting this to replace my Nexus 5. I just hope they have the foresight to include a tiny internal battery that keeps the phone on while you swap the battery out. If the phone turns off, and you have to boot it from cold again, that would be a massive missed design opportunity.

The fingerprint sensor as a jog wheel thing is something I've been expecting. Huawei are doing it, and it seems a pretty good idea. I'd expect to see LG and especially Samsung doing it. With the sensor being on the front with the S7 it will be like having the track ball back from the Nexus One days! Posted via the Android Central App

Remember the BlackBerry Bold 9700? That thing had a tiny trackpad. Maybe these sensors can be made to function as one too.

It's funny how things come back around. Posted via the Android Central App

The fingerprint sensor as a jog wheel thing is something I've been expecting. Huawei are doing it, and it seems a pretty good idea. I'd expect to see LG and especially Samsung doing it. With the sensor being on the front with the S7 it will be like having the track ball back from the Nexus One days! Posted via the Android Central App
Android Central Newsletter
Thank you for signing up to Android Central. You will receive a verification email shortly.
There was a problem. Please refresh the page and try again.