LG G3 demo unit spotted in the wild before launch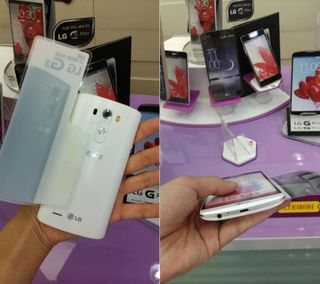 Some photos of an LG G3 demo unit have surfaced in Korea ahead of a formal announcement. Since we've already witnessed images, videos, renders and accessories, it only makes sense for everyone to experience the device in dummy form. The photos show off thin bezels, improved back buttons and more.
We understand some specifications of the G3, including Android 4.4 KitKat, LTE support, Snapdragon 801 processor, 32GB, 3GB RAM, 5.5-inch 2560 x 1440 IPS display, 13 megapixel with optical image stabilization, 2.1 megapixel front-facing camera, 3,000 mAh battery, USB 2.0, Bluetooth 4.0 LE and NFC.
Be sure to remain tuned to our feeds as come Tuesday we'll have more details from the upcoming LG event.
Source: UnderKG.co.kr, via: GSM Arena
It's plastic! Posted via Android Central App

It's a demo unit, all demo units are made of plastic, plus this is the Korean version with the TV antenna. Posted via Android Central App

Sorry bud, it's going to be faux-Metal ala' GS3 HyperGlaze back cover. And no, I've handled m7/m8 demo units and they were metal.

Who cares about a metal phone, more prone to damage when dropped, and also heavier.
Posted via Android Central App

My only concern is about the Aspect Ratio of older apps.
Upscaling is good, but I see the on screen gaming controls getting smaller, like they did with the G2 KitKat update.

Is this dead horse ever going to get any mercy?

While the paper specs are impressive I don't see this being a huge hit. First, the screen is bordering a Note size device, which is a tad too big for most people. Second, LG is pushing a QHD display, with almost 2 times the pixels as 1080p, without an upgraded processor or graphics chip. Using the same 801 Snapdragon/Adreno 330 combo the S5 and M8 use. It is still to be seen if this slows the device down pushing all of those pixels with equal internals- I think it will slow the device down marginally as pushing more pixels takes more cpu and gpu power. It's a nice device, sure, but it seems like a Note rival rather than a S5/M8 rival by its physical size; and only matches the internals of current phones that have been out. The only thing new and revolutionary is the QHD screen, which may be a minus running on the 801/330 combo.

It is similar in size to the m8 with a much larger screen so I'm not sure what your point is
Posted via Android Central App

He's conveniently ignoring the lack of bezel and how that makes the actual phone size smaller than one would think.

There's no convenient, it's a big device. It's M8 length and another 4mm wider. It's not far off from a Note 3. Regardless of screen size its pushing large for the average person to carry. And again, no one has addressed the 801/330 issue either pushing QHD,

There is no issue with the screen and the 801 except the Phantom ones made up by people on the Internet. Have you used the g3 to determine there's an issue with the processor supporting ? Do you know any device with currently the 805? Posted via Android Central App

Have you used the G3 to determine that there is no issue as you boldly state? Exactly. This is my opinion which I will freely state.

let's put it this way, everyone said the moto x was under powered...and...other than people who make up issues, it's not

If we go buy the oppo find 7 and 7a the the 1080p performed much better in gaming etc. The 801 may be able to handle 2k but 805 was made to handle 2k easily. Basically with 2k screens and s801 your basically getting the performance of the s600 with a 1080p screen. I've yet to see a 2k screen but imo the "improvements" of a 550ppi vs 440ppi will be very small that it's not worth the performance hit. Posted via Android Central App using galaxy s4

Nothing wrong with my S4 and 600 chip and 1080p screen, phone is smooth as butter. Posted via Android Central App

Same here! Love my GS4 Posted via Android Central App

Why would not stay with the GS4? It's a great device. Still alot of future for the GS4!!!

Am with you there, I have a s4 too and am happy with the performance but my point was that when you are upgrading to a newer flagship device, performance increase should go up not down. Posted via Android Central App on nexus 7 (2nd gen)

We already have 2k screens on tablets with the 801. Do they stutter? I don't have one so I can't say
Posted via Android Central App

I agree this is a tad larger than I want to carry around. Wish I could see and hold an xperia z2 to see if that is too big for my preference. Sent from my Moto X!

+1 Posted via Android Central App

G3 146.3 x 74.6 x 8.9 mm
Note III 151.2 x 79.2 x 8.3 mm
S5 142 x 72.5 x 8.1 mm
M8 146.4 x 70.6 x 9.4 mm It's sized between current devices and the Note III. Close to the M8 isn't saying much, that's a big (long) device for only having a 5' screen due to the large amount of bezel HTC used around the phone. Add another 4mm width to already long and we're talking a rather large device for the average hand. M8 is 4mm longer than the S5, and the G3 is the same length as the M8 (already a long device) but 4mm wider. It's going to be a sizable device. when phones like the Galaxy S5 is already a big device for most. A 5.5" screen puts it into phablet territory regardless of the physical device size. I am sure the Note 4 will be slimmer this year with only .2" bigger screen; similar to the G3 in physical size.

I'd like you to keep going... I'm curious how many times you can say the same damn thing over and over again... Posted via Android Central App

Yes it's the smallest 5.5 inch device but I would have been happier if it was the smallest 5 inch device.

My point too, it's great that LG made the smallest 5.5" screen phone but I would prefer if they made the smallest 5" screen phone. I think that would garner more interest. The way things are going the only way soon to get a flagship is to get basically a phablet. Posted via Android Central App using galaxy s4

Exactly. I don't think the normal consumer wants anything larger anymore. 5" is it. 5" with a smaller bezel is even better. And QHD is just a total marketing thing which has no benefit in the real world.

After having a 5.2" G2, and only having small hands, I can tell you that I would not want to take a step back to 5". So, this customer at least does want larger than 5".

Buttons on the back help for small hands. Just saying. Posted via Android Central App

Is there really a massive difference between 5.2 and 5..my brother has the s5 which is 5.1 and my s4 is 5 and it pretty much looks the same. Posted via Android Central App on nexus 7 (2nd gen)

Try telling that to Galaxy Note Owners, every new and current Note user says they will never go back to a smaller device and the Note 3 sold over 10 million last year and I see them everywhere I go now. Also I am a normal consumer and I wish my Nexus 5 was 5.5 inches instead of 4.99

The Note 3 is great and has done well but people who buy it know they want a 5.5 inch phablet with the S-pen features. However, the GS4 sold 40 million for a reason.

No one is forcing you to buy it. Posted via Android Central App

Would love to have a G3 w "Spen" (errr Lpen?).

LG has those Q-Apps with most of the functionality of the SPen for regular stylus.
And it's already on most of their phones. Oh don't forget that Samsung doesn't have VuTalk....!
LG Optimus G Pro™ - VuTalk: http://youtu.be/NTqiV4CexZM

I'm pretty sure that the m8 is so long because of the two speakers. It's a clear trade off but it has less to do with bezel than people think. Posted via Android Central App

Yes, it is a tradeoff. But HTC has a huge empty areas of glass on top and bottom that have been the subjuect of much convo. That is where they could have really shortened the device and kept the front speakers. Front speakers and only a slightly larger frontal area would serve HTC well IMO.

They actually don't. This is a misconception that drives me a bit buggy. The little black area with the htc logo isn't really any bigger than the little black area under the screen on... Let's say the g2. It's just that on the htc there's a speaker under that. Look for yourself. Posted via Android Central App

+1 Via a cool AC App on a great Nexus 4

Physical size only concerns holding it and fitting it in your pocket. Screen size concerns how easy it is to use. The g3's screen is larger than the One's, therefore it will be harder (further distance) to reach the opposite corners when using one hand. Posted via Android Central App

It looks stunning, alas it's not a Samsung so it won't sell as well as it should. Via a cool AC App on a great Nexus 4

Not a fan of slick PC, but had they used a Moto X or Note3 material it would have been near perfect IMO. Backs are replaceable though. Yes, LG has created a fabulous design. Giant display in a relatively small space.

Obviously they would not release the phone with that screen if it was not tested and did not have enough processing power or enough GPU. What kind of statement is that.. Posted via Android Central App

Its frame is very close size to a m8 but bigger screen.. Don't see what's wrong with that if anything that's very impressive. I think people are butt hurt that LG is making some great leaps in technology from what they used to produce. For example my nexus 5 is unreal.. Wouldn't trade it if I got a s5 for free Posted via Android Central App

your closing statement is unreal, until then you were doing just fine

G2 had software that only used pixels needed, and software that limited refreshing when viewing static media, making the G2's battery love u long-time. U don't think they came up w/ some more cool stuff for this beast? Posted via Android Central App

Most people?? Your joking right? The galaxy Note devices are some of the most popular in all of Android. I See Galaxy Note 3's everywhere I go. More and More People are becoming comfortable and are preferring larger phones now.

This phone looks amazing. I'm moving to Korea! Wait, I already live there. Damn Posted via Android Central App

I hate that the front is not all white..
Posted via Android Central App

Looks like a sweet device for those in the market for a new device. It is the next device I plan on purchasing as my daily Android device. After our review unit gets in will I determine if I go ahead and get it for sure. But it is interesting to see all the backlash on the LG decision to go with the Snapdragon 801 when the other devices it is competing with that are running it have only been out approximately 2 months at most. It is like people have convinced themselves this is completely outdated hardware. Are people actually thinking that LG should have waited even longer to release this so they could throw the 805 in it? And how about we actually wait and see how the device performs before making judgement on the 801/330 pairing.

I agree 100% even Qualcomm admits the 805 is a marginal upgrade to the S800-S801 chipsets. The next big snapdragon processors will be the 808 and 810. I mean come on our smartphones have more powerful SoC 's than most laptop computers. The 801 is more than capable. Posted via Android Central App

I second that. People just like to complain, it's human nature. I am sure the phone will be fast and smooth, or LG would not put it to market. Posted via Android Central App

The 600 and 800 are more than capable! Performance can be better enhanced at this level with software. The Moto X, Nexus 5 and even the Moto G. For instance ...... the Nexus 5 will hang with either the M8 or S5 on any day ...any time and even better them in real world example. I'm hoping for a subdued skin and overlay and let Kit Kat works it's wonders.

Watch some video reviews of the HTC Desire 816 mid level specs but handles heavy gaming and everything with ease. People also forget that Kitkat Plays a big role in most android devices now running without any slowdown.

I think people are also making the opposite assumption that pushing nearly 2x the pixels with the same CPU/GPU (801/330) will not slow the phone down at all versus the current 1080p competition. I also think it is more people are just surprised that this device is coming out well after the M8/S5 and is not upgraded when the 805/420 is seemingly ready (being tested in the Prime devices for release soon). How close to ready no one knows though I guess. Every bit helps when pushing nearly double the pixels. 1080p is 2,073,600 puxels and QHD is 3,686,400 pixels. That's a lot of extra graphics computing on the same chip pushing current 1080p displays. If I remember correctly this was a problem historically every time resolution jump; and a problem when devices at 720p (and lower) were running the same chipsets as 1080p devices and people had them side by side. You could see the noticeable lag/heat/other issues due to pushing around more pixels on the same hardware as lower resolution devices.

The 805 is NOT READY FOR PRIME TIME. Posted via Android Central App

Seems to me that Qualcomm designed it to support better than 2k displays at 2560x2048 http://www.qualcomm.com/snapdragon/processors/801

The S800 runs the Galaxy Tab Pro 8.4 just fine. Posted via Android Central App

Wtf this is 2014 where is my USB 3.0? http://www.cnet.com/news/the-snapdragon-805-handily-bests-the-competition/ Posted via Android Central App

As much as i dislike agreeing with you sometimes, this is one of those cases where I have to. No phone should be without USB 3.0 at this point. It charges much faster, transfers data much faster, and on top of that is physically less fragile. You also, if you want to, can still use any old USB 2.0 cords you have laying around. It is nothing but win. BTW your link is just more complaining about the 805/420 combo, not sure if you meant to post that one or a different link.

Not having USB 3.0 is a big flub if true. By the slides of the LG event it does say USB 2.0. That is unfortunate for a flagship in 2014 as it really does help charge phones a lot faster, especially with a 3,000mah battery. Was wondering the same thing, the article is about the 805/420. Still an interesting and relevant article to the above comments though.

USB 3.0 only charges faster if you're charging over USB from a computer. If you're charging from the wall, it's not faster. Most phone companies are probably waiting for the USB 3.0 type-C connector to be finalized first.

While that is certainly true, the other two points I brought up still are valid, and some people do charge right from the computer... Posted via Android Central App

Not arguing that 3.0 is better then 2.0 but still, charging 3000mah over usb is kinda for a those who have spare 20 hours to wait. Not mentioning that using a phone with a wire in isn't very convenient. I'll definitely go with new wireless charger. Posted via Android Central App

Plugging in a phone is such a chore. Whatever Posted via Android Central App

Lol Posted via Android Central App

1st World Problems. Horrific.

That's wierd, my note 3 charges in an hour from.....The wall. Charger that came with the phone. So no. Posted via Android Central App

I am guessing that he is talking about charging for me the computer. It takes longer, but still quicker than 2.0 Posted via Android Central App

Same here. You are correct. Sammy's brick is 2.2V for exactly that reason. It's really nice, but I charge overnight with an old 2.0 b/c Im in no hurry.

Actually, the G2 already has "Quick charge" from the Snapdragon 800. You need a compatible charger and so far the LG OEM charger has it built in. It will charge about 1 %/minute with that charger. Airdroid works better than a cable.
Posted via Android Central App

Thought the same thing when I saw that... interesting (poor) choice going with usb 2.0... not sure why they'd do that in 2014... especially with all the perks of usb 3.0 as far as charging rate and data transfer speeds... Posted via Android Central App

When is 3.1 coming? That will finally put a basic design error to bed Posted via Android Central App

3.1 what? And what error? Posted via Android Central App

http://mobile.theverge.com/2014/4/2/5573680/first-images-of-the-reversib... Reversible and symmetrical. Wohoo! Posted via Android Central App

Backwards compatible? If so Iamokwiththis.jpg Posted via Android Central App

Good article on 805 you added. Shows a fairly significant speed difference when dealing with graphics against devices running 1080p screens. I am interested in upgrading from Note 3 because I want to get away from Samsungs touch wiz and try something new, but will have to see reviews when it's released first. Posted via Android Central App

I left Samsung an opted for the Nexus 5. I was worried and heard that pure Kit Kat is boring and featureless. I'm not promoting Nexus here but Kit Kat in it's pure form. I found the opposite to be true. You can add what you want and discard what you don't. It makes for a faster, more responsive and better experience. It has been so impressive that I will not own another phone unless it is pure Kit Kat or close or a GPE. Of all the significant hardware advances .... the pure Kit Kat experience has had a greater significance in performance than anything for me. I'm just saying ........

Same Here, the only thing is I wish my Nexus 5 had a 5.5 inch screen, My wife has a Note 3 and I find myself sometimes envious of her 5.7 inch display. But when it comes to software and everything else nothing beats stock. it may not have all the flashy features but after using every flagship from 2013 for at least a month the Nexus 5 is my favorite in terms of overall user experience. And Software really is the most important part of the phone. With that Being said the only non Stock Skin I can tolerate is HTC's Sense I used the M7 for awhile and it was overall pleasant. I might consider this G3 though, I lvoed using the G2 when I had it I got insane battery life like 2 days easy.

Yea ... I really like the Nexus 5 ... alot. The G3 will be trend setting I think ..... imagine a GPE version! Right now ..... the G2 is a steal for under $400.00 ..... should be on anybodys short list. I like the G2! You've heard it a hundred times... but for $350.00 .... hard to win a debate against the Nexus 5. Go for it .... get the G3 ....... you know you want it! LOL

Bezel bezel bezel...All I hear on here is bezel...I prefer a little bit of bezel since my fingers are always wrapping around and hitting the screen if I'm not using a case. My G2 is the worst, and my M8 is second-worst. For those who keep screaming "bezel" on the M8, which "bezel" are you talking about? The side bezels are pretty damn narrow.

The bottom one with the logo has most people pissed Posted via Android Central App

You must've huge palms))) How do you type using your thumb when your fingers wrapping the phone and hitting the screen? Posted via Android Central App

It's the total real estate of the screen in porportion to the active display. It's not good!

top and bottom bezels, it seems bezels are getting bigger not smaller the m8 and Galaxy S5 as well as the leaked iphone 6 show MASSIVE bezels top and bottom oddly they are larger than previous generations which makes sense.

Please please please don't let the next moto x be a phablet. Posted via Android Central App

Amen brother. Why mess with something that is one of it's greatest features. Moto X ....... very nice! A perfect example that shows internal specs aren't everything!

I really like my Moto X but, i wish it was a little bigger. However, my main gripe is that this phone is very fragile. I broke the screen on the first phone after dropping it about 3 feet on my wooden floor (didn't have covers). Bought another one through republic wireless and this time, i had the clear, see through covers on and again, on my wooden floor at about the same distance. The screen didn't crack this time but the damn front facing camera will not work now. ugghhhhh! So frustrating. i've had many different smartphones before but the X is by far, the most fragile. I wish republic would offer better phones than the X.

The issue with 805 is LG decided to jump in bed with Samsung n one m8. If LG stuck with August release like the g2 was we would have the 805. Posted via Android Central App

So did they seriously go from a set of stereo speakers on the bottom to a single speaker around back? Posted via Android Central App

G2 only had one speaker on the bottom. Same as Nexus 5 Posted via Android Central App

I'll be waiting for the silver line to come out and I hope most of the phones are made by LG and motto.. Posted via Android Central App

I am hoping the G3 brings some significant real benefits to the arena. A quality plastic that is nicely finished is what i suspect. Plastic done correctly can be a plus. The internals, as leaked, should be "leading edge" and keep it in the performance battle with other significant flagships. The 2560 x 1440 IPS display will deliver but whether it really makes any difference in real world viewing versus the resources needed to drive the display are worth any benefit. Wished they would have kept the size of the G2 which for many were the outside margin considered ergonomic. The 3GB RAM won't hurt but is mostly for bragging rights and the benefit probably will not be noticeable.It's progress but I think expectations are above what will be delivered.

3GB of memory is far more useful than the ridiculous screen resolution which nobody will be able to notice. I, too, think it is a huge mistake to make the phone ANY bigger than the previous model. It has to end somewhere for those who really do not want to carry around a phablet.

I think LG are being clever with the size here. They realise that the 5" market is rammed full of competitors aside from the s5 but the note series really has no mainstream competitor. If they can capture some of the enthusiasm from people who buy the note because it's the only big phone they know then they'll be happy. Posted via Android Central App

It isn't the only phone in that class though, and it is nowhere near the class of the Note series Posted via Android Central App

I am excited about this phone cuz I did not want the gs5 or the htc m8. I wanted more choices in the high end android market. Posted via Android Central App

+1, I've been holding on to my upgrade since February! Posted via Android Central App

And next year it will be 5.7 then 6 then 6.5 then 7" as a minimum for a flagship device. Seriously can't the upper limit for normal flagships be 5" and then make any phablet note style device anything above that. People have already accepted that if you want a large device you go for phablets so why are we now trying to make every flagship a phablet. Was the any need for the s5 to go to 5.1 from 5. Seriously was anyone with a 5" screen wishing it was 0.1" bigger. This constant making screens bigger and adding more resolution is getting annoying. Eff 2k, give me 1080p screen with better efficiency and give me great battery life than 2k screen with same battery life and if you can achieve great battery life with 2k screen then I would rather have awesome battery life with 1080p. Posted via Android Central App on nexus 7 (2nd gen)

I agree with you the madness must stop. I liked it when there were phones and phablets thinknig that we would see phone sizes stop growing...now there's just large phones and larger phones

Buy a G2! Sounds like your perfect phone! it's a steal now .... under $400.00.

This thing looks more powerful than my old laptop apart from the hard drive size
Android Central Newsletter
Get the best of Android Central in in your inbox, every day!
Thank you for signing up to Android Central. You will receive a verification email shortly.
There was a problem. Please refresh the page and try again.