LG G2 coming to AT&T September 13, $199 down with new agreement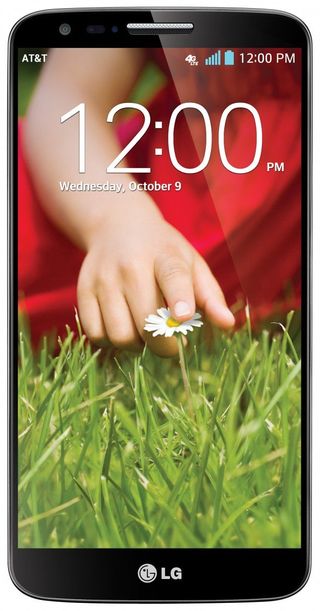 LG's G2 expected in stores September 13, pre-orders start September 6
After hearing that Verizon and T-Mobile had announced the dates and pricing for the G2, you just knew that we would be hearing from other carriers shortly. AT&T just sent out a press release with their pricing and sales dates, and once again they are smack dab in the middle of this month.
Pre-orders will start tomorrow, September 6, and devices should be in stores and out for deliver on September 13. For pricing, you're looking at $199 with a new two-year agreement or $27 a month if you go with AT&T Next — the company's special financing program.
For full details, or to just read that the G2 has a Snapdragon 800 once again (words that can never be seen too much), visit the link below to the press release.
Source; AT&T. Pre-order (opens in new tab); Press Release
Jerry is an amateur woodworker and struggling shade tree mechanic. There's nothing he can't take apart, but many things he can't reassemble. You'll find him writing and speaking his loud opinion on Android Central and occasionally on Twitter.
nice phone but i'll be getting the Nexus 5...............

hope it's 199 for 32gb version

Doubtful. $249 for the 32gig is more likely. One can hope though. :(

I haven't read a single article where 16 GB is mentioned. As far as I know this isn't being made with anything less than 32 GB. Posted via Android Central App using this POS borrowed Thunderbolt while waiting for the G2 because I walked into the ocean with my GNex in my pocket.

You're probably right the Optimus G came with 32gb, I dunno why they'd downgrade

I'd pre-order this in a heartbeat if I wasn't waiting to see on the Nexus 5 first. October can't come soon enough!

Well what the article failed to mention is that you can buy the phone online only starting tomorrow, NOT pre-order. If one wanted to walk out of the store with phone in hand the same day then they'd have to wait until next week.

Waiting for Nexus 5 ;) Posted via Android Central App

Still think I'm rolling with the Optimus G Pro for $60 bucks on Amazon. The specs aren't as good as the G2 but for a $150 price difference, it balances out. Plus the G pro is 32GB for that price. I'm assuming that this is only a 16GB version.

Don't be so sure that this is 16GB.

$60, for the G Pro, is a pretty sweet deal man. That's a LOT of handset, for the money. Posted from my phone, using your girlfriend's Internet, while you're at work.

Exactly why I bought one from Amazon a few weeks ago :-)

The LG gpro is 16GB with a 16GB sdcard pre installed if I remember correctly. You should double check. I had the phone and I am fairly certain that this was the case. Edit... Don't I feel like the horse's patuti, I was thinking of the lgog. My mistake. Posted via Android Central App

We get it folks "Nexus 5" is the end all be all this year. Something tells me though its not going to be the champion people make it out to be but, time will tell what's going to happen before I do. Posted via Droid RAZR M on the Android Central App

I think you're missing the point. The same exact thing happened last year. LG released the Optimus G, their flagship phone at the same time last year. And it became the basis for the Nexus 4 (they have the very same internals). It's looking like the same exact thing this year. So if you can essentially get a Nexus this year that has all the same internals of the G2 for $350 unlocked and no contract, that makes it a better option. It's not necessarily a better phone (not going to get into the stock Android vs. LG's skin), but it's going to be nearly identical for a possible $350 unlocked. That's a big fat win right there.

Am I the only one slightly wowed by the Note 3, G2, and Z1? I used to jump to a new device every 6 months but I'm starting to think incremental updates to hardware and software is making me a little less anxious. Call me crazy but my LG Optimus G Pro is going to keep me satisfied until 2014... Anyone else feel their current device is more than capable at the moment? Posted via Android Central App

My device (Samsung Galaxy S2 Skyrocket), which also has a custom ROM (CM10.1.3 RC2) has done well for me for the past near-2 years. But, I'm up for upgrading mine. Whatever I decide though, I want it to be a phone I can enjoy for the next two years, and not feel like I'm hampered by it due to hardware limitations, or have difficulty modifying it the way I want.

I like the Moto X, G2, Note 3 and Z1, but I won't upgrade or add a line to get one. I think after seeing the Nexus 4 or 5 (or whatever they are gonna call it) leak, I'm getting one of those sans contract. My Galaxy S3 still works like a champ.

We're starting to reach somewhat of a plateau, in the mobile industry, as far as hardware goes. Other than software optimization, most phones are very similar in specs and appearance. Phones that were released earlier this year are on par with handsets released in the later parts of this year. So, it doesn't really make too much sense (in my opinion) to upgrade every 6 months. Posted from my phone, using your girlfriend's Internet, while you're at work.

I really really want to love this phone but no micro sd card slot just kills it for me, 16Gb for everything on the device is just a major kill, I can live with a non removable battery but no memory expansion is a no go

What makes you so sure it's 16GB?

Yeah, I'm not sure, where people are seeing or hearing about a 16GB model. Posted from my phone, using your girlfriend's Internet, while you're at work.

The only place I saw it was on the specs sheet on gsmarena but that could and usually is, them rushing to get it up and making assumptions Posted via Android Central App

Yeah, true. I'll admit to using GSM Arena, every time a new handset is announced. They're usually the first website to have an idea of the specs. Posted from my phone, using your girlfriend's Internet, while you're at work.

I've yet to see anything that states this is only 16gb. I believe all models are 32gb.

i agree, it is plain stupid not to put sdcard on a phone!

It's 32gb internal storage, has nobody seen the lg presentation Posted via Android Central App

It's 32gb internal storage, has nobody seen the lg presentation Posted via Android Central App

i think it is the G2 phone for korean market has the 16 gb but with sd card slot. the international version i think is 32 gb because it has no card slot

waiting for the announcement of the LG Optimums G Pro 2. the galaxy note 3 is also calling my name but, i just checked out the OPPO 5 review on you-tube. that's a unlocked & (pre-Rooted) Beast. i hate being a phone tech junkie! SO Much excitement& to many choices...

OPPO 5 is last year's tech. Same specs as the Nexus 4.
Except you can hack the Nexus and use LTE

And also you'll be waiting till may 2014 for THE G Pro 2

forgot to mention the Nexus 5.
will somebody hurry up and deliver the perfect device so i can throw my money at you...

So the Nexus 5, based on the leaks, is simply the G2, but pure, right. John

Just a forewarning, all AT&T Android phones are going to have their bootloader locked. Which is silly.

I'm sure the guys at XDA will figure out a way around that

G2 for $199, Moto X for $199. Something is definitely not right with this picture. Posted via Android Central App

What the actual fuq?
What about sprint?

Yeah what he said, wtf is up with Sprint?! Posted via Android Central App
Android Central Newsletter
Get the best of Android Central in in your inbox, every day!
Thank you for signing up to Android Central. You will receive a verification email shortly.
There was a problem. Please refresh the page and try again.