LG Esteem gets official on MetroPCS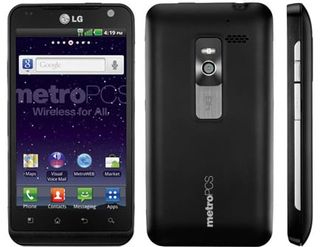 The LG Esteem -- a phone we first told you about last week -- has been officially announced for MetroPCS. Specs are pretty much as we told you:
4.3-inch display
Gorilla Glass
Android 2.3 Gingerbread
1GHz Snapdragon processor
512MB RAM
8GB on-board storage
5MP rear camera (capable of 720p video recording)
1.3MP front-facing camera
1500mAh battery
DLNA streaming
Metro PCS' CDMA/LTE network.
The LG Esteem will cost $249 after $100 mail-in rebate. No-contract data plans run $50 or $60, with the latter giving you access to unlimited music from Rhapsody or videos from MetroSTUDIO.
Source: MetroPCS; Also: LG Esteem product page
More in the LG Esteem forums
I'll tell ya, if you live in an area with good Metro PCS service, and don't travel to dead zones, then this is a mighty fine deal.

MetroPCS has always had very good rates and data plans. Their main drawbacks were crappy phones, holes in their coverage areas and service. This is probably the best phone on their lineup as of now, though. I assume this will be using the Metro PCS flavor of LTE? (as I understand it, it is LTE, but at 3G speeds)...

well I dont know there are some people experiencing speeds of 8mbps.

Nice. Makes for a competitive offering from MetroPCS. I had them a long time ago and experienced gaps in coverage around the Atlanta area. Pretty sad that they have LTE and Sprint still has spotty WiMax that I pay an extra $10 a month for but can't really use, due to the gaps in coverage.

Damn, and to think I actually paid $380 for a crappy Samsung Finesse a couple of years back....

LOL i paid $403 for that retarded samsung finess about a year and a half ago smh
Android Central Newsletter
Get the best of Android Central in in your inbox, every day!
Thank you for signing up to Android Central. You will receive a verification email shortly.
There was a problem. Please refresh the page and try again.