Lenovo Phab Plus hands-on: A big phone with a weird name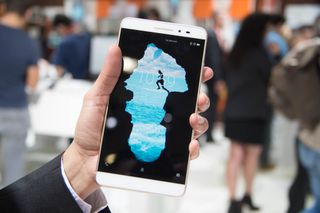 It also has — if we're honest — a terrible, terrible name. The Phab Plus. Part phone, part tablet is the message Lenovo is unabashedly selling with this one, claiming that the number of people actually making calls is dropping. The number of people two-handing their big-screen phones and getting stuff done is increasing.
And so here we are. We caught up with it at IFA 2015 this past week in Berlin.
While the name is pretty bad, the phone itself actually isn't. Once you get over its massive dimensions. Unlike some previous crossovers like the ASUS Fonepad, the Phab Plus is designed like a phone with a large screen, not a tablet with a phone built in. That means it's not so awkward when you actually do want to make a phone call. It's just big.
You get slim side bezels, a metal unibody, 6.8-inch full HD display and a Snapdragon 615 CPU inside with 2GB of RAM powering Android 5.0 Lollipop. The camera on the back is a 13MP shooter and there's a decent sized 3500mAh battery squeezed into it's slender frame.
Of note, also, is that Lenovo's software seems to be drastically improved on phones of old which much less in the way of heavy customization. Maybe it's the Motorola effect starting to shine through or maybe someone just saw the light. In any case, it's not overpowering and there's certainly signs of Lollipop underneath. Something that would have been unheard of even 12 months ago.
One software feature that is pretty handy to have on a phone this size is the one-handed mode. If you draw a "C" shape on the display you'll get a much smaller version that you can reach without having to two-hand it. What's also neat is that as you switch the phone between left and right hands the user interface automatically switches sides. There are also options to move it further up the screen or make it a little bigger.
It does look a fair bit like an iPhone 6 Plus from the back, but that kind of comparison is harder and harder to avoid if you're doing a large, metal phone such as this. It's not a high end flagship class smartphone, but it's very well priced. Coming in at the equivalent of $299 it's pretty good value for money.
Weird that you haven't mentioned screen size in an article about a phone that's main thing is it's size Posted via the Android Central App

Massive ;-) You're right, that bit slipped out. Now it is back.

6.8 inches is pretty massive In before "that's what she said" Posted via the Android Central App

That's awesome posting!! thanks to share this useful article.
<a href="http://androidappsfun.com/" rel="no follow">Android Apps</a>

6.8-inch Heck yes!! I'd rock this but I doubt I could rock it on Sprint :/

Nice price. So phab Posted via the AC app

I wish Nexus would make one that large.. Sent from my Nexus 6... Posted via the Android Central App

Huawei MediaPad X2 at 7" is the ultimate in Tablone technology. Of course if they completely eliminated bezels they could pack a 8" or even 8.5" screen into the same size body as this phone. When people ask how big is big enough? That is the answer.

P8MAX seems better than MediaPad X2 & Phab

How can you say that? Media pad had 7 inch screen and 5000 mAh battery and the same general specs add P8MAX.

Waste if no split screen support. Posted via the Android Central App

I would buy this on the spot. Sprint will never get it :(

Don't denigrate this phone. It is next year's Moto X;)

I'll admit, I laughed out loud at that.

So can I buy it unlocked and use it on cricket wireless in the U.S.? Posted via the Android Central App

Yes...on bands 2 and 4. Cricket most commonly uses band 17, (Phab does not utilize band 17) so your signal may be a bit "spottier" than others. Posted via the Android Central App

This is when I question the 7-8 inch tablet existence. Wow I used to think that the Galaxy Mega was big! Posted via the Android Central App

I thought the Dell Streak was huge xD

This is pretty much a Nexus 7-sized tablet with decent specs and a great price, especially considering LTE support generally adds $50-$100 to the price of a tablet (for no reason by the way since the LTE chip costs like $5 if that). I just checked Amazon: the 2 year old Nexus 7 with LTE is nearly $400 (you can get it for less elsewhere but you get the point). I would never use this as a phone (won't fit in my pockets even without the bezels ... and a case would make the thing even bigger) but if I were in the market for a small tablet, this would definitely be it.

I'd rather get a P8Max but that's me

Sure. But $299 vs $599 is not a fair comparison.

Shoot, I might replace my Nexus 7 with that. Will wait to see what nexus has in store this year first.

a fonblet ..zte nubia x6..huawei p8 max..letv le max ...

Wow, I didn't even know Lenovo made phones! (if you can still call this a phone) It looks really cool, but I have to agree it does have a terrible name.
Android Central Newsletter
Get the best of Android Central in in your inbox, every day!
Thank you for signing up to Android Central. You will receive a verification email shortly.
There was a problem. Please refresh the page and try again.