Lenovo A10 announced - Android on a laptop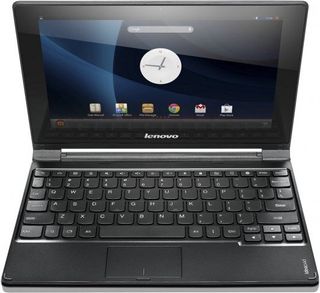 Android 4.2 paired with notebook-style software
Laptop maker Lenovo has announced its first Android-powered notebook, the Lenovo A10. With a 10-inch, 1366x768-resolution screen, a Rockchip 1.6GHz quad-core processor with 2GB of RAM, and runs Android 4.2 Jelly Bean. Battery life, the manufacturer says, clocks in at nine hours of continuous video playback.
So what makes it more than just a tablet with a keyboard? Well, Lenovo has loaded it with two software modes — in "laptop mode" it uses a custom Lenovo UI with a task bar for easy multitasking, and a file manager for managing documents and media. Flipped around in "stand mode," the A10 becomes a tablet-like entertainment device.
There's no information on pricing or availability for the A10 just yet; Lenovo says it'll vary by region.
Source: Lenovo (opens in new tab)
Lenovo Makes Android Accessible on Laptops with the Lenovo A10
RESEARCH TRIANGLE PARK, NC– October 18, 2013: Multimode computing leader Lenovo (HKSE: 992) (ADR: LNVGY) today announced the Lenovo A10, an affordable, ultra-portable, dual-mode laptop and the company's first to run on Android 4.2 OS. Weighing less than 1kg and measuring just 17.3mm at its thickest point, the Lenovo A10 is an ideal companion for users on the go, providing easy access to a wide range of apps on a unique, dual-mode platform, which enhances the user experience for entertainment and Web browsing as well as productivity.
"In laptop mode," users can take advantage of the A10's unique, Lenovo-customized user interface, which provides an app launcher, task bar and status bar for quick, intuitive access to the app library and desktop, as well as convenient multitasking and app switching. File manager software, also included with the Lenovo customized OS, makes it easy to locate and manage a library of documents, videos and music. In laptop mode, the device offers a full-size ergonomic, AccuType keyboard for safe, comfortable use.
With the A10's 10.1-inch HD (1366 x 768) resolution screen flipped around 300 degrees in "stand mode," the Lenovo A10 shines as a device optimized for touch-enabled apps and entertainment. The stable hinge and "fold-back" design keeps the device steady and prevents shaking and bouncing while using the 10-point multi-touch screen. Stereo speakers and an integrated 0.3M webcam help users stay connected with family and friends while enjoying an immersive "sight and sound" experience with multimedia apps, games and video.
The Lenovo A10 is powered by an RK3188, quad-core Cortex-A9 processor, running at a maximum frequency of 1.6GHz, the highest frequency for all quad-core ARM-based CPUs currently available. The Cortex-A9 processor delivers solid performance for gaming and entertainment purposes, as well as enhances users' ability to multitask and be productive. In addition, the A10's battery supports up to nine hours of continuous video playback, ensuring that it is ready to perform, both on the road and at the desk.
"With the recent explosive growth in Android-based, smart connected devices, customers are relying more on Android apps for both work and play. Why should they be required to switch and duplicate to use their laptop? Lenovo's A10 brings ultra-portability and dual-mode benefits to Android users at a reasonable price," said Bai Peng, vice president and general manager, notebook business unit, Lenovo Business Group. "Thin and light, with multiple modes and user-inspired innovations for an outstanding user experience … the A10 is uniquely Lenovo."
Pricing and availability varies per region. Please contact your local PR representative for details.
Alex was with Android Central for over a decade, producing written and video content for the site, and served as global Executive Editor from 2016 to 2022.
Maybe it's me, but I'd rather have a laptop that dual boots Android or Chrome, or Android or Windows, than an Android that has a manufacturer's UI in laptop mode.

I'd be interested to see how they accomplish it, but yeah...I'm not optimistic.

Agreed. Google themselves must be scratching their heads and wondering why Lenovo is choosing to go the Android route rather than doing a Chromebook like so many others. This has got to come in cheap to be a viable option at all over, say, the Asus Transformer series.

Why would you get a Chromebook, which does less, rather than an Android laptop? Chrome is a neat little OS, but it really doesn't do much. Hell, Google Earth doesn't even work on Chrome!

Agreed. Android is the world's most popular operating system. If the build quality is good, I can see this doing well. Posted via Android Central App

Personally, the Google Drive experience on Android doesn't compare to the full browser counterpart. I love my Chromebook BECAUSE of its limitations. It does a particular set of things REALLY well and that's it. As much as I would love to be able to use my Android apps on it, I'm kinda thankful I can't. Cuts down on the distractions when I'm trying to work.

A Chromebook does less? I'd have to say that's entirely subjective. I think they're selling very well on Amazon because, for most people, it's entirely adequate. I have to admit though that I don't own one. I have used an Android tablet and don't think that's adequate as a laptop.

I have the Transformer and I find it generally useless. ESPECIALLY when compared to a laptop. What it has going for it are battery life and mobility. That's it. It doesn't do anything particularly well, certainly not well enough to be an adequate laptop. What I do like is the ability to text using its hardware keyboard via Tapatalk but there are probably just as good desktop based programs to do the same thing. Overall I'm quite disappointed with my purchase.

Oh, they ARE entirely adequate. But that's just it: they do "just enough" and even though they do that really well, for some people it still feels like settling. I'm perfectly happy with my Chromebook because it suits all of my work needs and is even a joy to surf and explore on. But I get that it wouldn't be for everyone. Posted via Android Central App

You and maybe one other. But an android device is going to give you more battery life and more features than chrome or Windows. If the skin allows for multi Windows it's a winner. Posted via Android Central App

I agree but would prefer dual booting of Android and a full Linux distro.

The processor probably is an arm based one and couldn't run windows. Posted via Android Central App

I dont see the point in this at all,im sure someone will use it but i just dont get it to be honest

Yeah, but no.. If I'm carrying or buying a laptop, It's going to be a real laptop, not a toy.. It might be great for those who want something to play on the internet, type up simple things and check email, but other than that I see zero other use when it comes to actual real productivity uses...

Doesn't a Chromebook do exactly what you described?

You didn't comprehend his post. Read it again.

I've actually been wanting an Android laptop, but OEMs keep shortchanging them on specs. Of course, they then complain when they don't sell. Look at the CPU on this one: 1.6Ghz Rockchip "the fastest quad-core ARM-based processor available"? I guess that they haven't heard of the Snapdragon 800! Give me one with at least a SD600, 3GB of RAM, expandable storage, and a full HD screen and I am sold. Posted via Android Central App

I didn't know you could run android on windows. Is it possible then to install android on Pioneer avic car stereo then?

this doesn't run windows, only android

This does sounds like a weird clientele to aim for. Now if this dual booted android/chrome, Id buy it. But only android... it just makes it a heavy tablet with a keyboard attached. Atleast its touch screen..... I guess

I can see more manufacturers doing the same. Not saying this one will be popular, but someone will nail it. 8 out of 10 people just want to play games and watch video anyways.

An Asus Transformer T101 or T701 can be used as a laptop with the attachitble keyboard, an Android laptop just doesn't seem practical right now but Android has the potential to be a desktop/notebook OS one day- moreso than Chrome OS. I have an Android HTPC and I practically never use it because it's a pain in the ass to use even with a mouse/keyboard and Netflix through the TV isn't that great.

That may be the HTPC you have, more than Android. I used the lapdock with my Droid Bionic for years and only had trouble with the touch controls being missing from the games. Netflix on the 720p display was MUCh better than the qHD phone screen.

I have one. It's a keyboarded tablet. It's far from a laptop.

In my honest opinion, Android, in its current iteration, is not yet viable as a desktop OS. With that said, I think it would be cool, if Google took a page out of Canonical's book and combined Android and Chrome OS. If Chrome OS was updated to support Android apps, then you could either: 1) have an Android handset that connects to a display and becomes Chrome OS, in a similar fashion to the Ubuntu Edge; 2) have a standalone Android laptop. Just an opinion. Posted via Android Central App

Agreed. It needs to support actual programs...not just apps. For starters.

That's awesome. I like my school issued chromebook bit hate the limitations. Android IMO is honestly better than chrome os and I have experienced it for over 2 years. A windows and android mutation would be awesome Posted via Android Central App

I wonder how much storage it has, couldn't see it mentioned. Posted via Android Central App on my Motorola XT890 RAZR i

Decent idea, I guess...but why not just get something in the Transformer line? Posted via Android Central App

Lenovo also makes hybrid devices like the Asus transformers. That's the confusing part Posted via Android Central App

It seems like a touch laptop that runs android x86 Posted via Android Central App

How much does it cost Posted via Android Central App

It has a touchscreen, which all affordable chromebooks lack. Also if the laptop skin is done well it could be a winner for me. I do think it's a niche product. I'm interested in how it does when it's reviewed. Posted via Android Central App

Awe Posted via Android Central App

If this had come out a year ago, I wouldn't be using a Chrome OS machine now. I'm definitely interested in the device as Android has some good productivity tools but if it is priced in the same range as 10" tablets, it will cost more than I want to pay. It also needs to support desktop user agents out of the box without root. Looking at you Chrome. I love Lenovo products though so this has the possibility of being great. Posted via Android Central App

Cannot wait to see how this device is going to be received by the user community and competitors out there. Personally, I can easily see my desktop needs fit into this device, which will most certainly replace my current Nexus 7 device! Heard from Lenovo sales rep - with usual vendor disclaimers - that the A10 device is expected to hit Europe around Feb 2014. So expected A10 worldwide roll-out being: China, then rest of Asia, then North America/US and then Europe. Unfortunately no info as to availability in South America and Africa. What I like about this device is: Android, Lenovo manufacturer/build quality and brand support, weight, battery and - of course - a physical keyboard. The Rockship RK3188, quad-core Cortex-A9 processor also looks ok, from what I've gathered of the net. Cons: I'm uncertain as to Android apps performing in "Portrait"-mode only (how's that handled, if handled?), and screen resolution of 1024x768 is a bit dissapointing. I had hoped for 1280x800 (like my Nexus) for a more natural HDTV (720p) rendering/support.
Android Central Newsletter
Get the best of Android Central in in your inbox, every day!
Thank you for signing up to Android Central. You will receive a verification email shortly.
There was a problem. Please refresh the page and try again.