Legality of using Google Glass while driving still murky, even after woman avoids ticket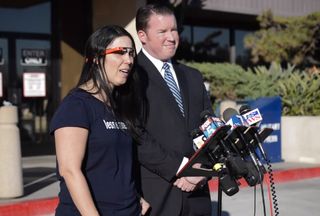 Getting out of a ticket on a technicality doesn't do much to solve the larger legislative issues
Cecilia Abadie, the 44-year-old California woman who gained a bit of notoriety after she received a traffic ticket last year for wearing Google Glass as she was stopped for speeding, has had her day in court. And in the end she avoided a ticket (that presumably would have cost far less than the $1,500 glasses on her face) because while even though Glass falls under that particular California statue (as we predicted), the police would have had to prove that Glass was actually "turned on," according to the L.A. Times. It's not clear whether than means that the display is on, or the device is powered on but in standby, or what. It wasn't proven — even if it violated the law — so no ticket.
And for what it's worth, Abadie also avoided the citation for speeding, due to a lack of evidence. That's hardly uncommon in traffic court.
But as the lawyer representing Abadie said in a news conference, none of this addresses the real issue.
Abadie herself recorded the news conference (through Glass, of course). Phandroid was there as well and shot things from the more traditional angle. And right off the bat, Abadie's lawyer spells it out. There's a difference between getting out of a traffic ticket on a technicality, and the larger issue of using face-mounted wearables in vehicles. And the latter wasn't settled here.
Again, the traffic judge did rule that Glass was in violation of the statute that governs displays visible to drivers. The problem, Abadie's lawyer reminds us, is that Glass doesn't quite fit into that statute, and it certainly wasn't written with Glass in mind.
That's the rub. From Abadie's lawyer:
Google, for its part, addresses all this from the first moment you take Glass out of the box (as well as on its website), referring Explorers (that's those of us with Glass) to the laws of each particular state and reminding us that tech nor no tech, be careful out there.
We're still in the infancy of all this. We're still exploring. Use Glass behind the wheel if you want. Or don't. We've got plenty of opinions on both sides. But follow the law of the land you live in, or be prepared to explain why you didn't. And until the legislation catches up with the technology — and you can guess which one of those things moves quicker — expect more clashes to occur.
Get the Android Central Newsletter
Instant access to breaking news, the hottest reviews, great deals and helpful tips.