Leaked photo allegedly shows off Nokia's first smartphone since the Microsoft deal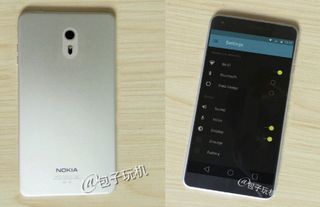 Nokia is looking to get its brand back into the smartphone race. A new image has been leaked, which claims to showcase a licensed handset – the Nokia C1 – running Android. Since we're closely approaching the end of 2015 (when the ban from using Nokia on new phones lifts), it's certainly plausible we could well be looking at what's set to arrive in 2016.
So how is this all going to work for Nokia? Think the N1 tablet, but using smartphones instead. Nokia itself won't be manufacturing the handsets, but will play a major role in designing and licensing out to third-party partners. It's believed the Nokia handset in the leaked photo will run Android Marshmallow and will be powered by an Intel Atom processor.
It'll certainly be interesting to see what Nokia comes up with once Microsoft's bar is lifted at the end of this year.
Source: CNMO, via: The Verge
Delete this article, it's a fake. The Verge updated their article to reflect that. "a fanboy, DAT that sh...I don't like"

The Verge, ha ha ha! Posted via the Android Central App

Are you sure??.. I thought it was real

Really fake Posted via the Android Central App

Shame as it looks really good. Posted via Android Central App

Agreed Posted via the Android Central App

Looks as boring as any other phone in this last year. I miss the days when every phone looked quite different... Posted via the Android Central App

As in? Posted via the Android Central App

Flip phones all looked different.

They did? Posted via the Android Central App

There's only so many tweaks you can make to a thin rectangle that will satisfy the vast majority;after you get past the aesthetics please look under the hood for the more important aspects of a cellphone Maybe someone should make a round,triangular or hourglass shape to please those looking for a different look? A lot of choice are what we get by going with Android;you don't get that from another company

Here I go again: This is fake. It's a fan-made render once again.
Yes, Nokia will return to phones. Yes they will run Android. No, they will not be called C1. And no, this isn't it. Nokia's only planned the release for the second half of 2016. It's therefore too soon even for prototyping. Besides, this is just a shrunken version of the N1. Do you REALLY think Nokia would design a phone so tasteless? They don't intend to return just to create a bland phone. They want the phones to be a success and make money both for them and for their OEM partner. Besides, this doesn't even have a camera button. And you know what? Nokia phones come with one. Because Nokia will for sure be levering their superior camera tech in it as a selling point. So obviously whatever phone Nokia creates will have a larger focus on the camera department than this has. Also, Nokia would not put the power button on top of the phone. They understand ergonomics of phones these days and they know that's a stupid place to have any button. It worked with phones the size of the 3310 and when the power button only served to turn on or off. So move on, nothing to see here ;) (on a side note, if there's something I hope happens from this fake is that Nokia skins Android to add it a proper Dark Theme like the one on this fake and on the OnePlus 2)

That camera tech has moved on along with the hardware designers who designed the camera/power button placements. Nothing from the history of Nokia devices is relevant to whatever they do next as anyone who was a good hardware desginer still works for Microsoft

No, it has NOT. It would be about time you put that through your thick head: Nokia kept ALL the tech. ALL the patents. ALL the R&D.
Microsoft does NOT own any of that, they're licensing it from Nokia. It's about time people stop being so dumb and start accepting facts since, apparently, reading the actual deal didn't help them. Nokia sold their MANUFACTURING, their RETAIL STRUCTURE, and the SERVICES connected with manufacturing and distribution. But they kept all the R&D teams as well as all their mobile patents, imaging engineers etc (who do you think created the Nokia OZO? Here's a hit: the Nokia imaging R&D teams).

And ya nokia bought a house for this guy;) Posted via the Android Central App

I don't think that would be any concern of yours ;) No they didn't buy me a house but I'm a Nokia shareholder. The better Nokia does, the more I profit (not that I care really. I bought Nokia shares for "sentimental" reasons, not as an investment, really)

Dude, bro I like Nokia too, but there's no need to attack anyone. Im dying to get my hands on a great nokia camera too, but you're fanboy flame is burning a little to harsh right now. We're all in the same boat buddy. :) I could also care less if I had a dedicated camera button. Both physical and onscreen buttons generate camera shake. Just give me a slight delay on either (just long enough) and im good either way.

@djcbs dudeeeeee.....stop mixing facts with your dreams. everything is SOLD to microsoft. microsoft is not licensing shit! do you hear me?! and yep, that camera tech is sold. along with pureview tech and so on. EVERYTHING! BUT, it doesnt mean they dont have some clause or something so they could use them. stop hating microsoft, accept that if you want an old nokia you must think if you will to tolerate a phone running windows. period. upcoming nokia handsets will not have anything by nokia except the name and design. build quality, camera and so on will be provided by the anonimous partner (probably a cheap asian oem).

They bought Nokia device and services. They bought the Lumia name. They licensed the Nokia name for dumb phones, as well as there patents and mapping services. They did not buy the patent, they bought 4 of Nokia TRADEMARK names including PureView and Clear Black, Asha, and Surge. Nokia will no longer make their OWN phone but will license their name to allow companies like Foxconn to manufacture the phone. They still own their patents Please get your facts in order. And just in case you doubt: Microsoft didn't acquire Nokia's entire patent portfolio, either. It bought the design patents outright but will license Nokia's 30,000 utility patents patents for 10 years. By not acquiring the entirety of Nokia's patents, Microsoft was able to keep the acquisition cost of the Devices and Services down while preserving future assets for Nokia. Posted via the Android Central App

Here you go again?
I said it was a fake 2 hours before you did. "a fanboy, DAT that sh...I don't like"

It wasn't so much about it being fake but about explaining why it's fake. Not to mention the idiots that keep saying "Nokia sold everything to Microsoft" bla bla bla

They explained why it was fake in the source. What sad about this was this article was written well after the discovered that this was a fan render . "a fanboy, DAT that sh...I don't like"

Dark themes, yes!
No dark theme? App uninstalled. Posted via the Android Central App

I am skeptical simply because the phone is branded as Nokia and not Microsoft.

You're right and many people forget Microsoft still is the No 4 manufacturer behind Xiaomi, Samsung and Apple, and that's because Microsoft also acquired the feature phone business which nobody talks about, but Nokia feature phones are still selling very well, they give less profits than smartphones since they are cheaper, but many people still use them, me being one of them.

Looks like a 'shopped version of my Lumia 640, especially from the front.

If we get a look at Nokia's Android tablet, we'll know software will be shitty! Nuff said. Posted.

Nokia N1 is only sold in China, that's why I think Nokia isn't interested in consumer hardware anyomore. Nokia Phones and Lumia patents belong to Microsoft and tablets are not very popular in 2015, in fact tablet shipments are decreasing compared to 2014.

A reseller tried to sell the Nokia N1 in the UK but was blocked by Nokia from doing so. Strange, as it would have meant more money in Nokia's pockets and some positive press coverage. Who knows what that company is up to right now.

Not cyanogen, Not cyanogen, Not cyanogen, Not cyanogen.. Posted via the Android Central App

What about Cyanogen? Posted via the Android Central App

Nokia needs to eat into Samsung's market share when they return and thus it would be stupid to put the back key on the wrong side, therefore horrid fake.

I'm glad it's a fake. We don't need no more stinkin' flat slabs! ;) Posted via the Android Central App

I thought that I saw somewhere that this phone was a fake before we saw actual pictures of it. What's up with the hamburger icon on the top left corner of the settings menu. Also why is there a slider for display and voice? Posted via the Android Central App

Looks fake. Those onscreen buttons are too big. They look too similar to the size of it on LG phones. Here lies the "2016 Flagship Killer". It got slayed by 2015 flagships like the LG G4 being used to post this.

Sorry but nokoa wouldn't come out with something so Crap looking like that Posted via the Android Central App

Fake menus, fake bezels. Fake... Posted via the Android Central App

Check out the iDROID USA's smartphones, they are unlocked and can be used by the carrier of your choice. They are compatible with AT&T, T-Mobile etc. I am personally using the Tango 2 which has a front flash to have a grand selfie experience even in the pitch dark. Go here to browse through this phone: http://www.idroidusa.com/english/tango-2-white.html

Hey please help I've been trying to get this phone and been standing outside cellular station banging on door to get it he says day he no have any?
Android Central Newsletter
Get the best of Android Central in in your inbox, every day!
Thank you for signing up to Android Central. You will receive a verification email shortly.
There was a problem. Please refresh the page and try again.