Latest OnePlus Z leak claims the phone will feature a Snapdragon 765 chipset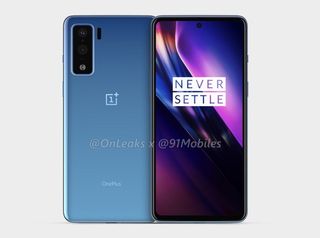 (Image credit: @OnLeaks)
What you need to know
A new leak claims the OnePlus Z will be powered by Qualcomm's Snapdragon 765 chipset.
It was previously tipped to be feature MediaTek's Dimensity 1000 chipset.
OnePlus Z is expected to make its global debut in July.
In March this year, a leak had suggested that the OnePlus Z would be powered by a MediaTek Dimensity 1000 5G chipset. A new leak has now surfaced, which claims the phone will feature Qualcomm's 7nm Snapdragon 765 chipset instead. The latest information comes from popular leaker Max J.
Since the Snapdragon 765 and 765G are among the most powerful and efficient mid-range mobile processors on the market right now, the info is certainly not surprising. The leaker says it may be possible that OnePlus had initially planned to use the MediaTek Dimensity 1000 chipset but changed its mind later.
MediaTek's Dimensity 1000 chipset is built using a similar 7nm process as Qualcomm's Snapdragon 765 and uses more powerful ARM Cortex-A77 high-performance cores. However, it lacks mmWave 5G support, which may have influenced OnePlus' decision to go with the Snapdragon chipset.
The mid-range OnePlus Z is rumored to feature a 6.4-inch AMOLED display with Full HD+ resolution and a 90Hz refresh rate. As revealed by CAD-based renders of the phone a few months back, it will have a centered hole-punch cutout and a triple-camera array on the back with a 48MP main sensor. The upcoming mid-range OnePlus phone is also said to pack a 4,000mAh battery with 30W fast charging.
While the OnePlus Z was earlier tipped to debut alongside the OnePlus 8 and 8 Pro in April, the phone is now expected to debut in July. Its launch was apparently delayed due to COVID-19.
Get the Android Central Newsletter
Instant access to breaking news, the hottest reviews, great deals and helpful tips.
Smart choice. That Mediatek soc doesn't inspire confidence or sounds good 😂 We will wait and see.

Hi Thanks for the useful information, I am really excited to get more information like this. I would love to bookmark your site for future reference. Needs some more information on Latest Android. If possible please share some more updates on this.
https://www.digitalgadgetplatform.com Rashi Gupta

MediaTeK SOCs perform "fine" for midrange devices. There were some pretty good MediaTek Chromebooks back in the day; I wonder why more weren't made, especially if they were going to use the lousy Intel chips that actually perform worse instead. Linux perhaps? But plenty of Linux distros - including Rasbpian - run on ARM so that can't be it. Anyway, the main issue with MediaTek is they don't publish their microcode, meaning that they generally aren't going to get updates, or more than 1 update if they do.

Being on T-Mobile is a major deal for OnePlus - and a bigger one due to the Sprint merger - so that means that 5G that doesn't support mmWave is a no-no. I wonder if they are going to keep the price the same and eat profit in return for market share or raise the price about $50-$75 to recoup having to use a more expensive chip + Qualcomm's licensing fees. However, as stated below, at least this device is far more likely to receive updates using Qualcomm SOCs than MediaTek ones.

This makes the OP Z a much more attractive option. Unfortunately unless it gets absolutely amazing battery life, or 5G becomes available where I live/work, I have no reason to trade in my OP 7 Pro any time soon.

What's wrong with your OP 7 Pro that would even make you consider switching?

Heh, 1+ knows that sales would go down considerably if they chose MediaTek Dimensity 1000. Good decision.

I don't know why, the mediatek processor runs circles around the 765. I think we in the west would do well to give mediatek devices a chance. It would disrupt the monopoly Qualcomm has on Android and lower prices and drive innovation.

If this is true, I think it also may have a lot to do with MediaTek and their Benchmark cheating. The last thing you want on a new phone is to have every benchmark called into question (and it also may not perform as well as OnePlus was led to believe.) No mmwave 5G is of course a huge issue for a mid-ranger you hope to sell on as many carriers as possible.

Except for the Verizon model, the 8 series lacks mmwave support. So what makes you think they'd choose the 765g for mmwave support. They aren't going to put mmwave in their mid-range product when the flagship doesn't have it. The only slim chance they'd do that is if the Z was also coming to Verizon, but I somewhat doubt that.

OnePlus need to do better with now the SE with the A13 bionic chip exists a mid range Snapdragon ain't gonna cut it anymore, if the is the best OnePlus can come up with, then Apple will murder the Android mid range market. With 5 of software support a d a superior app experience and quality, o Android OEM will get near Apple unless they offer what the SE is offering.