Here's why the mid-range OnePlus Z didn't debut alongside the OnePlus 8 series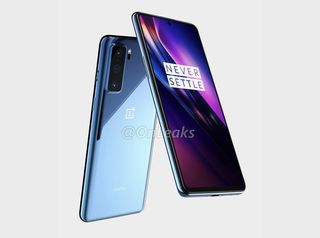 (Image credit: @OnLeaks )
What you need to know
According to a new rumor, the mid-range OnePlus Z is still on its way.
Its has apparently been postponed due to the coronavirus crisis and is now expected to debut this summer.
The phone is rumored to feature a MediaTek Dimensity 1000 chipset and a flat AMOLED display.
The rumored mid-range OnePlus smartphone was a no-show at the company's OnePlus 8 series launch event earlier this week. According to reliable tipster @OnLeaks, however, the phone is still on its way, but has been delayed due to the COVID-19 crisis.
According to my sources, that model was initially planned to be unveiled along with the #OnePlus8 series during yesterday's event but has been postponed (at least to upcoming summer) due to #CoronaVirus situation...According to my sources, that model was initially planned to be unveiled along with the #OnePlus8 series during yesterday's event but has been postponed (at least to upcoming summer) due to #CoronaVirus situation...— Steve H.McFly (@OnLeaks) April 16, 2020April 16, 2020
The tipster says the mid-range phone, expected to be called the OnePlus Z, will be launched sometime this summer. This is actually not the first time that the phone has been tipped to launch this summer. Leaker Ishan Agarwal had claimed last month that the OnePlus Z will launch in most markets by July. Agarwal had also suggested that the phone could be priced at around £400 in the U.K.
Since the OnePlus 8 Pro is now nearly as expensive as other flagship Android phones, the OnePlus Z could prove to be a great option for OnePlus fans who want features like 5G connectivity and a high refresh rate display at a relatively affordable price point. Rumors suggest the phone will arrive with a 90Hz AMOLED display, just like the standard OnePlus 8.
Under the hood, however, the mid-ranger is expected to be powered by a less powerful MediaTek Dimensity 1000 chipset. It is also tipped to feature a triple-camera setup with a 48MP primary sensor, 8GB of RAM, up to 256GB storage, an in-display fingerprint sensor, and a 4000mAh battery with 30W fast charging.
Eh more like they delayed it because of the iphone SE and knew they would get slaughtered in sales.

I agree, the iPhone SE 2 has disrupted the mid range segment and has Android OEMs running scared.

Lmao you guys are delusional.

They definitely are, the SE 2 is an ancient design with a tiny 4.7inch screen, they can recycle newer chips and cameras all they want but it still looks like an iPhone 6. Grannies and children will get it and that's about it. Alot of the appeal of iPhones is because people consider it a status symbol, the SE is definitely not one

Missed opportunity. Could be competing now with the iPhone SE and in a few weeks the Pixel 4a.

The Pixel 4a yes, the iPhone se no. Besides the chip which most of the public doesn't care about the Z will blow it out if the water.

Been noticing a weird Apple craze lately on here..... Everyone is entitled to like what they like but somewhat surprised by the Apple disruption of the SE. Android midrangers will do just fine.

Me too. Leave it to Apple fans to gush over a phone released in 2017 with a massive 4.7 inch screen.

I'm not an iPhone user, but any phone that can get a flagship camera and processor into a $400 phone is gonna get a thumbs up from me. On top of that: wireless charging, water resistance, and extensive case support, and 5 years of software updates. I think the sales are going to show that people don't care about bezels as much as the tech sites want to believe, not to mention the size, I know people still using iPhone SE's because they like the size.

You blame the tech sites for the anti bezel craze, yet Apple ditched bezels on every one of their models before anyone else and I doubt Apple's hand is forced by tech blogs.

I heard that the iPhone SE will cure Coronavirus.

More like they wouldn't sell as many 8 and 8 pros cause there priced too high like everyone else I'll buy the pixel 4a when it comes out. It's funny we all want the highest end. But none of us need those CPUs anyways..

Yea the 4A is going to make OP irrelevant, the 3A camera ready already slaughtered anything OP has put out... Just for fun I want to see the 3a's camera vs the 8Pro, id laugh if OP still hasn't caught up

Should have used a Snapdragon 765 processor
Android Central Newsletter
Get the best of Android Central in in your inbox, every day!
Thank you for signing up to Android Central. You will receive a verification email shortly.
There was a problem. Please refresh the page and try again.