Latest Huawei P9 update finally stops messing with your app icons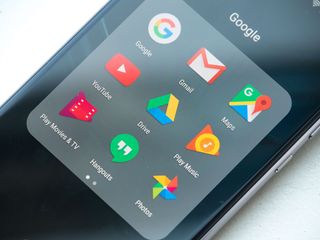 After years of being broken, ugly or both, Huawei's EMUI software is finally starting to get better. We saw some big improvements in EMUI 4.1 on the Huawei P9 this year, with major UI bugbears and longstanding glitches finally addressed. And now a fresh P9 update eliminates one huge pet hate of ours: Huawei's meddling in your app icons.
As we've explained before, back when custom themes were needed to sidestep this nonsense:
Except not anymore. With the latest update to build 166, the Huawei P9 has singularly stopped messing with your icons. Graphics for preloaded Google apps appear just like on any other phone. And with just a handful of exceptions, the same applies to the overwhelming majority of third-party apps too. The change applies to all built-in themes, and the end result looks so much better. Not just more visually consistent with the rest of Android — objectively better.
EMUI is starting to grow up, and that's one of a few reasons to start paying serious attention to Huawei.
Alex was with Android Central for over a decade, producing written and video content for the site, and served as global Executive Editor from 2016 to 2022.
I think they listened to my plea after I specifically stressed on that via an email to them. Good job. Posted via Huawei G8 on Marshmallow 6.0.1

Squircles... I think I just threw up in my mouth, a little. Posted via the Android Central App

There's some **** too. Posted via the Android Central App
for LG G3

Cm 13 yet? Posted via the Android Central App

Are notifications still broken, or did they already fix that?

Fixed already. The only one I managed to find that was black on grey was a Chromecast one. All others are white text. Posted via the Android Central App

Cool, but I was more referring to notifications for certain apps (I think Gmail was one?) not coming in

That was never an issue for me. It might be due to those apps not being Protected apps which means they are shut down if the screen is off. And that was the default behavior which was not a good move by Huawei.
In later builds, they made the most popular apps like Gmail, WhatsApp etc. as Protected apps by default, which was good but still not good enough.

The next version of EMUI will finally finally ditch the stupid translucent background for a standard card design if the leaks are to be believed.

I would definitely be interested in a Huawei phone if that happens. That and the can't-expand-lockscreen-notifications were the only things that bothered me about EMUI.

Can't wait to get this update.... The squircles are killing me. Posted via the Android Central App

Well, I've got OTA more than two weeks ago. Old news. But I hope you'll receive it soon too. Posted via the Android Central App

I've got the 166 update, can't find these icons tho, are they in the themes application? Posted via the Android Central App

I had the update, got new icons but still in boxes. I just re applied a theme and it sorted them out. Posted via the Android Central App

I have same update on my Huawei P8

Same update on my Huawei P8

Received an update on the h5X.
Shows no changelog.

Google Now Launcher fixes everything.
Posted from my Mate8 with 4.0

Hmmmm...I just don't get the EMUI hate. I've gone from HTC Sense to EMUI and honestly I can't remember what using Sense was like or if it was really that different. And the squarcles.....I hadn't noticed !
Android Central Newsletter
Get the best of Android Central in in your inbox, every day!
Thank you for signing up to Android Central. You will receive a verification email shortly.
There was a problem. Please refresh the page and try again.