Josh's most-used apps of 2011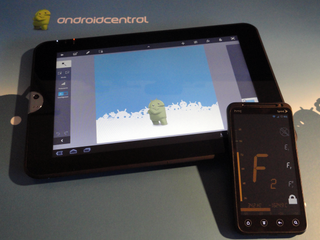 Being the "apps guy" is an interesting position. It means I get tasked to play with apps all day long, each and every day. It feels a lot like being an adventurer, wandering through a dense (really dense) forest, where danger and suspense lurk around every corner.
As such (and because I'm more the average Joe user than you might think), my list is a combination of my most-used apps and some apps that are so great, they still deserve recognition (despite not being on the daily list).
With that said, here's some of my favorite and useful apps from the past year.
1. Android Pro Widgets
Back in the days of underpowered hardware and stuttering home screens, I was a huge fan of LauncherPro. It was fast, clean, and if you upgraded, you unlocked some excellent, Sense-like widgets. Then development stopped and it turned into a heaping pile of force closes.
Android Pro Widgets gave me what I was really after (clean, Sense-like people and agenda widgets) without forcing me into a particular launcher. Since then I've been running the devastating combo of ADW EX and Android Pro Widgets, and the rest is history.
2. Google+
The horror! A free, Google app on a writer's most-used list? The shame! I can feel it, heads are shaking everywhere.
Regardless, Google's not-so-fledgling social network has really taken off in a short six months, with updates mirroring the early Android update schedule. (See: fast and often.) The community is (generally) great, and if it hadn't been for Google+, I wouldn't have been able to connect with so many of you fine folks.
If you've missed me or are just finally convinced to share some Google+ love, you can find me here.
3. DaTuner Pro
Funny thing about being a music major, you have to play music. For me, nearing the end of my degree, that meant my senior recital. Practicing for my senior recital dominated many months of practice, and one of the apps that was with me the whole time was DaTuner Pro.
DaTuner Pro is an excellent mobile tuner, and because it's a strobe tuner (instead of these old-school-meets-cell-phone needle tuners) it's easy to read and deadly accurate.
4. Mobile Metronome Pro
My other most important app for practicing was Mobile Metronome Pro. It's simple, no frills, and keeps time. For anyone who has ever played an instrument, you know what a big deal timing is.
You can set a number of time signatures, subdivisions, and turn the main beat accent on or off. There's also a few different sound effects for your metronome's beep, just in case you've got to have a wooden clave sound. Niche? Maybe, but it gets the job done.
5. Loquendo TTS/Google Navigation
Back when I took a look at SVOX Text-to-Speech, some people cried foul, claiming Loquendo TTS was the superior option in the Market. Being the open-minded, benevolent person I am, I installed it, and let me say this: You guys were right.
Loquendo TTS is probably the best sounding text-to-speech engine I've used on Android, putting it close to (if not on par) Apple's Siri.
Why Google Navigation? Two reasons: It really shows off how comprehensive and complete Loquendo is, and I'm just not the hottest with directions. (But mostly the former.)
6. Browsix
I hate wires. They're evil, fickle mistresses, always getting in the way of me and something I want to do. Sometimes they don't fit, sometimes they're loose and the slightest wiggle "unplugs" it, or sometimes you just can't find one. That's bush league.
Browsix gets around the cable issue by letting you punch in an IP address on your web browser that takes you to a page with all of your SD card contents on it (as long as everything is on the same network). From here you can delete files, move things onto the SD, and even create new folders.
And you can do it without those pesky cables getting in the way.
7. BaconReader for Reddit
I didn't used to be a big Reddit guy, at least while I was out and about. Then OneLouder released BaconReader, and everything changed.
Clean, slick, and fast all come to mind when using BaconReader, but most of all, it's functional.
Comments are color coded, images and outside links can open within the app, so there's no bouncing between your browser and BaconReader, and you can do everything from uploading something to changing your subscribed subreddits all from the settings.
8. Endomondo Sports Tracker PRO
I like staying in shape, I really do. Inevitably, the hours behind a computer coupled with chilly temperatures and delicious (but fattening) meals around this time of year means I become more of a soft body, something I'm trying to avoid.
One of my few true motivations to stay active is tracking it, and that's where Endomondo Sports Tracker PRO comes into the picture. With more sports than I could ever dream of participating in, a solid web portal, GPS tracking and Bluetooth heart rate monitor support, Endomondo is my one-stop shop for everything exercise.
9. Adobe Photoshop Touch
The strongest of the premium Adobe apps in the Market, Adobe Photoshop Touch brings a good deal of functionality to your tablet, to the point where you can actually get something done.
The layout is incredibly well done and all the tools you're familiar with (magic wand, anyone?) are right there, ready for the choosing. There's also a series of tutorials built right in so you can familiarize yourself with how the app works, which helps bridge the gap from computer to tablet nicely.
The only downsides are the price and not being able to export a file (right now), but I expect the latter to be resolved next year.
10. Plex for Google TV
I was fortunate enough to be gifted one of those immensely disappointing Logitech Revues this past Christmas (I love it!), and one of the first apps I installed on it was Plex for Google TV.
For those of you not familiar with Plex, you set up a media server on one of your computers, upload photos and videos to it, and then you can tap into that media remotely.
Plex for Google TV absolutely rocks it because there's nothing to actually set up. Once you've got the server running on your machine, simply fire up the Plex for Google TV app, let it search your network, and it'll automatically connect to your media server.
From there, you're free to stream whatever you've got. No fuss, no nonsense. It's awesome.
So that's that, then. It's a bit of a grab bag, but I try to keep it fresh, so hopefully I did. There's a number of Google apps that didn't make the list (I'm looking at you, Gmail), but those are gimmes, and I wanted to show y'all a better look at what it is I'm doing with my phone.
What about you guys? Agree, disagree? And what're you hoping to see come 2012? Sound off and let us know. We're curious.
Merry New Year! Nice selection -Baconreader I have fallen in love with as well. Reddit is Fun was almost there, but this is great.
If PRO widgets (or LP+ for that matter) had Gmail I'd be in like Flynn.

Happy New Year to you too! LP+ used to have Gmail support, but ever since Google changed the APIs used to tap in, no one has been able to get a third party widget to work, as far as I know.

Love bacon reader , Google reader, appy geeks and taptu!

I'm just sad that Impel didn't make it into your year-end list. Are you not using it any longer?

It's been a long year, I've used a lot of apps, and I got to pick 10.

It's actually refreshing to see one of these lists where I don't have every single app noted. Other than Google+, I hadn't heard of most of these.

In #8, what case is that for your Evo 3D?

Wow. I never thought to use my phone as a tuner. Awesome.

i cant get plex server to run for anything on win 7. I'm sure it's somehow user error related

Make sure it's running full admin. To be honest, the plex app for android is a joke (in terms of performance) to the iOS versions. My iPad 1 starts streams faster, at higher bit rates than my a100, running 3.2

I got a good laugh reading that you love your immensely disappointing Logitech Revue. I share your affection for it, in spite of all of the update delays we endured this year, in fact I just bought a second, refurbished one for the bedroom. I was quite frustrated with Plex at first, until I realized that it was doing background cataloging transparently for a couple of days before it had completely synced my large video and picture libraries so that they would all display properly. I would prefer that it would provide some kind of interim status indication during the initial cataloging phase, but in general it's working well for me.

I got one of our kids the Logitech Revue, thinking it would be a good way for the kids not to fight over the laptop. Now I want one. That is a cool piece of hardware. I think Google should partner with more TV manufacturers and just have them built into TVs instead of standalone units.

Browsix? I take it you've never tried AirDroid? Lets you interact with storage (upload/download/move/rename/delete/etc), manage apps and ringtones, send/receive SMS, manage contacts, all kinds of cool stuff.

No, I haven't, but I can do SMS through Google Voice, all the files on the SD from Browsix, and contacts through Google. Does what I need, really.

THANK YOUUUUUUU! AirDroid is amazing!!! And it's FREE!

AirDroid is sick! For being beta, its very usable. Thanks a lot for mentioning it, its perfect for those of us who are at a computer all day. I can tell this one will be with me for a looong time.

Are you actually using a Toshiba Thrive?

Oh yeah. I reviewed it back in August, and if you've seen any of my recent app reviews, you'd have noticed I'm doing my gameplay on one.

What app or theme are you using thats displayed on the main picture? (the orange analog F2 on the HTC Evo)

That's actually not a theme. That's DaTuner Pro.

What is the lock screen on your Evo?

The lockscreen is the Ice Cream Sandwich lockscreen from WidgetLocker Lockscreen. (Not pictured.)

Loquendo TTS! You sir, are awesome. I had pretty much given up on finding a decent TTS engine, even one that wasn't free. I even bought the Sygic GPS app because the TTS engines I found were horrible. The speach engine in Sygic is on par with most dedicated GPS devices (sadly, i own a Tom-Tom). Then along comes your article! The app was a little over $5 USD but well worth it as things in the Google market go. Thanks again!

Loquendo TTS sure has a lot of bad reviews on the Market. I'm not challenging your opinion, but curious how much of a workout you (and the author Josh) have actually given Loquendo TTS, since many of the Market comments indicate that the demo mode sounds great, but in daily use it's buggy, unloads itself, and makes many mispronunciations. I'm tempted to try it, but it doesn't work on ICS according to the comments, and since two of my phones are on ICS now, that's a bit of a deal breaker. Also, given the short 15 minutes refund window, that doesn't seem like a good opportunity to test for stability.

Still has an average rating of 4.

That's a valid counter-point, but doesn't answer the question of how much actual daily use did the app get before being declared the best? ;) I'll try it myself when it's ICS compatible; I'm always looking for better speech synthesis.

Gmail for ics rocks. Good list though.

Bacon Reader is pretty neat... neat enough that I might actually use Reddit now. Good list, but the real awesomeness comes from the comments! AirDroid is exactly what I need. Havent had a chance to really test it out though. Thanks! Happy new year!
Android Central Newsletter
Get the best of Android Central in in your inbox, every day!
Thank you for signing up to Android Central. You will receive a verification email shortly.
There was a problem. Please refresh the page and try again.