Android Quick App: Endomondo Sports Tracker PRO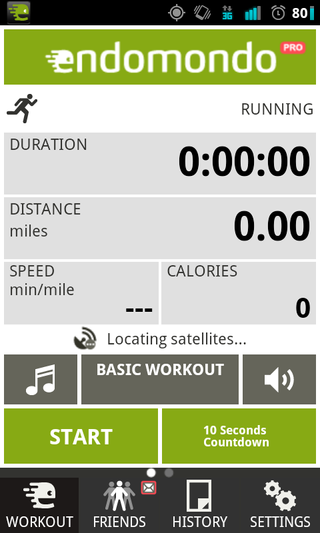 There's no shortage of exercise trackers in the Market these days, but if you're looking for something fully-featured, comprehensive, and user friendly, Endomondo Sports Tracker PRO is the way to go.
To start, Endomondo gives you an incredibly expansive list of activities to track. You're not limited to just running or biking with this app. It covers things like badminton, baseball, yoga, and kayaking, just to name a few. If there's something that gets your heart rate going, Endomondo probably tracks it.
Endomondo also supports full GPS tracking while you exercise, so if you are doing something mobile and outside, Endomondo can tell you your average mile pace, total distance covered, and time spent working out. It can also give you an estimate of calories burned, based off of your weight and pace. Endomondo also supports Bluetooth heart rate monitors (my favorite part!) so you can check if you're hitting your target heart rate during exercise. Pairing is simple and once you've paired once, Endomondo will automatically sync up when the app is opened.
The app also keeps a saved history of all your workouts, so you can compare times against older workouts to see if you're improving, but if you have to wipe your phone, your list will disappear. All of your workouts get automatically uploaded to your workout portal on Endomondo's website, but syncing from website to phone isn't possible.
Endomondo also boasts a social aspect to exercise, so you can friend other people using the app and see when they start working out as well as checking out their results when they're done. You have the option (from the website) to send messages to your friends that are in-progess, so feel free to trash talk or send words of encouragement. Just know your friend will hear these messages read out to them while they exercise and they might return the favor. You can also set the app to automatically share your results with Facebook or Twitter, or you can manually share from the website.
Endomondo PRO adds in the option to try and beat your own (or someone else's) time on a given workout, and the audio coach will give you periodic updates as to how you're doing on your goal. It seems like a simple thing, but when you're striving for a better time (on say, a 5K), it's a huge help to get continuous, real-time feedback on your performance.
Endomondo PRO is, in my opinion, the king of exercise tracking. At ~$4.26, it's definitely not free, but for how detailed and well-maintained the app is, it's a small price to pay, especially if you're serious about getting in shape. Maybe you could skip your morning coffee one day to pay for it and go running instead. Give it a try! Your body will thank you for it.
More pictures and download links after the break.
Android Central Newsletter
Get instant access to breaking news, the hottest reviews, great deals and helpful tips
I have been using the free version sense April and it is GREAT! I use it for walking and cycling, at home I can track my routes, times and calories. When I travel it is great for tracking the walking/biking distances of unfamiliar cities. I'm looking at the PRO version, $4-$5 is really not much to spend on workout tool this good. BTW - it's listed today 6/16/11 at $3.99

I have been using the free version for a few weeks now. It does everything I need so far. From the web portal it is easy to share your workouts with Facebook or other social media. ~$5.00 is not a bad price to pay and support the developers of this great app! I will be getting the PRO version very soon.

I've been user Runkeeper, which i think was previously reviewed on this site before. I'd be curious to see who has ran both and what they think....

Looks like a good app. Had Amazon not offered Cardio Trainer Property a few weeks ago I'd spring for this.

Exactly what I was thinking!! It sounds exactly the same to me. But I like Cardio Trainer. I think I'll stick with it.

I really enjoy using CardioTrainer, it has been quite accurate in my tracks and I like the audio updates and music player integration. What have others thought between CT, RunKeeper and Endomondo?

To be brief, I used CT back when it first came out. I thought it was fine, nothing really against it. RunKeeper is my least favorite of the three. Didn't want to pay for pro, and by the time it was free, I'd already moved onto Endomondo. Of the three, I still think Endomondo (even the free version!) is by far the best. The web portal gives SO much information that I'm now actually interested and invested in, plus, the social aspect is pretty cool, too.

I also like Cardio Trainer. The interface is not as slick, but it allows you to manually input workouts. I rotate between treadmill and outdoor running, so that is essential. Anybody figure out how to do that with Endomondo?

I turn on GPS so it's tracking my location, disable the "stop tracking I stop moving" option, and press start as you run on the treadmill. It'll track your time, and you can manually input your distance on the web portal. From there, it auto-populates how many calories you burned. That's how I've done it in the past.

I have been using this App since October and it is great. The web portal has tons of analysis and details on your workouts. I used Nike+Ipod for years before switching to Endomondo and this so much better.

I've been using the free version of this app for about a month and a half, and absolutely LOVE it. The ability to track your workouts and view extended statistics on the website is a huge plus. Highly recommended!!!

Trying this app out and loving it so far. I needed a replacement for CardioTrainer, which I found to not be accurate by overstating distance (which was confirmed by many reviews). CT also only has the option to show speed during a run and not the option for pace. This app lets you configure the data display boxes to whatever you'd like, which is huge. Also trying out Runkeeper, but they are close. I think so far RK gives you MORE data, but something about Endomondo just SEEMS easier/cleaner.

I just started using the Endomondo app; I got it for a steal during Google's 25 cent sale! Anyway, thus far I do like the functionality and options available. I'm just now getting back in shape so the apps social features are nice so I can get a boost of encouragement from my connections. The app is well worth the asking price and I look forward to using to track my progress...
Android Central Newsletter
Get instant access to breaking news, the hottest reviews, great deals and helpful tips
Thank you for signing up to Android Central. You will receive a verification email shortly.
There was a problem. Please refresh the page and try again.