Jelly Bean OTA for Canadian Samsung Galaxy S3's to start arriving Dec. 3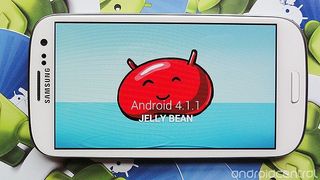 *Update* Make that December 3rd. See, this is what happens when Google removes December.
If you're the proud owner of a Canadian Samsung Galaxy S3, you're wait for Android 4.1 Jelly Bean will soon be over. Samsung Canada has now taken to Twitter to let it be known that Jelly Bean OTA's for Canadian variations will begin to roll out starting Monday, December 3rd. Sadly, no carriers were noted in the announcement so there is no telling where it will arrive first but at least we know when to start checking for updates. We'll be keeping our eyes on this one and let you all know when we start seeing them arrive. Sidenote: Samsung says they're still waiting to hear about the Galaxy Note and Galaxy SII update.
Source: Samsung Canada
November 29th is Thursday, did you mean December 3rd?

Yup.. see what happens when Google removes December!! Lol Fixed, thanks!

Great for our friends to the North! Ahh...AT&T, aren't those phones essentially the same model as i747? Come on AT&T!

Yup, the GSM variants are the same i-747 models. The only difference being we also have the option to turn LTE off but I don't think you do on ATT.

We do, however my patience is wearing thin with AT&T and this damn JB update. . . . wtf

Please Verizon, don't make us wait until Q1 of 2013 for JB!!

Yay... I saw it on Facebook but the thing is I wonder how long it will be pending for approval by Telus.

Exactly, Samsung announced the ICS update for the Galaxy Note long before it showed up on TELUS. :/

Regarding the last sentence... Is it supposed to mean Samsung Canada is waiting to hear from Samsung USA?

It means the 'higher ups' at Samsung haven't relayed the info to the support reps handling the Twitter account. At least, that's how I view it.

Waiting for AT&T's s3 jb. Come on AT&T! I put cm10 on my phone but the camera launcher was horrid could not focus right at all and the image was not as sharp and underexposed.

Seeing as how the GSM variants in Canada are the same as the ATT one, it seems ATT is dragging its feet.

I hope this is true for Telus!!

About time ! I've been hitting "Check for new updates" everyday for a month, yes I know...and I did check here for news on it but it just never came and I had to be sure :) Rogers, get it done... Cheers my fellow Canadians !

Come on TELUS, please don't sit on this until the new year.

The big question is if this new Jellybean version will have the "car-mode" and "aux-out" functionality turned on. With the released Jellybean versions in Europe so far Samsung have turned these functions to "N" instead of "Y" in the Kernel. This means that our iBOLT car-dock (or any other) can not be used effectively as applications like CarHome Ultra can not be set as "default home screen" when the phone is in a car-dock or triggered via an NFC tag. Fortunately the new HTC Jellybean phones have the car-mode turned on so let's hope Samsung follows suit and puts it back in again...

Jelly Bean has arrived to WindMobile at 11:00pm for the S3 SGH-T999V via OTA.
Phone is so much more responsive... This is awesome.
Android Central Newsletter
Get the best of Android Central in in your inbox, every day!
Thank you for signing up to Android Central. You will receive a verification email shortly.
There was a problem. Please refresh the page and try again.