Jaybird Tarah vs. Jaybird X4: Which should you buy?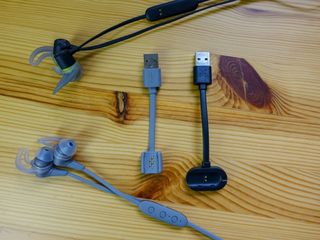 Jaybird X4
Jaybird's X4 wireless earbuds are excellent, from their well-rounded sound quality to their durable cord and fantastic controls. They may be a bit expensive, but they're certainly worth it in many ways.
Jaybird X4
Great sound made better by customization
Sturdy cable
Great inline controls
Customizable fit
Kind of pricey
Proprietary charging clip
Jaybird Tarah
The new Jaybird Tarah sport earbuds are an affordable entry in Jaybird's wireless workout headphones lineup. While the customizable EQ makes them great, they're not exactly at their full potential right out of the box.
Jaybird Tarah
Customizable EQ in the Jaybird app
Great, comfortable fit
Responsive inline controls
So-so sound out of the box
Cord is easily damaged
Proprietary charging clip
Both entries from Jaybird are at the top of their respective classes for Bluetooth sports earbuds. Their wireless connectivity is excellent, they fit well and are comfortable, and the Jaybird app rounds out the experience perfectly with battery notifications, customizable EQ controls, and more.
The Tarah is the entry-level option here, with audio quality that isn't quite on par with the X4, though customizing the EQ does make a dramatic difference. If you have the extras $30, spend it on the X4, but if you don't, the Tarah earbuds are the absolute best you can get for $100.
The breakdown
There really isn't much that's different between these two pairs of wireless sports earbuds. It really comes down to the minor details and the biggest physical differences are the rubber each cord is made of and the inline control design.
The Tarah's cable is made of a softer rubber that is easily dented by fingernails. One side of mine popped out of the cinch, and upon trying to put it back in, I put a bunch of fingernail imprints in it that are still there.
Swipe to scroll horizontally
| Header Cell - Column 0 | Jaybird Tarah | Jaybird X4 |
| --- | --- | --- |
| Battery life | 6 hours | 8 hours |
| Sweat/water-resistant | Yes, IPX7 | Yes, IPX7 |
| Fast charge | 10 minutes charge = 1 hour play time | 10 minutes charge = 1 hour play time |
| Fit customization | Interchangeable silicone gels | Interchangeable ear tips and fins |
| Bluetooth range | 10 meters (30 feet) | 10 meters (30 feet) |
While the Tarah and X4 are identical when it comes to audio specs, the X4 somehow just sounds better. The bass is richer (even after customizing the Tarah in the app), and the high end is that much crisper at low volumes. I can only attribute the difference to the enclosed spaces in each pair of buds. The two are ever so slightly differently shaped.
The other major difference is the shape of the playback control buttons. I actually prefer them on the Tarah because the + button is shaped like that — ditto for the -. The X4 buttons are all round, and I sometimes accidentally turn them off when I mean to skip a track.
The only true downside of either pair of sports earbuds is the proprietary charging clip. While it does cut down on silicone flaps needed to cover ports, and it certainly streamlines the playback controls, you're also hooped if you lose it. And you can't actually buy just the charging clip for either model on Jaybird's site yet (but you can for the Freedom earbuds, and it's a whopping $25).
You really can't go wrong with either pair of Jaybird earbuds here; you just have to decide what you value more: $30 or great sound; better playback controls (the X4 controls actually beep when you switch tracks); and a stronger cable that doesn't pop out of the cinch. For my money, the X4 wins big.
Top pick
For wireless sports earbuds, it doesn't get much better, despite the slight expense.
For $30 more than the Tarah, the X4 earbuds offer a stronger cable, better sound, better playback controls (complete with confirmation sound effects), and more customization options when it comes to fit.
Entry-level greatness
For $100, you can't really do better than the Jaybird Tarah for wireless sports earbuds.
An excellent app with customizable EQ is what really helps the Jaybird Tarah shine. For $100, you get comfortable, good-sounding earbuds, with excellent playback controls and cool color options.
Get the Android Central Newsletter
Instant access to breaking news, the hottest reviews, great deals and helpful tips.
Mick is a writer and duty editor for Android Central. When he's not on the job, he can usually be found vacuuming up pet hair or trying to convince his wife that he needs more guitars.